BREAKING – Aimpoint ACRO P-1 Micro Red Dot Sight
Dickson 06.08.18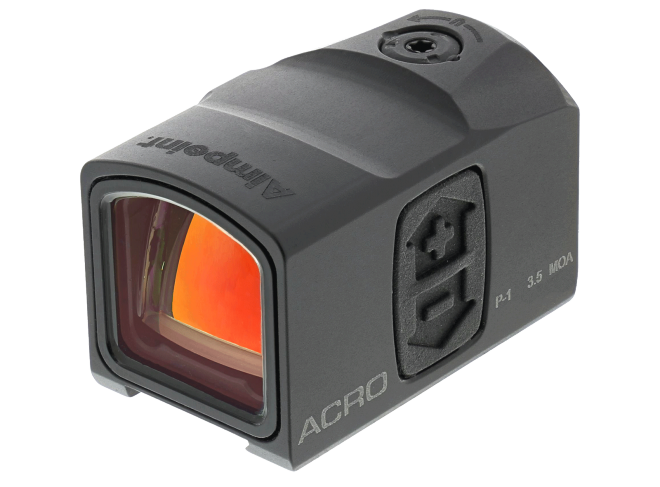 Aimpoint is traditionally very tight-lipped on any upcoming product that they're working on. If I had to guess when I visited their factory in Malmo last year, they are working on the Aimpoint Nano made specifically for the B&T USW to be available individually.
Today we see a slightly tweaked version of the Nano, called ACRO P-1.
Here's a breakdown on its features:
Optimized for pistol and applications which require a low profile red dot system
The only fully enclosed system in its size on the market
Designed for direct integration onto pistol slides
Over 1-year battery operation on position 6 of 10
Battery installation while optic is still mounted on weapon
NVD compatible
Submersible to a depth of 25 m (82 ft)
Here's the description from Aimpoint's product page.
The Aimpoint® Acro P-1 is developed for use on pistols and other weapon platforms requiring a small enclosed red dot system. It is the only sight in its size category fully tested for shock, vibration, temperature span and other environmental stress.

The Acro P-1 is the smallest enclosed system on the market.

Tested with a minimum of 20,000 rounds on a .40 cal pistol slide, this small optic has proven to lead in ruggedness and reliability in its category. The Acro P-1 can be used as a backup sight for magnifying scopes, personal defense weapons, and any area where a small red dot system is applicable.
Aimpoint is expected to officially announce this product at Eurosatory in Paris on June 11th at their booth. We will have to see how bright position 6 is as "over 1 year" of battery life seem low compare to Trijicon RMR's 4 year battery life on setting 4 of 8. It's powered by one 3V CR1225 battery which is smaller than RMR's CR2032 but it's more expensive and arguably more difficult to find. According to Aimpoint's own spec sheet, it's currently only available with a 3.5MOA dot, however we expect them to release more models down the road with larger and smaller size dots.
We will update with pricing and availability when they become available.