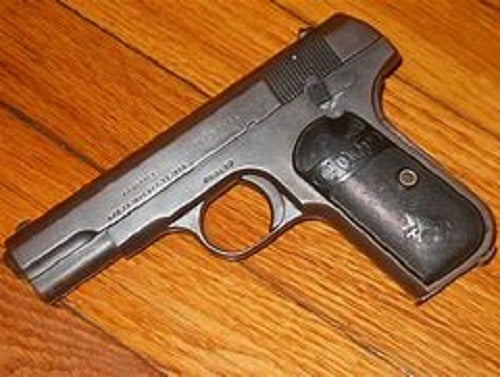 Back in the late 1890s the famous gun designer engineer and gun maker John M. Browning was working on another new gun. This one a handgun. It was originally manufactured in Belgium by FN or Fabrique Nationale d'Herstal as the Model M1900. FN was well known for producing firearms from blueprints hand drawn by Browning. This new pistol however was going to have a distinctively different history.
Browning's FN version rights to this handgun after redesign modifications were contracted to the Colt Patent Firearms Manufacturing Company in Hartford, Connecticut. The pistol became officially designated as the Colt Model 1903 Pocket Hammerless in .32 ACP. It began production in 1903 and ended in 1945. Some 570,000 plus 1903s were manufactured in five variants based on barrel bushing types and a change in the barrel and overall gun length. A magazine safety was added in variant Type IV.
Originally the Colt 1903 had a barrel length of 4 inches, but when Colt later made the Model 1908 in .380 ACP, both the .32 ACP and .380 ACP pistols were standardized as variant No.2s to a barrel length of 3.75 inches. The M1903 after variant Type 1 had an overall length of 6.75 inches with a gun weight of only 24 ounces.
Metal finishes available were standard Colt blue and nickel from serial number one through 554,446. Serial numbers above that through 572,214 were provided in a special military Parkerized finish. Those pistols were supplied to U.S. Military officers and British ranking troops during WWII as part of our arms Lend-Lease program. Custom finishes were available, too, in silver or gold plated or even engraved models. Standard models were delivered in hard board paper boxes, but wooden cased versions were available, too.
Though the 1903 is called a hammerless pistol, it does in fact have a hammer, but it is hid inside the rear section of the pistol's slide. It was designed in this manner so the pistol could be easily stowed in a pants pocket or coat hand pocket. In this manner the Colt M1903 is widely considered the first true pistol of size and power for concealment carry.
Other standard design features include a serrated slide at the rear for easy hand manual charging of the weapon. After variant Type 3, two safeties were incorporated. One is a grip safety inside the back strap that is engaged upon handling the pistol grip. The other is a manual safety at the left, rear side of the frame that is manually moved up to engage a slot milled into the slide. This safety lever can also be engaged upward to lock the slide open via a forward slot in the slide just ahead of the slide serrations. Later a magazine safety was built in that would keep the pistol from firing with the magazine out of the pistol even if a round is in the chamber.
The M1903's sights are rudimentary at best to include a fixed front notch sight. The rear sight is fitted into a dovetail slot milled in the slide and is adjustable by drifting the slide for windage only. Keep in perspective though, that the M1903 Pocket Pistol is basically a close quarter's affair for short range self-defense use.
The steel magazines supplied with the M1903 held eight rounds of .32 ACP ammo. That made nine rounds available with one in the chamber. This was a considerable load for a light pistol. The magazine release was a checkered button slide at the rear of the pistol's grip bottom where the magazine is inserted.
Grip panels came in a variety of versions including a checkered walnut with a Colt Horse Medallion, or a hard black rubber grip as standard. Custom orders could supply grips made of real ivory or mother of pearl. Usually high ranking officers received the special grips.
The Colt 1903 Pocket Hammerless became so widely popular that orders were placed for officers in many other countries. Individual military personnel also purchased the M1903 because it was so easy to carry and conceal. After the war many law enforcement officers used the 1903 until more powerful pistols were developed.
Of particular note is the fact that Japanese officers desired this pistol as well. At some point later other countries began to produce their own copies of the Colt 1903 including Spain, China, and Japan. Even the Russian Tokarev is said to have profiled the Colt design as well. In comparing these two pistols, they do have many similarities.
Though Colt's production of the M1903 ended in 1945, the good news is that today Colt has licensed the U. S. Armament Corporation in Ephrata, PA to manufacture a new production of the M1903. Incidentally their location is just north of Lancaster, PA the home of much of the post-revolutionary rifle making industry. An interesting bit of history there.
Also the USAC production of the Colt 1903 is headed by one Mr. Brent Turchi who was the former manager of the Colt Custom Gun Shop. His presence and guidance at USAC assures that the production quality of the new 1903s will be up to par with the best quality of anything Colt ever built.
The new USAC M1903s will be offered in four finishes, Parkerized, standard blue, royal blue and nickel. This will make them historically correct for both military and commercial versions. All other specifications will be identical to the original Colt production guns. A full field report on this M1903 will be forthcoming.