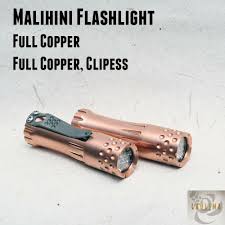 High-end flashlights are some of the most bonkers technology in the EDC world. While knives can be made complex, the best are simple, precise cutting tools. Flashlights, on the other hand, are, by nature, complex, and the best torch makers work hard to render that complexity into simple user experiences. For many years the ranks of high end lights were sparsely populated–it was McGizmo, Cool Fall, HDS, and a handful of other folks. Availability of these lights was limited.
Things have changed. HDS is now making lights in regular numbers. Muyshondt has not just made a bunch of lights, he actually sells them on a site instead of through a Facebook auction or a forum post. And Torch Lab is consistently making (and selling) lights, even if in small numbers. But the recesses of the flashlight world have even more bounty for us–TM Design and Fabrication is making body tubes of meteors. OKLuma is pumping out all new stuff. Barrel Flashlight is cranking out accessorized lights. And Dawson Machine Craft, a company that makes all sorts of metal gadgets, has collaborated with Mitch Lum, to make the Malahini.
In the classic single cell, multi-array emitter set up, the Malahini (which is Hawaiian for "newcomer") brings a robust build and golf ball machining pattern to the game. It also roars with a Dr. Jones H17f driver, Carlco optics, and Nichia 219c emitters. Generally the Malahini is available in copper, brass, and aluminum, filling the spectrum from light to pocket anchor quite well. The light is powered by a 18350 battery and has heat sensors that will shut the light off before it damages itself.
All of this tech and beauty isn't cheap–the copper and brass Malahini's start at $550 while the rare aluminum versions come in at $475. Its a lot of money for a flashlight, but in the world of high end torches it is actually quite reasonable. The H17f driver allows for full user programmability, but the default setting sounds good: low, medium, high.
I have handled other Dawson items and they were immaculately made and thoughtfully designed. The Malahini looks like it continues that trend. The specs and the components all are top shelf. And while I know some might howl in the comments, the price is decent in today's market. One thing that might make the Malahini a tough sell is the competition. The Muyshondt Beagle is the same price or a little more, but had dual array emitters (two different beam patterns). The BOSS 35 is a similar set up with an amazing body tube and the most advanced programming on the planet. And the HDS is cheaper with an insanely awesome UI. Competition is stiff right now. Still, a new high end light is always worth looking at, given how fast flashlight tech develops. And the Malahini happens to look amazing.
Important Info:
What: Dawson Machine Craft/Lauluma Malahini
Where: Dawson Machine Craft Facebook page (hopefully we will see some at retailers soon)
When: Sporadically available
Made in the USA? Yes
Highlights: High end components, unique look