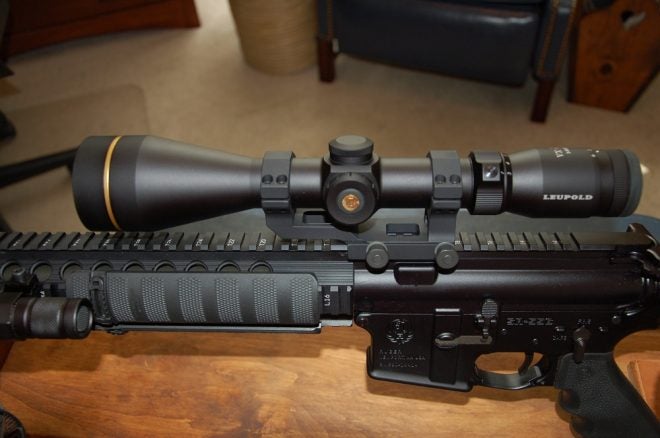 If you do any kind of shooting with a rifle scope, this is going to happen to you. Whether it is hunting from a shooting house, ground blind, stalk hunting, or even shooting off a target range bench, you are going to experience scope wobble. It is just one of those factors that nobody can avoid. However, it can be minimized.
Scope wobble is simply the random movement of the scope's crosshairs across, or around the intended target. Some call it wobble, or shake, or misalignment, or heart throb or just reticle movement. Regardless, it can be unnerving and it seems to get worse the more anxious the shooter gets about it when it occurs.
Scope wobble is natural. It can happen for a lot of reasons, but most often it seems to occur when trying to hold the rifle and scope extra still off a rest or other position. Within a few seconds, your heart beat and breathing can start to reverberate through your rifle holding stance, and the crosshairs start to wave around. Sometimes the best thing to do to slow the wobble process down is just to take a break, look away and take a few deep breaths.
Reducing wobble requires a steady rest and controlled breathing. Rests can be obtained in traditional ways such as shooting off of sand bags on a bench rest set up. In a pinch any type of cushion can work, even a folded hunting coat or goose down vest. Ideally, the rifle can settle down into the cushion to offer support on both sides. There are many commercial shooting rests, too, such as the ones from Caldwell sold by Battenfeld Technologies. These cradle the rifle in a locked down position for precision shooting.
In the field a number of shooting aids can be used. Shooting sticks are very popular and useful. Check out a variety of models including the Primos Trigger Sticks, and Bog Pods. These are adjustable for height for a steady rest. Of course any number of impromptu shooting rests can be found in the field, such as resting against a tree trunk or over a low branch. Shooting sticks can be fashioned from two straight sticks your own height.
Breathing has to be deliberately controlled. Deep, full breaths help slow the heart rate beat. Practice this before each shot. Obtain a good rest and control breathing to reduce scope wobble.