Backflipping FBI Agent Shoots Bystander in Denver Bar
Russ Chastain 06.15.18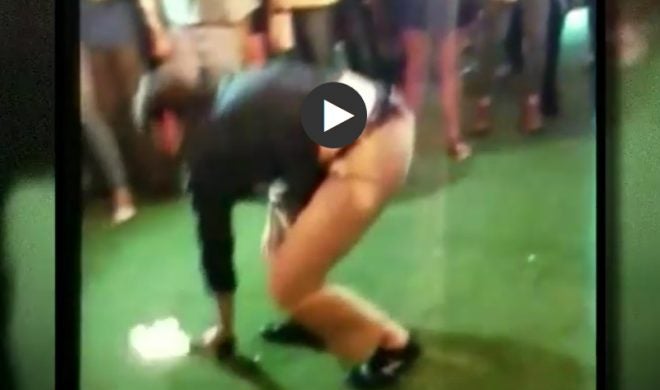 Denver, CO — FBI says the off-duty agent who reportedly carried his pistol into a dance club, dropped it during a backflip, and pulled the trigger as he scrambled to recover it "will be held accountable."
The FBI agent was showing off for a crowd on the dance floor of Mile High Spirits Distillery, carrying his pistol in the small of his back. When he did a backflip, the pistol slipped from his waistband and hit the floor. In his haste as he grabbed for it, he pulled the trigger, firing a round that penetrated the leg of a bystander before knocking a big hunk out of a concrete wall.
Afterward, he awkwardly reaches back to stuff the popper back into his britches, then grins at a video camera while holding up his hands and walking away. Nearby, other customers began helping 24-year-old Thomas Reddington as he lay bleeding.
The victim, shot in the left calf by the agent's irresponsible gun handling, said he had to laugh when he realized he'd been injured as a result of a backflip on the dance floor.
When I saw him do a backflip, I couldn't help but laugh.
He doesn't seem too bitter about the ordeal.
There was no pointing, there was no aiming. I don't blame the guy; I don't wanna ruin his life, I just want a private phone call from this guy.
The victim might not know enough about guns to realize that the guy who shot him actually pulled the trigger. That is, the gun didn't fire when he dropped it — it fired when the agent pulled the trigger as he grabbed for the pistol in a rush to hide his mistake from onlookers. Perhaps, like the ABC commentator who narrated the video, he believes the gun simply "went off." Yeah… no. That doesn't happen.
Meanwhile the victim can't work at his job, where he's required to walk 5 to 10 miles per day.
You can watch ABC's report in this video:
To me, this was pure negligence and there is no excuse for it — especially from someone in law enforcement. It does appears that someone will at least try to make him accountable, although it's unclear why it took ten days for charges to be brought against him.
The agent reportedly turned himself in at a local sheriff's department on June 12 and "was promptly arrested and held on suspicion of second-degree assault, the offense for which he's now been charged by the Denver District Attorney's Office."