Springfield Armory's New 911 380 Now in Black Nitride
Russ Chastain 06.15.18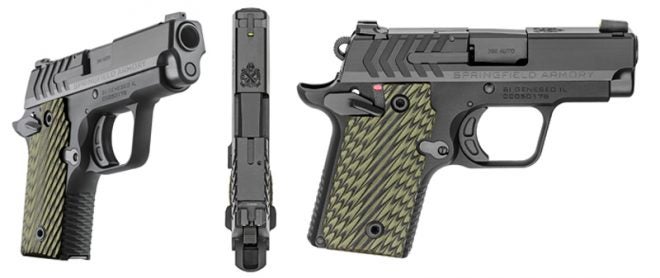 June 15, 2018: Springfield Armory has announced the availability of their 911 pistol in 380 ACP with Black Nitride finish. From the press release:
Springfield Armory is now shipping their popular 911 380 with a black nitride finish. The cosmetic variant to the pistol not only looks sleek, but also provides additional durability and function.

Black nitride is a high-grade corrosion and abrasion resistant finish that allows the pistol to withstand hard wear and tear, while maintaining its function and accuracy in extreme conditions. Through the process of nitriding, the outermost layer of the stainless steel frame is hardened, thus making it more resilient to strenuous use and inclement weather. Offered as a finish on the 911 380 introduced in January, it's an excellent added value to an already reliable firearm.

Springfield Armory engineers optimized the 911's frame-to-slide-to-trigger guard relationship to create handling characteristics unique among small pistols. While many pocket guns can be difficult to shoot, Springfield Armory's gunsmiths specifically designed the comfortable feel, confident control and minimal recoil in their 380 platform to encourage both practice and carry.

The 911 380 features a G10 short-reset pivoting trigger with a light 5-pound pull, a differentiating and satisfying feature in such a small pistol. It also has an extended ambidextrous safety to ensure easy manipulation under potentially stressful situations and confirms that the weapon won't fire before the operator intends. A hammer provides peace of mind with both visual and tactile cues for various modes of carry.

For quick target acquisition, the 911 comes with a bright tritium low-profile tactical rear sight, paired with a low-profile combat Pro-Glo™ tritium and luminescent front sight. The low-profile design ensures a snag-free draw, to put the firearm between operator and attacker as quickly as possible. G10 Octo-Grip™ on the mainspring housing, and Octo-Grip™ front strap texturing, allows for secure grip contact without tearing up your clothes while carrying concealed.

The 911 380 fits a flush 6-round magazine or 7 round magazine with a Mag X-Tension.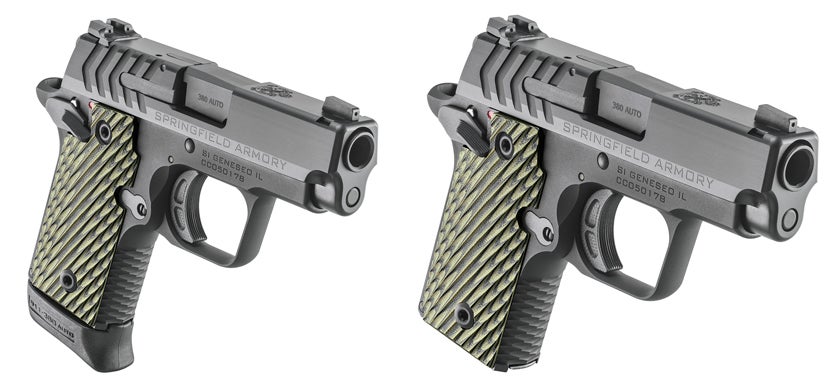 Some specs:
Caliber: 380 ACP
Weight: 12.6 ounces
Length: 5.5 inches
Height: 3.9 inches
Barrel: 2.7-inch 416R Stainless Steel, Black Nitride Finish, 1:16 Twist
Frame: 7075 T6 Anodized Hard Coat Aluminum, Octo-Grip Texture on Front Strap &
Mainspring Housing, Extended Ambi Thumb Safety
Slide: 416 Black Nitride, Loaded Chamber Indicator
Sights: Pro-Glo™ Tritium/Luminescent Front & White Outlined Tritium Night Sight Rear
Grips: G10
Recoil System: Full Length Guide Rod w/ Flat Wire Spring
Magazines Included: 1 – 6 Round Flush & 1 – 7 Round Extended, Stainless Steel
MSRP: $599

For more information, visit the SA website.