Elevate Your Camping Experience with This Cool Hanging Gear
Diana Faria 06.18.18

Keeping your gear off the ground does more than just keep it dry; a suspended campground also looks really cool. Some of the stuff on this list is a no-brainer, like a harness to keep your food barrel off the ground, and other items are more novel — like a tree tent. Check out our list of some of the coolest hanging gear on the Internet. Protect yourself and your supplies by setting up camp in the treetops.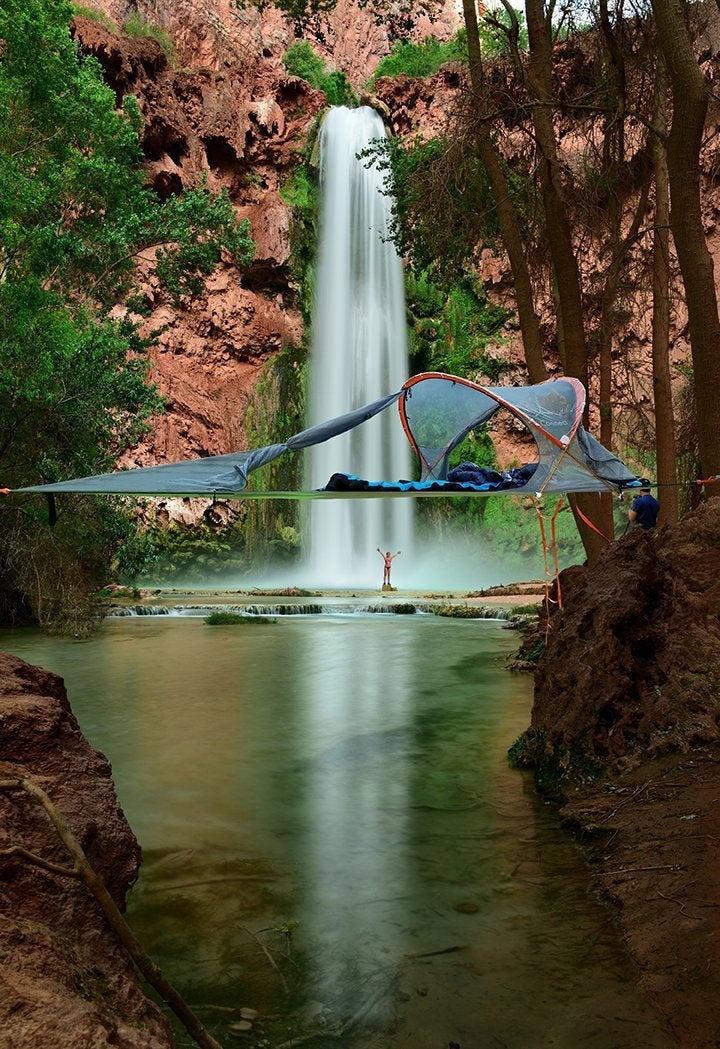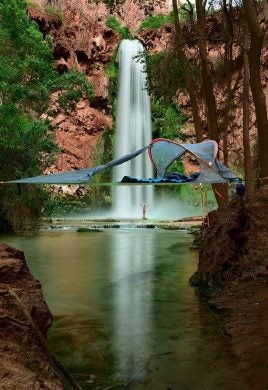 If you're tired of having ants, spiders and even snakes wiggle into your traditional standing tent, you should definitely take a look at the Tensile suspended tree house. Available in five different color combos, this tent uses three durable straps tightly tied to trees in order to keep you off the ground and a little bit closer to nature. Large enough to accommodate two adults, the tent also boasts an enclosed mesh roof to keep the bugs out and a fully removable rainfly to protect sleepers from the elements.
Tentsile Connect Tree Tent, Amazon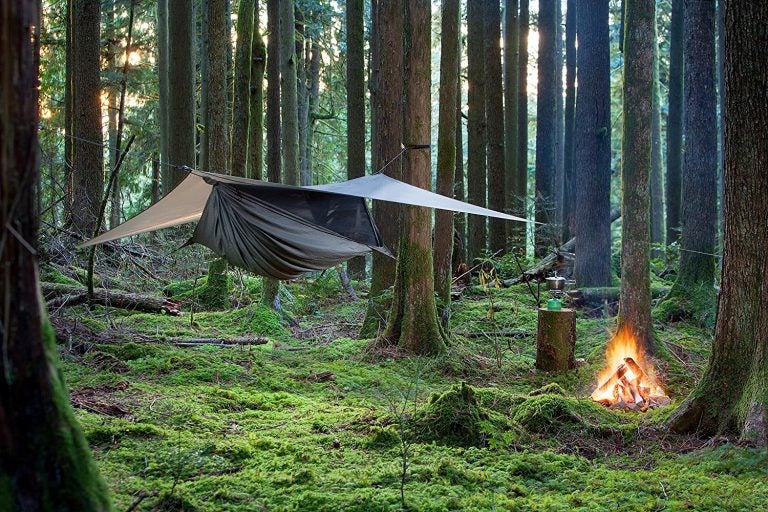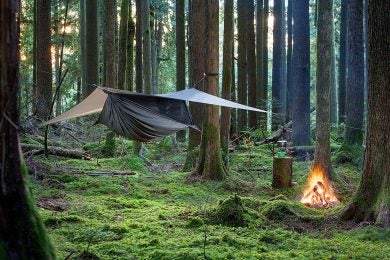 Voyaging solo can have its advantages and hammock camping is one of them. This Ultimate Backpacker Classic Hennessy Hammock weighs just 1.15 ounces but can hold 200 pounds. Its heavy-duty suspension straps are designed to handle six times the weight limit of the hammock and its asymmetrical design makes sleeping more comfortable than a symmetrical hammock. One of its most unique characteristics is its bottom entry, which enables campers to slide into the hammock from underneath rather than trying to roll in precariously from the side. Once you're inside, the bottom automatically snaps closed and seals with velcro, while the no-see-um netting protects you from flies, gnats and mosquitoes.
Hennessy Hammock Ultralite Backpacker Classic, Amazon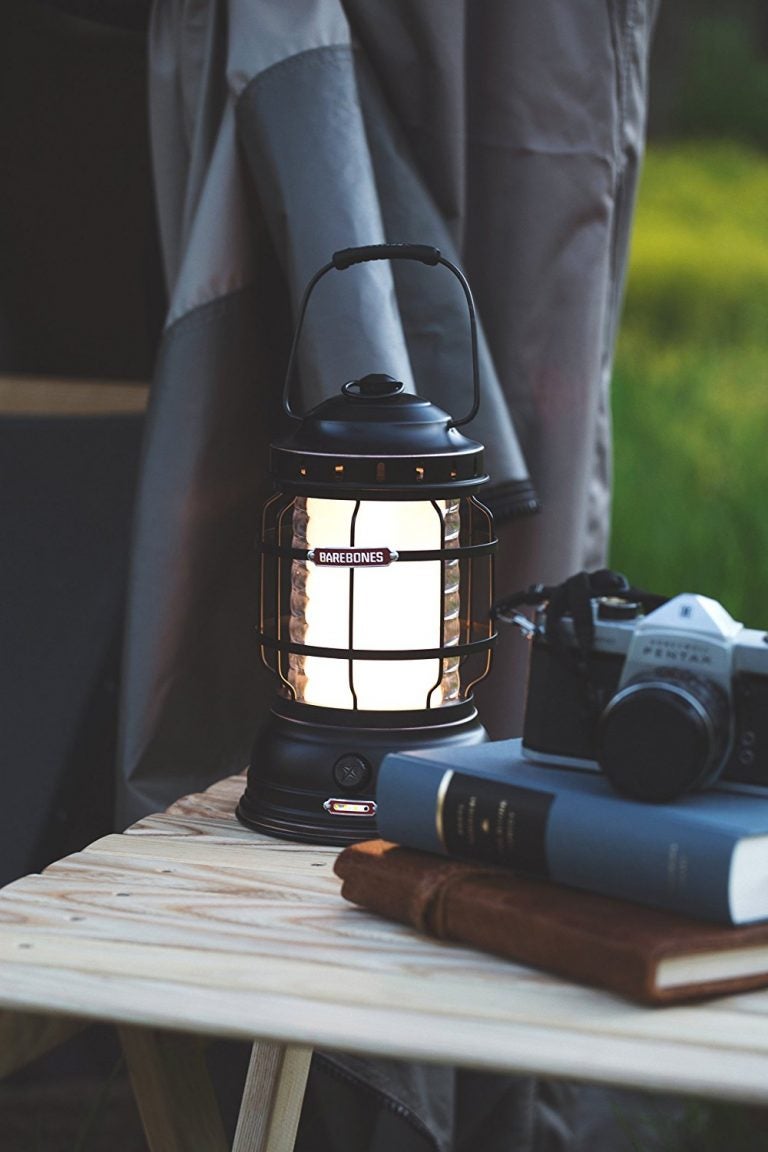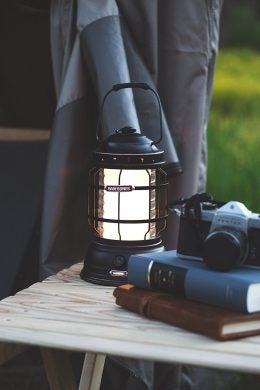 Whether you're hunting for kindling at dusk or trekking to the outhouse in the dead of night, you'll need something to light your way. Made of stamped steel, this classic-looking lantern with top handle is powered by a rechargeable lithium-ion battery charged using USB. It is available in three different finishes (antique bronze, red or satin nickel), promises never to overheat and is water resistant. When outputting its max 325 lumens of warm light, this lantern lasts four hours. However, at its lowest setting, this Barebones Living lantern can provide up to 80 hours of light.
Barebones Living Forest Lantern, Amazon
Keeping your meals out of reach of scavengers — and predators — is important so that you don't have unexpected guests dropping by. Safeguard your food by hanging it from a tree in a bear-safe container. This barrel harness by North 49 will wrap around a 60-liter plastic container. The straps will make it easier to suspend and keep it off the ground. The harness has padded shoulder straps and a hip belt for comfort, plus a sternum strap for stability. Remember to suspend the barrel approximately 200 feet from your tent and camp kitchen so that in the event a bear does smell your food, it's far away from where you're sleeping.
North 49 Large 60-Liter Barrel Harness, Amazon
---
This post is sponsored by Amazon and brought to you by WiseGuide. WiseGuide exists to help readers navigate the vast e-commerce marketplace. We write about things we think you'll like, introducing you to great products, services, and special deals. We'll update the links whenever possible, but please keep in mind that deals may expire and prices are subject to change. We may earn affiliate commission if you make purchases through our links. For more follow WiseGuide on Twitter @WiseGuide_.
SaveSave
SaveSaveSaveSave