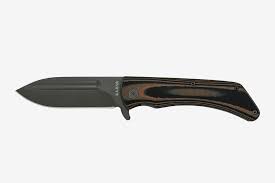 Its very hard to think of knives and not think of Ka Bar. The Ka Bar USMC is one of the two most iconic knives in the world, the other being the Buck 110. Ka Bar is literally a company built by a knife and since then we have been treated to quite a few variants of the USMC. They have even launched a small batch shop, State and Union, to make one-off versions of the USMC and other knives.
Ka Bar has started to branch out in recent years. They have produced a number of collaborations with a variety of makers. Ethan Becker is perhaps their first collaborator (I say "perhaps" because in one form or another Ka Bar has been around for nearly a century). Another one of their first collabs was with Bob Dozier. That cooperative produced the high value Dozier and Mini Dozier folders. Then they took a break from the collabs for a decade and came back with a few designs by Mike Snody. Like Dozier, Snody is known for is basic blade shapes and excellent handles (unlike Dozier, Snody has, or had, a full grill–Snody's website has been changed significantly since the mid-Teens). After that Ka Bar paired with one of my favorite custom makers, Jesse Jarosz, and made a series of excellent folders and very nice fixed blades.
Time and again, in each of these efforts Ka Bar has strongly emphasized good knife fundamentals–classic blade shapes, purpose driven grinds, and hand-friendly handles. From the Beckers to the Jarosz, these three elements have driven Ka Bar designs. That emphasis on fundamentals has produced a series of very good knives, but none are what you would think of as leading edge designs. And so, in 2018, more than eight years in the TFF era (Titanium Framelock Flipper), Ka Bar announced its first flipper, the Mark 98.
The Mark 98 is a massive knife, hitting the scales at over five and half ounces. The blade is a three and half inch spearpoint design, set off with a large blood groove. The handle is classic Ka Bar-utilitarian and straightforward. There is a prominent index notch and the rear of the handle sweeps down providing your hand with a comfortable resting spot. The knife's steel, 5Cr15 is definitely below par in this day of $40 S35VN knives, but the Mark 98 retails for less than $20.
If you haven't tried a flipper or if you want another to use as a beater knife, the Mark 98 could fill that role quite nicely. Its pocket clip is simple and unlikely to cause massive hotspots because it is located very close to the spine. In all, the knife looks just like a Ka Bar–tough, rugged, and not in need of babying.
Important Info:
What: Ka Bar Mark 98 Flipper
When: Available Now
Where: Knife retailers
Price: $18.95 MSRP
Specs: 3.5 inch blade, 5.6 ounces
Highlights: solid handle design, cheap
SHOP NOW