Miami: Open Carry Fishermen Illegally Detained, Police Chief was Warned
Russ Chastain 06.26.18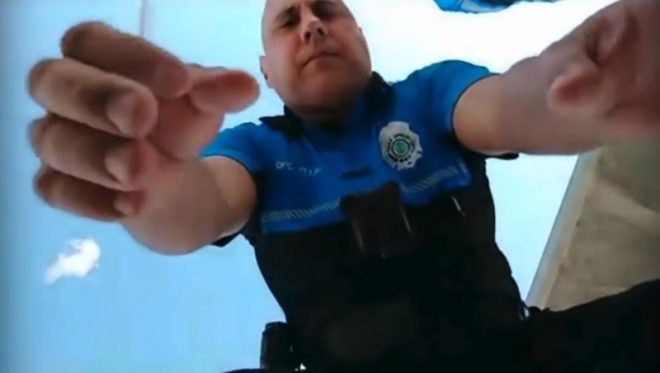 You may have heard about the police drawing a weapon on — and injuring — fishermen who were lawfully carrying firearms on a Miami, Florida pier on June 24, 2018. It was reported by TGW a couple days ago.
A group of fishermen —- who were lawfully open-carrying handguns —- was fishing off of the South Pointe Pier in Miami Beach Sunday morning at around 10:40, when they were confronted by Miami Beach police officers.

At some point during the confrontation, a Miami Beach police officer pointed his gun at the group. At least one man was unlawfully detained and his weapon was confiscated.

Police injured one man's shoulder when they took him to the ground. He was later transported to a hospital.

The fishermen were members of Florida Carry, Inc. — one of the state's most active pro-gun groups.
All of the victims were ultimately released. Details of injuries are not known by me.
It's legal to openly carry a firearm in Florida when you're hunting, camping, fishing, or going to or returning from lawful hunting, camping, or fishing activities. And the Miami police chief was warned of that, quite clearly and politely, way back on June 7. A copy of the letter is posted on TGW's site; here's what it says:
June 7, 2018

Chief Oates,

My name is Christopher Philpot and I am an avid Florida Fisherman. The reason I am writing your office is because I wanted to notify you that on June 24, 2018 a few friends and I will be open carrying holstered handguns while fishing off of South Pointe Pier in Miami Beach. As you probably already know the open carrying of any firearm is legal in The State of Florida, pursuant a person engaged in fishing, camping, or lawful hunting or going to or returning from a fishing, camping, or lawful hunting expedition.

It is outlined by our State Legislators in Florida Statute: 790.25, The provisions of ss. 790.053 (Open Carrying of Weapons) 790.06 (License to carry concealed weapon or firearm) do not apply in the following instances, and, despite such sections, it is lawful for the following persons to own, possess, and lawfully use firearms and other weapons, ammunition, and supplies for lawful purposes (h) A person engaged in fishing, camping, or lawful hunting or going to or returning from a fishing, camping, or lawful hunting expedition.

The reason I wanted to reach out to your office is because I'm sure there will be citizens that do not know the law.They may contact Law Enforcement when they see someone open carrying a holstered handgun. I just want to be sure that The City of Miami Beach & Law Enforcement are fully aware that what we are doing is completely legal. My friends and I are law abiding citizens. We legally own our firearms and we have never committed any felonies or violent crimes. We are just a few people that love to fish and celebrate our Freedom & Second Amendment rights!

Sincerely,

Christopher Philpot

CC- Eric Friday, Richard Nascak, Scott Whigham, Dennis Fields
I have to agree with this excerpt from a TGW post:
Since the good chief was warned about the event and politely reminded about the applicable state law, when the civil rights lawsuits are filed — a very real possibility — he will have no one to blame but himself.

I can't understand why his patrol officers were not told of the open-carry event in advance and trained on this specific law.
It would certainly help if our armed civil servants tasked with "law enforcement" actually knew something about the law.
That said, the guy who does all the talking during the video shouldn't have talked so much, and he shouldn't have talked down to the officers, IMO. Telling an officer you want to "help him understand" is simply not going to go over well. But I can also understand his frustration — especially when he's in pain.
Here's a video published by Florida Carry. (Fair warning: It has a few cuss words.) It's a long one, and mostly audio after the camera's owner was forced to drop it as he was apparently handcuffed and "detained."