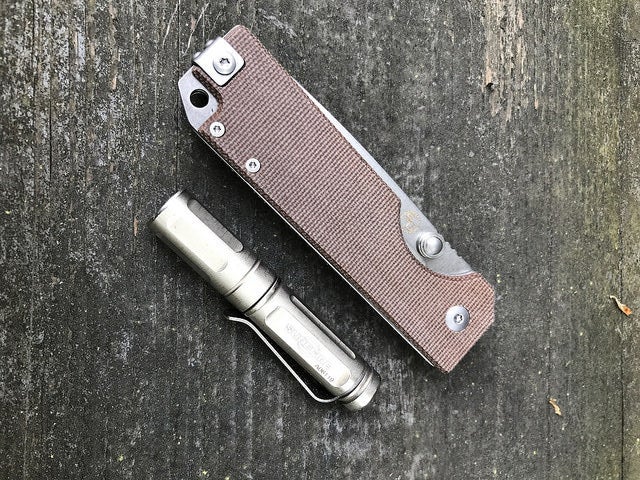 StatGear is a gear company founded by an EMT. Some of their designs, like the Ausus, are drawn up in America and made overseas. Like most boutique gear brands there are a few different items in their line up, but the Ausus is the star. Launched on Kickstarter, the Ausus got a lot of exposure to the non-knife crowd. Its clean aesthetics and retro green micarta (which is rapidly approaching the same level of overdone as a titanium framelock flipper) caught eyes.
For me, though, the knife fundamentals really are the deal maker here. There is a very nice drop point blade, a good pair of thumbstuds, and a truly excellent stamped pocket clip. This is a knife that catches your eye. Then you get it in hand you realize just how massive it is. This is an Emerson-scale pocket knife, with big, honkin' everything.
Note: Two things that need to be addressed up front–the similarity to the Fantoni Hide and the indications of fit and finish issues.
As for the Fatoni Hide, there are definitely similarities. They are both thumbstud knives, with green micarta scales and a drop point blade. That said, the similarities end there. The Hide is significantly smaller than the Ausus with a 2.98 inch blade versus a 3.5 inch blade. One is a linerlock and the other a back lock. The Ausus sports D2, a good but basic steel, and the entry level Hide is done in S30V and the high end version comes in the uber rare S125V. There are similarities, but I don't think this is a rip off.  In fact, the similarities exist because both knives have pretty minimalist designs. After all, how many drop point blades with simple squarish handles are there? A lot and singling out these two is a fair point, but not a conclusive one for me. With designs this simple, similarities are bound to occur.
The bigger issue is one of fit and finish. My sample, as I will explain below, was quite good, but for one thing. Other reviewers, specifically Nick Shabazz, has had serious concerns with his review samples.  In the end, all product reviews suffer from a small sample size bias. It's not practical or in many cases feasible to review multiple copies of a product. In the end, all I can do is review the sample I have and note when others have different experiences.
Description
The Ausus is an overseas produced knife. It costs $49.95. There is an available carry sheath for an additional $25 or both can be purchased together for $69.95. Here is the product page. The Ausus is a mid- to large-sized folding knife. It sports a drop point blade of D2 steel. The blade is 3.5 inches long.
The knife deploys via a pair of large thumb studs (one on each side of the blade). The blade uses a bearing pivot system. The handle is constructed of stainless steel liners (without weight reduction holes) and slabs of green micarta (the knife is also available in black and tan micarta as well). The knife has a deep-carry, over the top pocket clip. The clip is stamped steel with plenty of tension. Overall the knife weighs 5.5 ounces. It is very thick and quite heavy for its size. The blade steel is quite thick as well.
Testing
I carried and used the Ausus for over a month. In addition to the normal EDC tasks of chopping up boxes, opening packages, and food prep, I used the knife outdoors. Given its size and build I felt more comfortable flexing it into a harder use role. While not doing everything that I would do with a fixed blade, I used the Ausus for more challenging cutting tasks than my usual folder.
Design
The Ausus feels and looks solid, because, it is, in fact solid. The knife's simplicity is its saving grace. There are no wild shapes or weird features here. I very much like the blade shape. I also very much like the pocket clip.
It harkens back to the pocket clip found on the criminally underrated and undermade Buck Vantage.  The green micarta handles, are, hipstery and nicely textured, though that this point I'd like to see a bit of variance in the color of micarta chosen. Blue micarta anyone? Smooth micarta? God forbid we get a smooth blue micarta. Overall, I like the Ausus quite a bit, more than the price tag indicates I should.
There are few quirks though. The handle's shape is a bit awkward and the result is that the Ausus doesn't feel good in the hand when deploying the knife. Thanks to a snappy open and crispy detent, the blade flies out with some force. The thickness of the handle puts your fingers in a weird place and if you aren't paying attention (which you should be, your opening a knife after all) the force of the opening can pull the knife out of your fingers.
SHOP NOW
A thinner knife would not have this issue. Second, in some instances, when closing the knife I caught my finger in the space between the locking leaf and the handle scale. It was rare and very minor, but still an issue and again it was related to weird finger placement dictated by the girth of the handle.
Implementation
Overall, the lock up, deployment, blade centering, finish, and main grind were excellent, as were the handle scales. On my sample, unlike those other reviewers have looked at, the fit and finish was well above the price point. The only thing that was bad was the actual cutting bevel and it was downright terrible.
I never judge a knife on out of box sharpness, but this looked more like the edge of a house key than the edge of a knife. After a bit of work on the WorkSharp, I got the D2 to a screaming edge. There is no question that D2 takes a good edge, but I was shocked at the result after a good sharpening session. It may be old and cheap, but I still really like D2. Setting the grind aside would be easier if other reviewers got great samples, but given this issue and things others have reported, I would examine any Ausus I bought.
Conclusion
This is a dead simple knife, but its all the better for it. If you are looking for a knife that can hang in there with a fixed blade, the Ausus not a bad choice. It's better than a beater in terms of looks and finish, but it can handle a thumping. I am still not convinced of the utility of large folders over a pair of knives–a small folder and a medium sized fixed blade, but if you want a big knife this is definitely a good choice.  Think of this as cheaper Emerson and you'll be pleased. Be warned though, others have had different experiences than mine.
SHOP NOW