Want to take the family camping, or maybe go on a solo trip, but do not want to spend a fortune on a tent? Let's be honest, most people will buy a tent, use it once or twice, then into the storage room it goes.
The tent may be pulled out every couple of years to take the family on a camping trip. Otherwise, it sits on a shelf collecting dust.
For most camping applications in good weather, chances are a low cost tent is going to fit the bill.
With all of this in mind, let's take a few minutes and look and some low cost tent options.
Ozark Trail Tents
Ozark Trail is the brand name for Walmart's outdoor product line. Chances are most of us have walked through the sporting goods' section of a Walmart and saw some kind of Ozark Trail product.
How good are Ozark Trail tents? I bought a couple of Ozark Trail tents around 2001 or 2002. Here it is 2018 and they are still in working order. Around 2012, two of my sons used one of the tents while we were camping on the Angelina River near Jasper, Texas.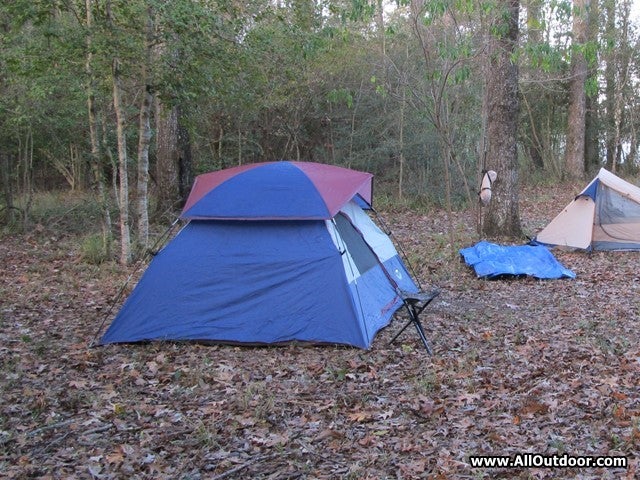 SHOP NOW
Here it is in 2018, and the tents show no signs of tears, rips, nor have the poles broke.
Ozark Trail offers a wide range of tents – everything from family sized, to lightweight one person backpacking tents. Are they going to be "just as good" as the expensive tents? Of course not.
My tents have been used for camping at the local state park, along a river, and on a beach. After using Ozark Tents for well over a decade, I can honestly say I'm surprised at how well they have held up.
Wenzel Tents
Wenzel is synonymous with low cost tents. As far back as the 1990s, they were making the Wenzel Starlite Hiker tent. This is a lightweight, low cost single person backpacking/hiking tent. On a personal note, I bought Wenzel Hiker tent sometime around 1994, and used it for years to camping the sloughs and bayous of Southeast Texas. The tent is over 20 years old and has no tears or rips, nor have the poles broke.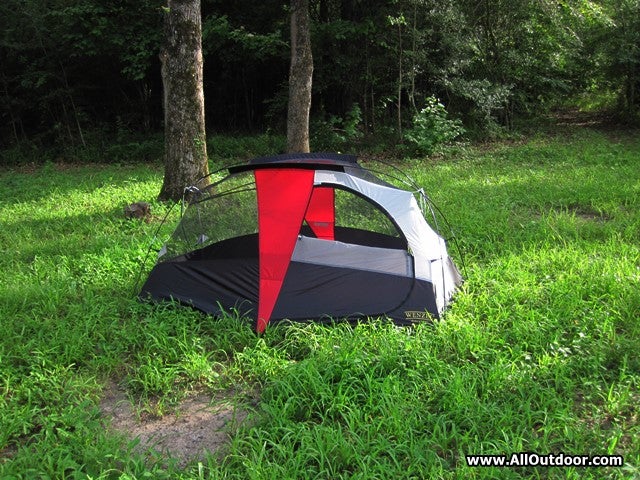 SHOP NOW
Around the year 2010, when my son and I were camping on the Angelina River near Jasper, Texas, he bought a Wenzel Lone Tree tent. This is a two person tent that cost around $40. My son used that tent for several camping trips, and never had any real issues. The only issue was condensation collecting on the rainfly. Then again, can we really complain when the tent cost around $40?
I liked the Lone Tree tent so much, I bought myself one. However, the condensation collecting on the rainfly and dripping into the tent was a problem so the tent was retired and put in the storage room.
Coleman Tents
Last but not least, we have a name that goes hand-in-hand with camping, and that is Coleman. The thing with Coleman tents, someone can get on Amazon, look through the Coleman tent selection and find something that fits their price range.
While some people may argue Coleman quality has slipped over the decades, the focus of this article is low cost tent options. Coleman offers a wide range of tents that should fit most needs and price ranges.
I remember mom and dad taking my brother and I camping at Lake Sam Rayburn in the late 1970s with a Coleman tent. The thing felt like it weighed a ton and had aluminum poles that must have been an inch in diameter, which was the standard at the time.
Whether it is something like the Coleman Sundome or the Montana, Coleman should have low-cost tent option for most people.
SHOP NOW
Final Thoughts
There are so many low cost tent options on the market this list should not be considered definitive. The wonderful thing about the Internet, someone can get on Amazon and shop for hours upon hours.
The three brands we talked about:
Have a long reputation of lost cost tents that when not abused should offer years of service to the average camper.