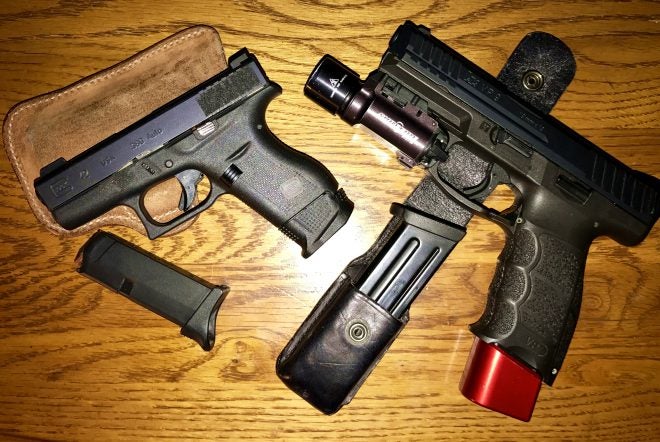 A good samaritan was shot and killed while trying to break up a fight. His crime? While breaking up a fight, his concealed handgun fell out of the holster.
According to various news articles, Jason Erik Washington was a valid concealed carry permit holder.
Portland State University officers, who were at the scene of the fight, saw the handgun, drew their sidearms and fired, killing Jason Erik Washington. When Jason was shot he had his back to the officers.
Man Killed By Armed PSU Officers Had Valid Concealed Carry Permit.
Jason Erik Washington, the man killed by armed Portland State University officers early Friday morning, had a valid concealed carry permit at the time of his death.

Two of Washington's colleagues and at least one witness say Washington, 45, was black.

[…]

"The gun slipped out of the holster when he had fallen, and I think he may have tried to retrieve it," Smith said. "Then they said 'gun.'"

That's when police fired, she said.
Everything but the shooting is in a video at the above link.
The two officers involved in the shooting have been placed on administrative leave; and the Multnomah County District Attorney's Office is conducting an investigation into the incident.
2 PSU Officers Placed On Paid Leave Following Fatal Shooting.
Two Portland State University officers have been placed on paid administrative leave following a shooting Friday morning that left one person dead.

[…]

Multiple agencies, including the Multnomah County District Attorney's Office and the Portland Police Bureau Homicide Detail, are conducting an investigation into the incident.
Opinion
What kind of person was Jason Erik Washington? He is described as an outgoing individual who had three children and one grandchild, and he had been employed with the United States Post Office since 1998.
It appears as if Jason was exercising his right to carry a firearm, and was shot because of a mistake.  For all intents and purposes, it appears Jason Erik Washington was at the wrong place at the wrong time.
What makes the situation so disturbing is Jason was shot in the back. Witnesses describe the officers as "shooting without hesitation." Is that how police officers are suppose to react when someone has a handgun? If so, where does that put licensed concealed carriers?
Question to the reader, what should happen to the officers? From the video it appeared Jason posed no threat. After all, he had been trying to break up a fight when the officers arrived.
It will be interesting to see what happens to the officers as the story develops.