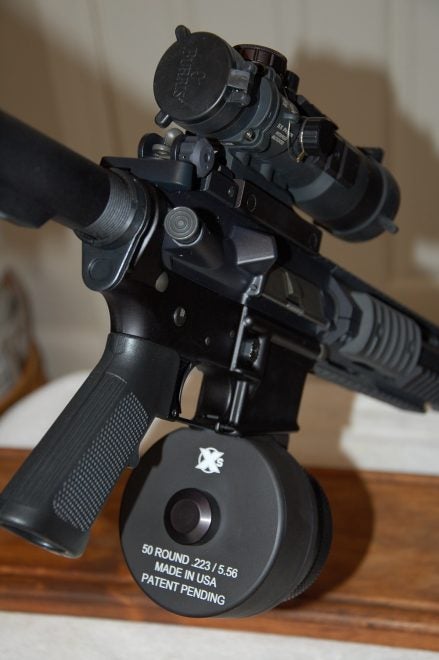 The standard out of the box magazine issue for a vanilla or even a banana split AR-15 is a 30-round unit. Every AR rifle manufactured that comes to the marketplace is going to be supplied with one or two of these basic mags. One would think then that 30 rounds of firepower with another in backup would be adequate for most situations? There are other options.
Conventional AR magazines do come a variety of capacities from 5-40 rounds. Users pick a supply of different ones for different purposes. There are some AR shooters that double task their rifles for personal or property defense, but also for hunting. The magazines dedicated for hunting usually hold fewer rounds loaded with specific hunting ammunition. They may even choose a different color magazine so they are clearly task separated.
Likewise the magazines for potential defensive purposes will contain a higher round capacity and ammunition designed for that purpose. Again, most of the active AR shooters are using black magazines for defensive work, patrolling, or official duty such as law enforcement.
However, what if you want the option for plugging in even more rounds than a standard 30-round magazine? How about a 50-round rotary drum magazine? Now there is some sustained shooting firepower when you need it.
X-Products makes a series of drum magazines for a whole host of rifle models from ARs to FNs, and most everything in between. One of their best sellers is a 50-round drum magazine in two versions for the AR-15/M16 rifles. The standard issue drum weighs in at 2.5 pounds, 3 pounds loaded. It is made of aluminum in a matte black anodized finish with a price tag of $225. The other model is a skeletonized version weighing 1.03 pounds empty and 2.05 fully loaded. The skeletonized model sells for $320. www.xproducts.com.
An AR rifle equipped with a fully loaded X-Products Drum magazine is a formidable weapon no doubt. The extra weight is not too obtrusive. One does have to get used to the larger drum fixture under the rifle as well as a shifting center of gravity in handling the rifle. Initially, you may find yourself banging into things with this magazine in place, but then this happens with a conventional 30-round magazine, too. Keep this in mind when posing shooting positions.
The AR-15 is a highly flexible firearm platform, which is why it remains so popular. You can plug in a 5-round mag for hunting, or the 50-rounder drum to really get serious.