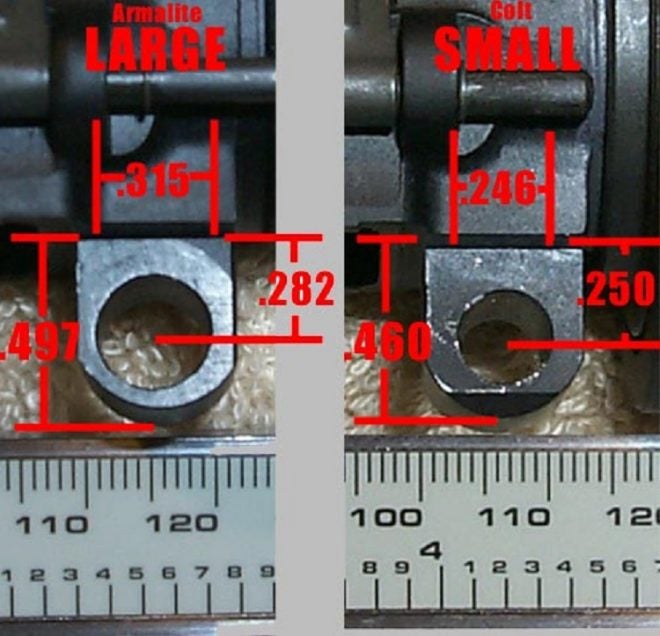 Who says old dogs cannot be taught new tricks? It is embarrassing to say, but for as long as I have worked with and shot AR rifles, I never knew there were different sizes of the upper/lower unit pin hole sizes. But now that I do, I thought I'd pass on the information to other AR users.
Actually, unless you are a really old head at using AR platform rifles, then you may not have known there were different upper unit pin hole sizes either. I found out by inquiring about a statement mentioned in the purchase information of a Stag Arms upper unit recently. It stated that their units used the "small pin" hole size. So, naturally, I inquired.
Richard and Ronny from the customer service department at Stag Arms explained. "The 'small pin' holes refer to the standard Mil-Spec AR-15 holes of today. On older Colt lowers, and some other older manufacturers, they used 'large pin' holes. The difference between the two is very noticeable. If your lower was created anytime in the last two decades or so, then you should have 'small pin' holes." That explains that.
Stag Arms also has a nice graphic on their web site that shows the difference between the two pin hole sizes (www.stagarms.com). I have attached that graphic here for your reference. Technically then the small pin hole size is .246 while the large hole is .315. The other dimensions of the upper to lower attachment blocks are also shown in the photo graphic. In looking at a live AR-15 upper then, it should be quite obvious.
What difference does it make? Well, the initial obvious point is that if the hole sizes between the upper and lower units do not match, then these components cannot be mated together. If you buy a sole upper unit or a lower, then just be sure of what you are buying. It sounds like though most all current manufactured AR uppers and lowers are using the Mil-Spec small pin hole size. Confirm before you buy.
Look at the Stag graphic again. It would seem to me that since the mated upper and lower units of an AR-15 do tend to yaw with slight movement a bit upon firing, and handling. I would certainly want that little extra bit of metal on the sides of the pin blocks. I wonder if that is how this Mil-Spec dimension came to be the industry standard? Just best to know.