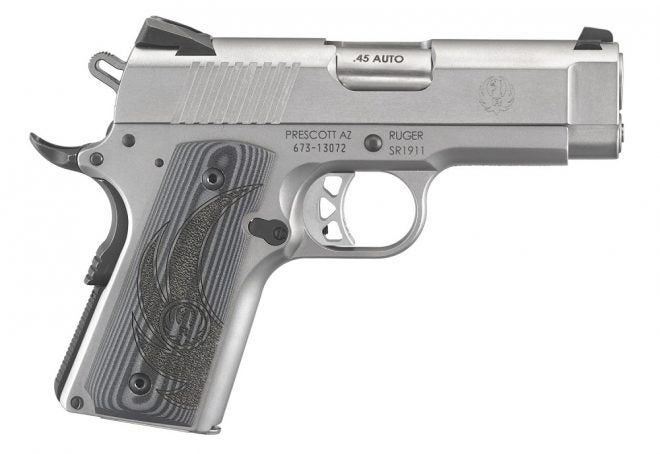 There is just something smart looking and highly functional about the 1911 type pistols that have been designated as Officer's Models. They are usually designed for convenient concealed carry or high on the hip in a cast forward holster ready to go to work. While the Officer's Models are usually of a compact nature some of them have full sized pistol features.
One such new pistol Ruger is bringing out now is just that. Officially it is the Ruger SR 1911 Officer's Model in classic .45 ACP. This is through and through a stainless pistol excepting the combat type rear open sight and the front reverse ramp sight. The barrel is only 3.6 inches in length with an overall length of 7.25 inches, indeed compact. Pistol weight is 31 ounces.
By the way that rear combat sight is actually a Novak drift adjustable 3-dot arrangement for each sight pickup and gun alignment to the target. All of the exterior stainless is of a low-glare type defeating reflection in the field. The stainless steel bull barrel is bushing-less adding extra recoil dampening weight to the front of the gun. The guide rod is full length.
The back strap is checkered for a firm grip onto the G-10 checkered grip panels that can be removed for customization as desired. The aluminum trigger is of the skeletonized type with an adjustable over-travel stop. This trigger provides a no creep, crisp release that has a light trigger pull from the factory including a positive reset.
Other features include an oversized beavertail grip safety, an extended thumb safety and slide stop lever on the usual left side where controls are normally found on a 1911 pistol. The ejection port has been cut oversized for positive ejection of spent brass. The magazine release is also extended for a positive magazine release which is desirable for competition shooting.
There is a visual inspection port atop the ejection port for the operator to determine a load in the chamber status. This is a nice feature for range or usual carry to be able to know if the gun is chambered or empty. The rear of the slide is also serrated for a firm grab to cycle the slide. The hammer is of the combat type with hollow loop.
The Ruger SR1911 Officer's Model comes with two stainless magazines each with 7+1 capacity. This is a neat looking and full-featured 1911 with a retail price of $979.00.