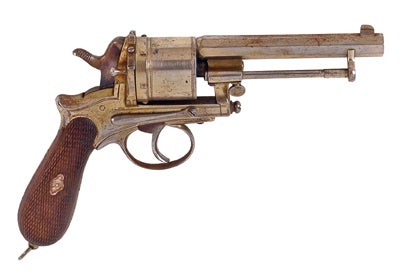 For true firearms enthusiasts and gun historians alike, it is always of interest to note the firearms used in the movies. Usually, but particularly in the recent past the movie makers have gone to great efforts to make the weapons used true to the historic times and places set in the cinema. It often gives the interested viewers a chance to see firearms of historical value that we may never discover otherwise.
Case in point is the unique, if not outright strange revolver portrayed in the movie The Illusionist starring Edward Norton as Eisenheim, a magician or better yet as the movie title suggests, a true illusionist. The short story is that Eisenheim tries to win back a childhood girlfriend Sophia, now the Duchess von Teschen (Jessica Biel) that is the fiancée of the Crown Prince Leopold (Rufus Sewell) of Austria.
The only way Eisenheim can get Sophia away from the Crown Prince is to create an illusionary murder by the Prince. The Prince has already had Vienna's Chief Inspector or Police Commissioner of the city, Inspector Uhl (Paul Giamatti) on the case, but Uhl determines that the Prince was the "murderer" and he confronts the Prince. Thus the Prince produces a handgun and threatens to kill the Inspector, but upon realization commits suicide. By the way, the Prince was also plotting the overthrow of his father, the Emperor Leopold at the time.
This revolver was the 1876/1878 Gasser-Kropatschek Officer's Revolver which served as the official sidearm of the Austrian Army during the time frame of the late turn of the century. The rather frail looking handgun was apparently not very effective either, but it was an Austrian-Hungarian design and the mainstay of the current military and likely police as well.
The Gasser pistol was chambered for the 9x26mm Gasser round that sported a 26mm case, 34mm overall length cartridge using a 10.2 gram bullet at a velocity of 219 meters per second. The gun itself had a length of 9.16 inches, weight at 26.95 ounces, with a barrel length of 4.88 inches. Basically it was a small revolver with a prominent cartridge extractor rod alongside the barrel.
Historical evaluators of the Gasser handgun commented that "It had not proven to be very effective and the shock caused by this bullet even when fired at a very short range is not sufficient to put a man immediately out of action." I guess it was enough for the Prince to kill himself with a shot to the head, at least in the movie anyway. At best an interesting piece of armory history and a very entertaining story line.