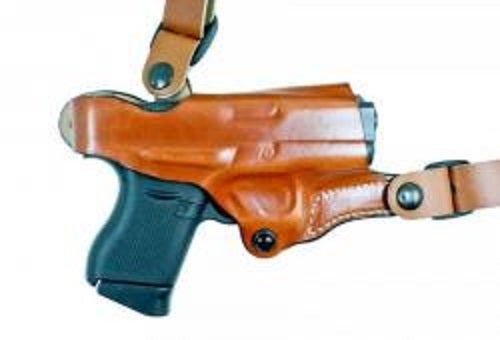 Without sheer hype, by all indications, the Glock line of pistols is one of the top selling and most used production handguns all around the world. And out of that extensive, though confusing line up of firearms, their relatively new Model 43 is one of the most popular in the catalog. Sure the G19 prevails, and then the 17, but the 43 is widely popular among all types of pistol users. The G43 is a lightweight, single stack, 9mm highly suitable for concealed carry for personal protection and self-defense.
Accordingly then, there are all kinds of aftermarket accessories, and other items geared specifically for the G43 pistol. Among all those add on products, holsters are probably one of the most prevalent and necessary items. The assortment of designs, and configurations of holsters for the Glock 43 is mind bending.
The list of available holsters for the G43 is long and diverse. From inside the waistband to outside the waistband, to slip in your pocket designs, to back pocket hiding gun sleeves and all else, there are plenty of holster choices for the Glock 43. There are leather holsters of traditional thumb break open types, to numerous variants in polymers in a dizzying array of colors. Too many to choose.
But then, along comes something to fill yet another void in the options for carrying a Glock 43. The well-established and respected leather holster company DeSantis is now producing a slick shoulder holster rig for the newer G43. It think it is going to be a very popular carry option for this pistol.
DeSantis's shoulder holster has been product named the New York Undercover, Model 11D. Originally this design was created in 1970 and has undergone numerous changes and improvements over the years. Made of top-grain cowhide, each 11D holster rig is molded to fit the specific pistol model.
The unit comes with the exact fitting holster and the harness system to fit up to a 54-inch chest.
This shoulder holster outfit also comes with a double ammo carrier and additional accessories are available as well. The holster is available in a black or tan leather. The holster comes unlined which affords a firm, tight pistol fit.
This DeSantis New York Undercover shoulder holster retails for $182.99. Check out all the features and additional information on all DeSantis holsters at www.desantisholster.com.