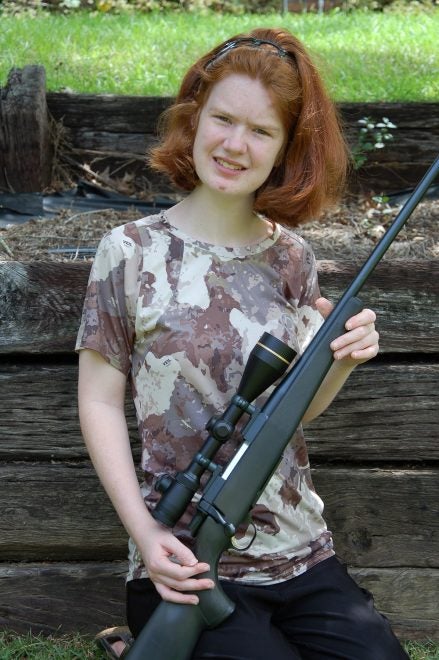 When I started deer hunting in college in the early 70's in Missouri, women did not hunt. That is except one. Jan was the wife of a painting contractor out of St. Louis that came to hunt with us on the Gasconade River near Linn, Missouri. To be honest, though I'd never admit it at the time, Jan was the best hunter in our whole bunch.
I still remember poor old Jan dressed in a too big frumpy painter's jumpsuit that belonged to her husband. It didn't bother us, but she was always tugging at the shoulders and the pants legs looked funny rolled up at the bottom. She did the best she could with what she had back in those days including quite often bringing in the biggest buck to embarrass us all.
Those days of frumpy coveralls are over for women hunters. Today, there is Prois. That is Gaellic for prowess. This line of hunting camouflage clothing is the brainchild of Kirstie Pike of Gunnison, Colorado or there abouts. Hard to keep track of this huntress, as she can be found trekking the mountains of Colorado or exotic places like Ireland for birds and game, or some God awful place on the peaks of Tajikistan before the year is out.
I seriously doubt Kirstie ever wore coveralls, but she was not happy with hunting clothes for women when she set about designing and manufacturing her own line. Today, in 2018 she has completely redesigned the entire Prois wardrobe. It is known as the Cumbre line.
The new venture is a co-op with Veil Camo to produce a brand new pattern of a finely tuned color palette of browns, grays, greens, and tans. Prois terms them "synchronized" to create disruptions that work equally well out in the open spaces like a western sage field, or heavy timber cloaked by spruce, cedar, or hardwoods. I see it working out east, too in our oak-hickory and loblolly pine woodlands, or broom sage grasslands. It is as they market it a concealment strategy.
However, for women that is not the best part. Each piece of individual clothing is cut to the fit and shape of the opposite sex. I'd say it flows, not just fits. Each Prois Cumbre line is identified by unique names such as Olann, a Gaellic word for wool, Tintri meaning hot weather, Callaid for mountains, Dionla for harsh weather, and Torai, Gaellic for hunter. Each set is a strategy for what women hunters face afield with bow or gun.
Prois Cumbre clothing is direct order except for Scheels stores and maybe more to come. Check out the Prois web site at www.proishunting.com for sizing and ordering. Leave the jumpsuits and coveralls for the game cleaning and processing.