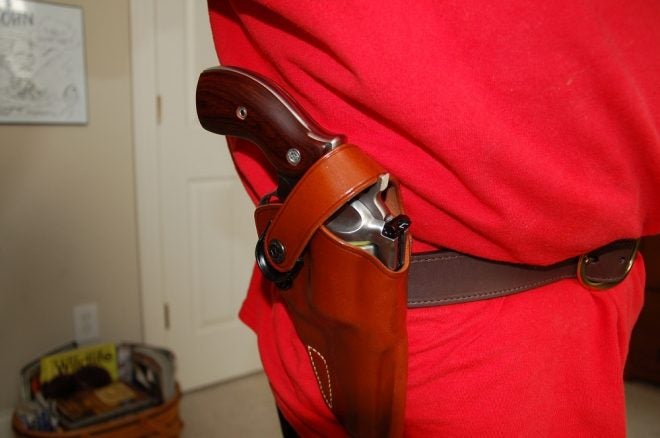 How do you carry your sidearm weapon? There may not be a "best" way to tote a pistol or revolver on your waist, but there are options. It may seem like a very simplistic thing, but as of late, I have begun to take note of how handlers are carrying their primary sidearm.
Almost without exception, law enforcement officers, game wardens, and other professionals that have to carry a firearm on their waist every day are using an external holster belt system. These rigs vary widely in types, and configurations. They also come in a variety of materials from leather to nylon and other synthetics with a range of accessory attachments.
These guys have to tote so much gear on their waists that it has to be uncomfortable. They carry the ubiquitous Glock 19 or 17 with holster, or whatever issue firearm they use, then some extra supply of ammo or a double magazine holder fully loaded, then a radio, handcuffs, defense baton, flashlight, MACE, maybe a folding knife, and sometimes even a stun gun. Imagine getting in and out of their cruisers every day with all that strapped on the waist.
As such then, there is no way to carry all that essential gear by using the same belt that holds up the pants. It simply creates too much weight and pull on the trousers to be an efficient way to carry a sidearm. Without all that extra stuff on the belt, then a pants belt might work.
Most sidearm carrying hunters, farmers, ranchers, hikers, and such that carry a pistol or revolver in the field most often just slide their holster on the pants belt, hitch up the belt an extra notch or two and carry on. Under most usual circumstances this works out pretty well.
Then the options are the type of holster to use such as traditional strong side carry, crossdraw, or even a behind the back type. I like the holsters that have slots to affix the rig either strong side or slide it around into a crossdraw configuration.
Next are all the options for inside the waistband or outside with just a paddle or hook that slides over the pants belt. These can be configured in a number of different ways to make it more comfortable and efficient.
If you tote a handgun on your waist, then try out different carry modes and styles to fit your needs best. Build a system that just goes around the waist over the pants belt, or a rig that fits right on the pants belt.