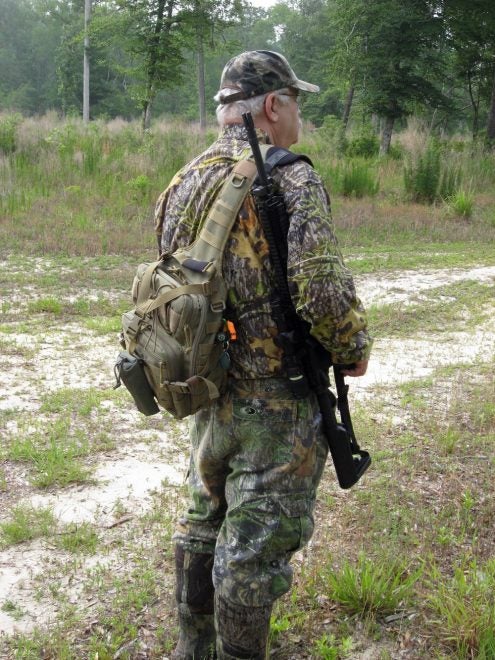 Hunters seem to be in the midst of a camo war of sorts. There are so many patterns out there today that surely practically every hunter has to be wondering "what the hey." Most hunters just pick a pattern they like, or are brand loyal to, or the clothing item that fits well with hopes that it will wear well.
Hunting camo has an interesting history as I recall it. When I started deer hunting in 1970 the only real camouflage of any sort was WWII old olive drab blotches or Vietnam War Tiger Stripe. My first camo coat was an M-65 Army jacket in Tiger Stripe. It actually worked fairly well in the oak-hickory woods of Missouri, but alas it was green and black in a woods of winter browns and earth tones.
Shortly thereafter Trebark came on the scene from the creations of Jim Crumley about 1972. Naturally if you stood by a tree then Trebark hid you. Fast forward the clock when Bill Jordan of Georgia developed his Realtree line of hunting camouflage patterns. Later, Toxey Haas of West Point, Mississippi branded his Mossy Oak line of patterns. Then the chase was on for real.
Since or in between, dozens of other patterns came out, flared up, and burned away. New camo hunting patterns popped up as fast as anything else in the hunting related marketplace. For years it was a marketing coup to introduce a new pattern at the annual SHOT Show with Realtree and Mossy Oak volleying back and forth for market shares. Today, Realtree seems to have the edge, but Mossy Oak has a tremendous popular following, sort of like the Dale Earnhart, Jr. of the hunting camouflage market, though Dale, Jr. endorses Bass Pro camo now. When did he become a hunter?
Both of those brands have multiple patterns and have done a lot to improve the clothing made of it. Initially, Realtree had a sort of shiny finish on stiff material. The first Mossy Oak clothing could hardly make a season without falling apart and a couple of washings faded the pattern quickly. That has all been remedied with modern textile technologies.
Today, everybody in the hunting business has their own proprietary patterns. These include Bass Pro's True Timber Kanati, Cabela's Instinct, Browning's A-TACS, Sitka's Optifade, Under Armor's Ridge Reaper, and new Firstlite's Cipher and Fusion. It goes from fusion to confusion.
So, what to do. Simple. Buy hunting clothing that is comfortable and durable in a pattern that matches the terrain and season when and where you hunt. Beyond that, sit still and don't move. Game animals see movement not camouflage patterns.