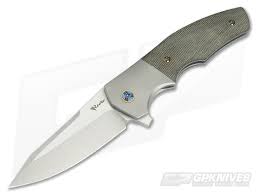 Reate has done quite a bit to change the image of Chinese made knives in the last five years.  It used to be that "Chinese made" was a bad thing in the knife world.  Amazon was jam packed full of poorly made, inexpensive knives, many of which were of borrowed design.  Then Kizer, Reate, and WE Knives brought to the forefront a series of stellar blades and collaborations and things changed.  The high end custom maker, Todd Begg used Reate as an OEM for the first pair of Steelcraft knives.  Special editions from Reate used materials only seen in customs.  And then Reate started signing makers to collab deals under their main brand.  Tashi Bharucha designed a number of knives for Reate and they were both unique and incredibly well made.
At the same time Kirby Lambert was moving into the top tier of custom tactical knife makers.  His flippers, the Augustus and the Snap, were well-received and his other knives, the Hooligan and the Flare were also sought after.  In talking to many high end collectors, they were impressed with Lambert's materials choices, finishing, and attention to detail–all things that collectors love to see.  But because of the these things Lambert customs were hard to find and it seemed unlikely that a production collab could occur–few companies could bring Lambert's vision to life.
Then, at Blade Show 2018, Reate announced the Lambert collab called the Crossroads.  As is Reate's style they showed off a trio of designs, two carbon fiber versions, one with a bead blasted bolster and the other with a black bolster, and a green micarta version.  Later an extremely limited production run of Crossroads with Damascus steel was seen in forums online.
Overall the knife looks like a Lambert–straightforward blade shape with a prominent index notch and a good palm swell.  It is a big knife, not just a big blade (though at 3.75 inches this is probably not a good choice to EDC at a playground).  It is also beefy, tipping the scale at 5.29 ounces.  The steel is the always good M390 and the knife deploys via a flipper.
Prior experience with Reate-produced knives indicates that this will be something approximating Lambert's customs.  In the production world no one, save maybe Chris Reeve, is producing knives as consistently well made as Reate.  It may not be indistinguishable from the handmade gems of the master, but these knives are bound to be something extraordinary.  If you haven't had a Reate, you will be blown away by the smooth pivot, dead-on centering, and rock solid lock up.
One criticism typically leveled at Lambert designs does apply here–this knife looks like every other Lambert knife.  I am not sure how much stock I put into that criticism because all of his designs are incredibly solid.  Does anyone fault Lotus for always making light cars?
Important Info:
What: Reate Crossroads
When: Released soon
Made in the USA?: No, Made in China
Price: $375 for regular editions
Specs: 3.75 inch blade, 5.29 ounces, M390 steel
Highlights: Marbled carbon fiber, first Lambert collabs, Reate attention to detail