Timney Triggers Sponsors National Rifle League
Russ Chastain 08.14.18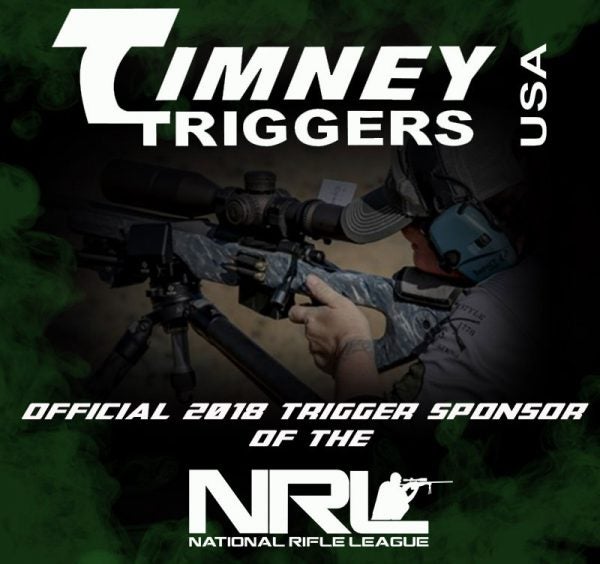 Timney Triggers, makers of some of the best aftermarket rifle triggers in existence, has agreed to sponsor the National Rifle League's 2018 season as The Official Trigger sponsor.
The NRL 2018 season consists of 13 national level precision rifle matches, and the NRL Championships will be on October 19th – 21st in Idaho, where Timney Triggers will be supporting with product for competitors to select off the prize tables.
Wondering about the NRL? This should help:
The National Rifle League is a 501c3 non-profit organization dedicated to the growth and education of precision rifle shooting through a wide range of outdoors-related public interest activities. These activities are designed to develop marksmanship skills for those participating in the shooting sports, and to educate the public about firearm safety.

Our mission is to enable growth in the competitive shooting sports, for those who have aspiration for their communities, their businesses, families, and themselves. The National Rifle League exists to support them on their journey from ambition to achievement.

This is why we are so proud to support match directors and competitive shooting athletes as they represent all of us over the United States.
And Timney Triggers should need no introduction, but here's some info:
Timney Triggers began in 1946 and is now the oldest and largest trigger manufacturer in the world. Under the current ownership of John Vehr, and his heavy investment in technology, cutting-edge machinery, people, and a mindset, Timney Triggers quickly became the company that set the standard in aftermarket triggers. By innovating and listening to customers, it is now producing more than 170 models of triggers for bolt-action rifles, shotguns, AR rifles, and semi-automatic rifles.
Pretty cool that Timney Triggers would sponsor something like this.
'National Rifle League events would not be possible without the generosity of sponsors like Timney Triggers,' stated Travis Ishida, Founder of the National Rifle League. 'We sincerely appreciate the efforts of companies like Timney Triggers that continue to lead the way in innovation and foresight to growing the shooting sports.'

'Timney is dedicated to the growth of the shooting sports and supporting the tradition of responsible gun ownership,' stated Kevin 'T-Bone' Dee, Trigger Jedi of Timney Triggers. 'For [more than] 70 years Timney has focused on making "The World's Finest Triggers" and we are excited for the opportunity to support the NRL and play a significant role in the development of new shooters and the exciting world of shooting sports.'