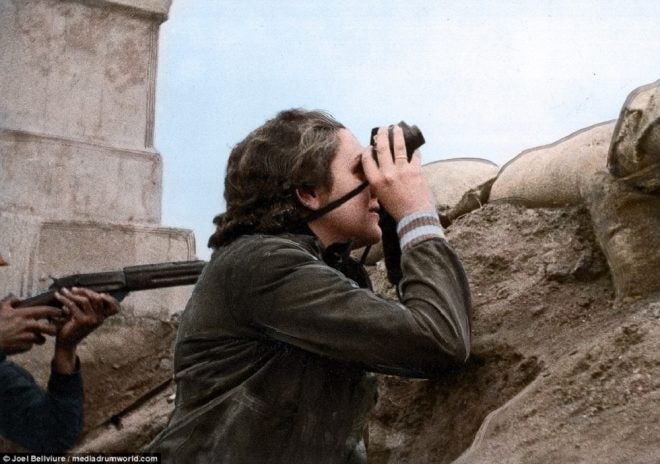 A series of black and white war photos resurfaced recently as newly colorized versions. The war scenes were from the Spanish Civil War fought from 1936 until 1939. The colorizing work was done by a 17 year old young man by the name of Joel Bellviure living near Barcelona, Spain. The photos depicted the struggle between Republic Leftists and the Nationalist Rebels backed by the Italian Fascists and Nazi Germany.
One of the photos shows a young woman observing the enemy lines with binoculars from behind a barrier. Next to her can be seen a Republic partisan holding what is clearly a Winchester 1895 lever action rifle. My first impression was "What a weird place for that legendary American lever action rifle to show up fighting in a war." A little research revealed it was not so strange after all.
In that war over control of Spain it was estimated that some 250,000 fighting troops were killed, but other calculations put the number as high as one million killed. Arms were very difficult to secure since there was an arms embargo in Spain at the time. These politics allowed others to take advantage of the situation. In this case it was Stalin in Russia.
Russia had bought thousands of Winchester 1895 rifles from America. He resold 9000 of those rifles chambered in the old Soviet 7.62×54 round to the fighters in Spain. According to records, Stalin sold the guns for many times their original cost to Russia in exchange for Spanish Gold.
The rifles were delivered to the Spaniards on October 25, 1936. They were likely the musket versions, but could have included the carbine models as well. They were fitted with special receiver tops to accommodate preloaded stripper clips. Ammo was stored in the 1895 via an enclosed cartridge box below the action.
That conflict was eventually won by General Francisco Franco in 1939 and he ruled as the sole dictator of Spain until 1975.
A few of the Spanish Civil War Winchester 1895s survived that conflict and reside now in private collections. Those rifles were usually found in very used war condition. These rifles did bear Spanish Arsenal stampings and many were semi-refinished.
Incidental to this story of the Winchester 1895 use in a limited civil war, it was also a favored rifle for hunting by Theodore Roosevelt. His 1895 was chambered for the venerable .405 Winchester and was used by Teddy on many big game hunts around the world.
According to sales figures though, the 1895 was not a particularly popular rifle in America and was replaced by the Model 71 for sporting use. The 1895 was a finely made rifle in the old manufacturing traditions of the time, and withstood much abuse in combat and on the hunting fields as well.