Glock's New Factory 24-Round Magazines For Sale
Russ Chastain 08.28.18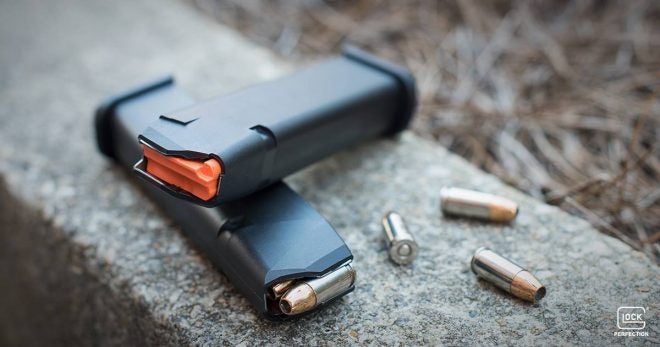 Glock's new 24-round double stack 9mm magazines have been listed for sale since July, but weren't officially introduced until earlier this month, when they announced it on their Facebook page. Bridging the gap between their 17- and 33-round mags, the new magazines are the perfect thing for when you need two dozen shots.
From their facebook post:
Time for a capacity upgrade. 24 round 9mm GLOCK mags with orange followers are now available.
In a recent post, Guns.com has this to say:
As with other Glock mags, the new entry is polymer-encased with a steel insert and rear witness holes. The mag fits the G17/17L, G19/19X, G26 and G34 series but, like the 33-shot classic, will extend past the magazine well. The body is double cut to work with a reversed magazine catch such as on Gen4 models.
24-rounders have been listed on Glock's European website for a while, but with black followers and this disclaimer: "This magazine might not be available in all countries due to legal regulations."
TFB notes that the length of the new magazine is 165mm (6.49″), and says this is too long for USPSA/IPSC competition use. Bummer! But it should make for one heck of a hefty spare mag for those who concealed carry with a Glock double-stack 9.
Here's what their European website has to say:
Each GLOCK magazine is constructed from a hardened steel insert encased in high tech polymer to protect the magazine and prevent deformation, even when dropped from a great height. The high quality spring and follower ensure reliable feeding from the first round fed by a fully compressed spring down to the last shot. Its double cut magazine body also works with a reversed magazine catch on Gen4 GLOCK pistol models.

Features

Constructed of hardened metal encased in durable polymer
Viewing windows for visual confirmation
Double-stack design
Metal magazine spring
Black Follower
Standard magazine for: –
Also fitting: G17, G17L, G19, G19X, G26, G34

This magazine might not be available in all countries due to legal regulations.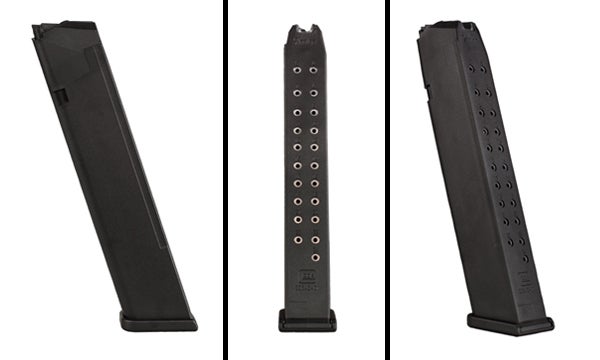 Brownells has the 24-round mag priced at $31.99 (on sale) and says it's in stock, but has no photo on the listing. GunMag Warehouse wants $35.99 and pictures show a black follower, while MidwayUSA shows an orange follower and lists the same price — while noting that it's "Overdue" to be in stock.