5 Cheap Crossbows to Extend Your Hunting Season
Russ Chastain 08.30.18

Crossbows, like most other hunting gear, can vary widely in cost. So if you want to extend your hunting season by getting in the woods for archery, you might just break the bank if you're not careful. We love saving money as much as you do, so here's a list of 5 cheap crossbows to extend your hunting season.
1: SA Sports Fever Crossbow Package 543
The SA Sports Fever 175-pound recurve crossbow package offers one heck of a value. Although the MSRP is $199.99, it can be had for $141.12 shipped! Boasting an automatic ambidextrous safety, oversize cocking stirrup, adjustable Weaver-type scope mount, 4×32 multi-range scope, quick-detach quiver, and a lightweight composite stock that's full-dipped in camo, this package comes with four 16″ arrows, a padded sling, a rope cocking device, and hex keys.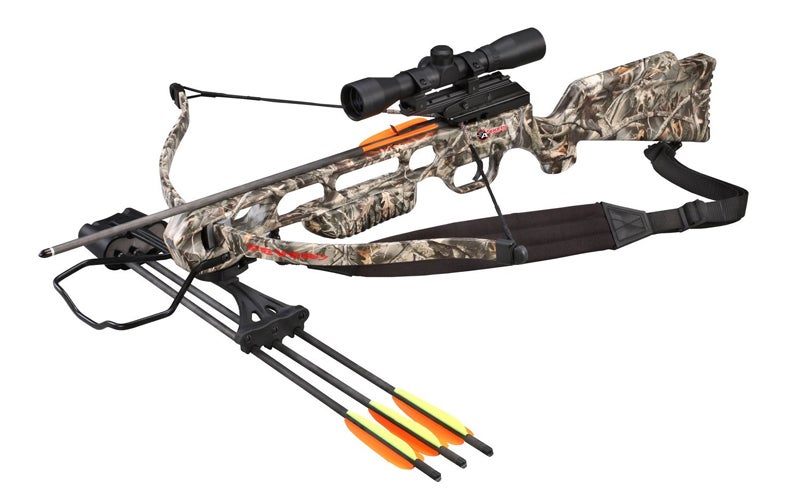 2: Wizard Manticore SAS 150 Crossbow Package
The Wizard Manticore SAS 150-pound crossbow package is a recurve crossbow that comes with a rope cocking device, a small 4x 20mm scope, and either 2 or 6 16-inch arrows (depending on which line of the description you rely on)… all for less than $95! Available in full camo or a black & woodgrain finish.
Reviewers recommend you do yourself a favor and buy the recommended crossbow stringer so you can get the string on your crossbow after you assemble it..
3: Leader Accessories 160-Pound Crossbow Package
Who knew you could get a Leader Accessories crossbow package for less than $120? And if you prefer black to camo, you can save a fin. This recurve crossbow has a 160-pound draw weight and weighs less than 6 pounds. It even includes a 3 red dot scope, four 16-inch aluminum arrows with 125-grain practice tips, string wax, stringer, padded sling, quiver, and cocking rope. This one even has an anti-dry-fire mechanism and a one-year warranty on the bow (excluding strings/cables).
Power Stroke: 10.5″
Trigger Pull: 6 lbs.
Length: 34.5″
Width: 26.5″
4: No-Name 175-Pound Adjustable Stock Crossbow Package
This 175-pound crossbow package doesn't seem to have even an unrecognizable brand name, but it does have an adjustable buttstock and is priced just shy of $110 (save a ten-spot if you want black instead of camo). The camo finish is Next G-1 Vista, and the package includes 8 arrows, rail lube, stringer so you can get the string on, and a rope cocking device.
175 lb draw weight
Power Stroke: 10.5″
Total Length: 30.5″ (Foot claw to Stock)
Width: 26″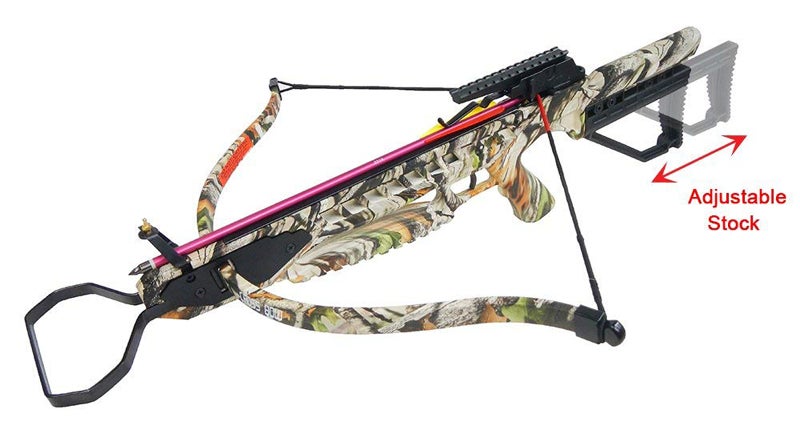 5: Barnett Outdoors BCR Recurve Crossbow Package
Finally, a name I recognize. Heck, the only three deer I have killed with a crossbow fell prey to my old Barnett Wildcat C5, so I know cheap crossbows can kill critters. Anyhow, this Barnett Outdoors BCR recurve crossbow package is available for as little as $122 and change, for which you get all this:
Anti Dry Fire Trigger
MIM (Metal Injected Mold) trigger
AVI (Anti Vibration Isolation) high compression overmolded limbs and/or components.
Red dot scope
Finger reminders and pass-through foregrip
Adjustable Butt Pad
Anti-Vibration Foot Stirrup
Quick detach limb assembly
I hope you've enjoyed this look at 5 cheap crossbows to extend your hunting season. Archery season is coming up fast, so order one and then get out there and practice!