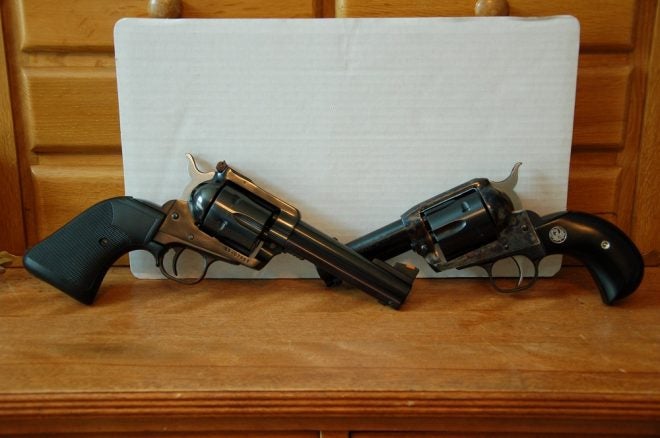 John J. Woods
Magnolia Outdoor Communications
SHIFTING GEARS WITH A SINGLE ACTION
The simple sounds of a single action revolver cocking is music to the ears. Admittedly I sure do love revolvers, but honestly most of my work has been done with double action models, though a fair share with single actions, too. Still there is nothing like the sound and feel of hammering back a classic single action handgun.
You millennials out there with your palm cranking slides and slamma-jamma magazines have no idea of the joy of which I speak. Same with you weekend tacticals prowling around a make shift urban warrior cinder block floor plan trying to creep up on terrorist threats. Sure, we love our semi-auto defense guns and especially our decked out ARs, but when the lights flicker on in the shooting world, those don't hold a candle to a good ole single action hog leg. Figuratively anyway.
Ever shift a four on the floor stick in a 1964 Chevy Malibu Chevelle with the 283 V8? Well, of course you haven't. I doubt you've ever done the same on a column shift in a 1949 GMC pickup truck either. Those gears, those shifts, and everything connected to them make a certain sound you just have to experience. It's the same with cocking back the hammer on a single action revolver. There is nothing else like it. Cock it slow, up close to your ear and enjoy.
My first ride with a single action came with a Ruger Bearcat I got for Christmas in 1960, a gift from Santa, Dad and the local Western Auto. That started it all. Later while visiting my brother in Army helicopter school in Mineral Wells, Texas, I bought a Ruger Single Six at a local store. You could do that back then, too. I even was allowed to carry it home on the airliner.
Many single actions have come since in all brands, models, calibers, barrel lengths, in both deep blue and stainless. I am a deep blue guy. A stainless handgun just does not hold its appealing allure to me, but I understand why some love it. My two favorite cylinders hold .357 magnums and .44 Magnums, but I got my eye on a Ruger Blackhawk in .41 Magnum.
The appeal is hearing that hammer cock back and the action arming. The cylinder spins into perfect alignment. Either cowboy open sighting down the barrel, or a precision adjustable like a Ruger, the single action handgun has a certain feel of pending accomplishment in the hand. At the recoil the muzzle rises like the sun, with a confirming push in the grip. Don't forget to break out the cowboy hat and spurs if so inclined.