Compound Bow Review: Bowtech Realm X + Video
Lucas Cooney 09.10.18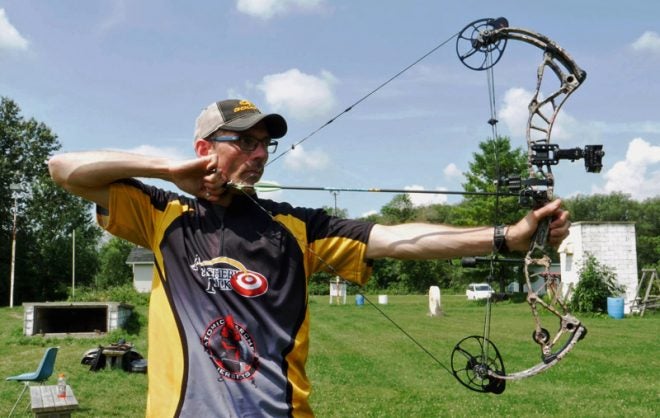 I've spent the past few months shooting the Bowtech Realm X for our sister site ArcheryTalk.com's 2018 Hunting Bow Project.
Specs on the Realm X include an axle-to-axle length of 33.25 inches, brace height of 6.5 inches, mass weight of 4.3 pounds and IBO rated speed of 345 feet per second. Retail price is $1,099.
I've been shooting this bow with a draw length of 29.5 inches and a draw weight of about 65 pounds.
Fit and finish on the Bowtech Realm X is top notch. Though the Mossy Oak Break Up Country Camo is not my favorite, I can see no flaws it how it was applied to the riser. If I had my choice, though, I'd go with either the Flat Dark Earth or Gore Optifade Subalpine. Regardless, riser, cams, limbs and strings look great even after extended use.
I had a big problem with the grip on the Bowtech Reign 6 I tested last year, as it was much too rounded for my liking and I never felt consistent with it. But Bowtech came out with a new grip for this year and I think it's a massive improvement. It's fairly narrow and flat in the front and it just fits my had perfectly. Any inconsistency I was suffering with the Reign is gone with this bow.
Bowtech included the Flip Disc system with the Realm X, allowing you to choose between Performance and Comfort settings. I've primarily been shooting in Performance mode, which offers a fairly stiff draw cycle, but it's relatively smooth. The back wall is reasonably stiff for a cable stop bow and you've got to be pulling fairly hard into it in Performance mode, as the valley is very short. In fact, it's easily the most aggressive feeling bow I've shot this year. If you relax, the Realm will jump on you…I know…it's happened to me a couple of times.
Despite the aggressive feel at full draw, I still prefer to shoot it in Performance mode. The threat of the bow jumping has forced me to stay more aggressive against the wall, which leads me to better and cleaner shots. I'm not positive I'd want to hold this bow at full draw for a long stretch in a hunting situation, but it's shooting so well like this I'm not inclined to change it. The good news is that if I do decide to want a more relaxed feeling bow, I can just flip the disc over to Comfort mode and be done with it.
Once the shot releases, the Realm X does have some minimal vibration, but its barely noticeable and would be cleaned up with a good stabilizer.
The Realm X was the easiest bow for me to tune all year. After installing the rest and D-loop, I roughly sighted in my 20-yard pin in a few shots. Maybe a half dozen shots later, I shot a bareshaft arrow and it grouped right with my fletched arrows on the first try. That's about all I can ask for out of a bow, but if I did run into problems, the Realm X has both top and bottom yokes, so you can make small adjustments very easily. I've always loved how easy Bowtechs are to tune and the Realm X did not disappoint.
To test out the speed, I shot a 350-grain Gold Tip Platinum Pierce arrow through a chronograph with the Bowtech Realm X set at 70 pounds of draw weight and 29.5 inches of draw length. I saw an average speed of 338 feet per second. When you consider draw length and weight on the string from a peep and D-loop, that is actually faster than IBO. This was the fastest bow I tested this year, despite two other bows having IBO rated speeds more than 10 feet per second faster.
If you are in the market for a high powered hunting bow that is easy to tune and dead accurate, it's worth visiting your local dealer to give the Bowtech Realm X a test drive.