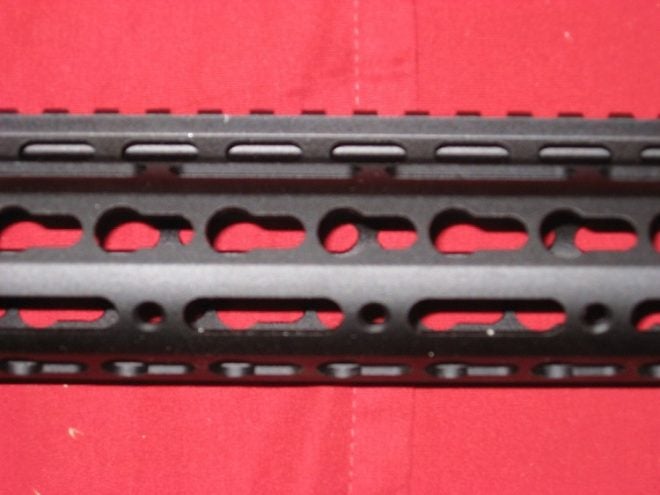 John J. Woods
Magnolia Outdoor Communications
IS THE TENURE OF THE AR PICATINNY RAIL ENDING?
Even the new corps of millennial shooters that are still learning the AR-15 rifle platforms are witnessing engineering transformations in their own lifetimes. It is even more shocking to us Vietnam War era shooters that reluctantly took on the new "black" rifle design, but then came to embrace it completely, even learning to relish it.
But as the original Stoner, then Colt AR design began to evolve, we became well accustomed to the flexibility afforded to us by the development of the Picatinny Rail systems. As the Vietnam War era ended in 1975, work continued on many fronts to further modernize the military's first "plastic" rifle was it was often slandered or degraded. The AR-15 or M-16 was here to stay, and still is, so it was due some enhancements.
Among the first efforts around 1980 was the development of the Picatinny rail having taken the name from the Picatinny Arsenal. The Picatinny rail was a further development of the older Weaver mount design. After much work this effort became the MIL-STD-1913 officially in 1995.
The Picatinny Rail then became the rather default mode for accessories attachments for the AR-15 commercial versions as well as the M-16 military models. Anybody owning an AR today knows about this rail system and how it works. It is universal for mounting virtually every accessory item created for an AR rifle from scopes to lights to lasers, to sling attachments and everything else except perhaps the kitchen sink as they used to say.
Since 1995 through full accepted implementation of this rail system, the Picatinny Rail has rallied on all these years as the single most popular mode for accessory attachment. However, it had it faults. First the 3-4 sided rails with the Picatinny T-shaped slots were criticized for their weight factor, as well as in some cases the near razor sharp edges created by cutting the slots.
Everybody I know with an AR Picatinny Rail has been cut by these rails. The slot sections not used then are most often covered with rail covers to protect the user and to make rifle carry more comfortable. This system has worked for a long time, but options were coming.
Then sometime around 2012, Noveske Rifleworks (from Vltor Weapons Systems) introduced their new KeyMod system for accessory attachment. These "rails" consisted of a series of key holes with a rounded hole insertion point with a slot to lock down the accessory. The key hole was the "female" equivalent with the accessory item having the "male" counterpart. The accessory "stud" or mount was slipped or mated into the KeyMod hole and slipped into the slot to lock it in place.
You'll see ads in magazines for Bravo Company that has fully endorsed this KeyMod system and is manufacturing or providing a multitude of accessory items for it. These items include ring light mounts of various kinds or many flashlight models, sling mount attachment points, fore end angled grips, vertical grips of various sizes, KeyMod rail handguards, bipod adapters, offset rail assemblies, and much more.
For some time then for as short as the time has lasted the Vltor-Noveske KeyMod system seemed to have taken the market by storm. In short order, AR rifles from manufacturers and custom work sold at gun shows and shops began to show up fully equipped with KeyMod rails in place ready to accessorize. Additional accessory options continued to come into the marketplace as well.
However, behind the scenes and not to be outdone in the AR rifle market, the Wyoming based concern known as Magpul was also working on a new system. By 2014 they hit the market with their own proprietary system to be called the M-LOK or short for Modular Locking Accessory Mounting System. The M-LOK was really an engineering improvement of Magpul's older MOE Slot System mounting configuration.
Now AR users, military, law enforcement, and civilians truly had options to pick from when it came to deciding on an accessory mounting system for their AR-15 rifles and variants. Both KeyMod and M-LOK rails have substantially reduced the weight of an AR rifle using either, but also just in the overall diameter of the fore end of the rifle itself. The newer fore ends accommodating either of these two new systems are thinner and lighter. Naturally this transfers into being easier to handle and carry especially with added accessories.
So, what now? If you monitor the outdoors and firearms markets like we do, then it is clear that the Magpul M-LOK is beginning to eclipse the KeyMod. Already more M-LOK equipped rifles are seen than the ones with KeyMod. This does not imply anything is wrong with the KeyMod, there is just a consumer buyer preference at this time for the M-LOK.
I have used and use ARs with both of these systems. They both lock down very securely and without particular difficulty. Once attached the M-LOK mounts are rather permanent unless removed by a tool. This makes this system both strong and fixed, which many see as a plus factor.
However, in some cases it is more flexible to be able to just slide off or un-slot an accessory from a KeyMod slot. Perhaps you want to remove a vertical handgrip for some uses or maybe take off a flashlight for day work or add one for night assignments. KeyMod accessories, though they lock down tight, can be somewhat easier and quicker to remove or replace. Your option.
So, is the Picatinny Rail gone? Hardly. It still remains the No. 1 manner to attach riflescopes, red dots or other optics on the top rail of an AR. Thus far neither the KeyMod nor the M-LOK accommodates scope mounting. Therefore, expect to see the ole Picatinny MIL-STD-1913 around for a good while yet.