Plano Announces New All Weather Hard Cases for Long Guns
Russ Chastain 09.25.18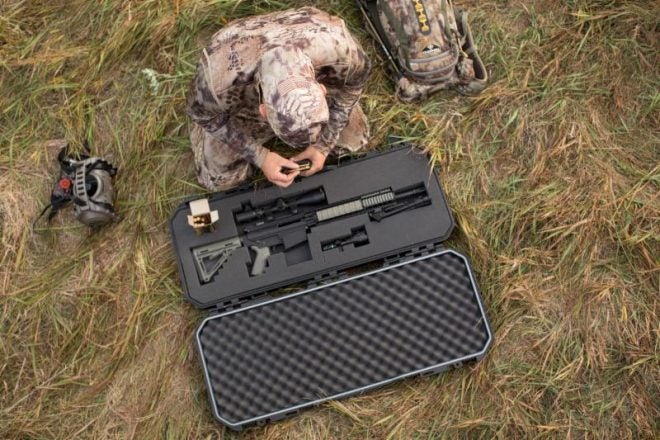 Plano Molding has announced upgrades to their All Weather line of hard cases for long guns, saying they're better than ever… and the MSRPs are attractive in comparison to some other brands. They come in three different sizes, and all have "pluck to fit" foam — a much better solution than cutting foam with an electric carving knife, which is how I had to fit my rifles into a more expensive case.
Here's what their press release has to say:
Plano, IL (September 25, 2018) – Traveling hunters and shooters demand hard-sided cases they can trust to protect their valuable firearms. Plano's venerable All Weather™ series gun cases have earned the confidence of firearms owners who appreciate premium Plano-grade protection at a practical price. New for 2018, Plano has enhanced their best-selling All Weather™ line of long-gun cases with an upgraded look and improved functionality.

Available in 36-inch, 42-inch and 52-inch sizes, All Weather™ cases feature rugged, industrial-strength construction and an improved, continuous Dri-Loc® seal to create a watertight and dust-proof shield that protects firearms or other valuable gear in even the most extreme conditions. Additional features like heavy-duty dual-stage lockable latches, built-in pressure-release valves and molded padlock gates combine to make All Weather™ cases ideal for airline travel. Durable molded handles facilitate easy transport, while the 52-inch model even has easy-glide wheels.

Inside, All Weather™ cases feature customizable pluck foam to create a clean and ultra-secure fit that cradles firearms and accessories while isolating them from every bump, jar, jostle and drop.

PLANO ALL WEATHER™ RIFLE/SHOTGUN CASE FEATURES

36″, 42″ and 52″ length models available
Rugged, industrial-strength construction
Continuous DRI-LOC® Seal creates a watertight shield for maximum protections
Customizable pluck-to-fit foam
Pressure release valve equalizes pressure caused by altitude or temperature
Dual-stage lockable latches
Padlock gates

PLANO All WEATHER™ 36″ RIFLE/SHOTGUN CASE SPECIFICATIONS

Model: PLA11836
UPC: 0 24099 11836 1
Interior dimensions: 37″ x 14″ x 5″
Exterior dimensions: 38.4″ x 16.8″ x 6.4″
Pluckable interior: 33.75″ x 12″
Ideal takedown case for shotguns and modern sporting rifles
MSRP: $99.99

PLANO ALL WEATHER™ 42″ RIFLE/SHOTGUN CASE SPECIFICATIONS

Model: PLA11842
UPC: 0 24099 11842 2
Interior dimensions: 43″ x 14″ x 5″
Exterior dimensions: 44.4″ x 16.8″ x 6.4″
Pluckable interior: 39.75″ x 12″
Ideal size for most scoped rifles
MSRP: $119.99

PLANO ALL WEATHER™ 52″ WHEELED RIFLE/SHOTGUN CASE SPECIFICATIONS

Model: PLA11852
UPC: 0 24099 11852 1
Easy-glide wheels for transport
Interior dimensions: 51.5″ x 14″ x 5.5″
Exterior dimensions: 53.5″ x 17″ x 7″
Pluckable interior: 48.75″ x 12″
Accommodates most fully assembled firearms, including shotguns with a 30″ barrel
MSRP: $169.99

Plano offers dozens of options for hard-sided long-gun protection, but hunters and shooters have come to prefer its best-selling All Weather Series cases ever since their introduction over a decade ago. Now redesigned and enhanced with upgraded features and improved performance, Plano All Weather™ series cases protect the passions of hunters and shooters like never before.
Follow these links for more info:
Plano All Weather 36″ rifle/shotgun case
Plano All Weather 42″ rifle/shotgun case