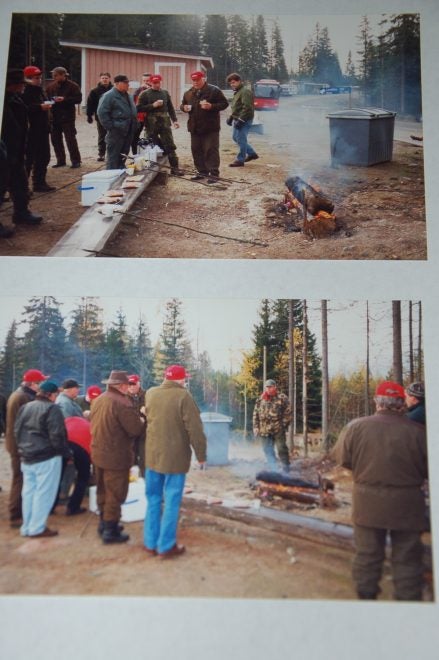 John J. Woods
Magnolia Outdoor Communications
RAKOVALKEA- THE CLASSIC FINNISH CAMPFIRE
Of great interest recently seems to be a newly found fascination with campfires. It makes me reflect back upon a fantastic hunt I was invited to attend way back in 1999. At the time I was fortunate enough to be a writer for the basically now defunct North American Hunter magazine produced by the North American Hunting Club out of Minnesota. You may have been a member of the club, too.
Anyway, one day the editor called to say none of the office staff could attend this hunt and he wanted to know if I could go. Naturally I asked where. He told me the hunt was an exclusive invitation by the Sako Arms Company of Riihimaki, Finland. The hunt was for moose. After I stuttered at bit, I took the offer.
Long story short I finally arrived in Helsinki out of New York City after a missed flight via Atlanta. Finland is one beautiful country and the Sako folks were delightful hosts to the twelve hunters chosen for the hunt. We traveled by custom bus to the factory city Riihimaki for a tour, overnight stays, dinners, and preparations for the hunt.
In Finland you have to qualify for a license to hunt. This test was to place three shots into the kill zone on a moving life sized moose target running on a rail system. We all qualified using Sako 75 rifles in 30-06. Afterwards we were transferred to an 80,000 acre hunting camp for several days of hunting. I ended up taking a bull moose and one cow. I got the favored sprig of evergreen in my cap denoting I was a successful hunter and suited for many backslaps and jiggers of vodka.
Ironically, one of the main things I remember was the campfire. Called a rakovalkea, the fire consisted of two basic logs 6-8 feet long that are stacked and pinned by four stakes. One flat side is cut on each log and mated together in the stack. Sandwiched in between the two logs are kindling, sticks, dry grass and other fire starter material. You can Google this to see the details.
Once the kindling is set afire, the two logs ignite, one burning down, and the other up. The fire lasts for days if the logs are not too dry. This slow burning blaze is ideal for a campsite in front of a tent for a screen of warming fire. Try it out the next time you are in Bug Out Camp.