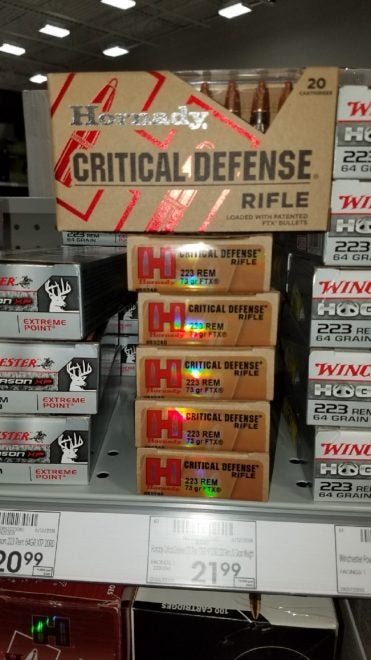 John J. Woods
Magnolia Outdoor Communications
HORNADY'S CRITICAL DEFENSE RIFLE AMMO
If there was truly a cutting edge for ammunition innovations, then surely Hornady is on it. Time and time again the ammunition manufacturer located in Grand Island, Nebraska has proven they know what shooters and hunters want, mainly because they are shooters and hunters themselves and not just the company PR people.
After a remarkable and greatly successful run of handgun ammunition under their named category of Critical Defense ammo, they have now introduced two new loads for rifles. These Critical Defense rifle loads are specifically for the .223 Remington (5.56) and the .308 Winchester (7.62). These are great choices all around.
Both of these rounds are highly popular among preppers, survivalists, and for individual personal and property security defense. While not specifically targeted for hunting, given the bullet choice and the load specifications, I am certain these two loads will find great utility in the field as well as the home, business, vehicle carry, SHTF preparation and bug out use.
The .223 and .308 Critical Defense loads utilize Hornady's FTX bullet design. The FTX bullet maximizes the potential of the hollow point by pushing the envelope one step further. The "Flex Tip" aids in bullet expansion on the target and does away with the concern of the HP cavity clogging from target material upon impact.
When traditional hollow point bullets hit conventional targets, they collect foreign materials while passing through the target, be it clothing, sheetrock, or other mediums. This greatly reduces the effectiveness of the hollow point design to expand upon impact. Hornady's FTX bullets eliminates this issue.
Furthermore, the cases for these two rifle loads are nickel-plated. This increases the case visibility in low light conditions for the user. Also these rounds are loaded with a special low-flash propellant that will not hinder night vision. These properties can be critical for self-defensive uses.
The .223 load uses a 73 grain FTX bullet that generates a muzzle velocity of 2790 feet per second. This creates a muzzle energy of 1262 foot pounds. At 100 yards these numbers are 2448 fps for velocity and 971 foot pounds of energy. These are better ballistics numbers than the standard 55 grain, .223 loads.
For the .308 load, the FTX bullet is 155 grains. Muzzle velocity is 2785 fps with 2669 foot pounds of energy. At 100 yards the ballistics are 2499 MV and 2150 ft.lbs of energy. Impressive numbers for sure.
So, if you have a .223 or .308 rifle to be used for critical defenses, then pick up a box of the new Hornady Critical Defense loads. I checked, and they are already on the shelves at dealers now.