What a Suppressed Pistol Should Be: The New Springfield Armory XD(M) OSP Threaded
AllOutdoor Staff 09.28.18

Once you shoot suppressed, you'll never want to go back. While suppressed pistols are nothing like what's portrayed by Hollywood and politicians, they are much more pleasant to shoot.
For starters, the noise and blast is greatly reduced. In round numbers for a 9mm pistol, the sound level is reduced from about 158 dB to the 130 dB range. Stated differently, a suppressed 9mm still makes about the same amount of noise as a chainsaw or jackhammer. Even still, that reduced noise level is hearing safe (in moderation) and far more polite for others near the range. The shooting sensation is also dramatically changed for the better. With muzzle blast largely eliminated and felt recoil dampened, a suppressor allows one to focus on the joy of shooting without all the distracting commotion.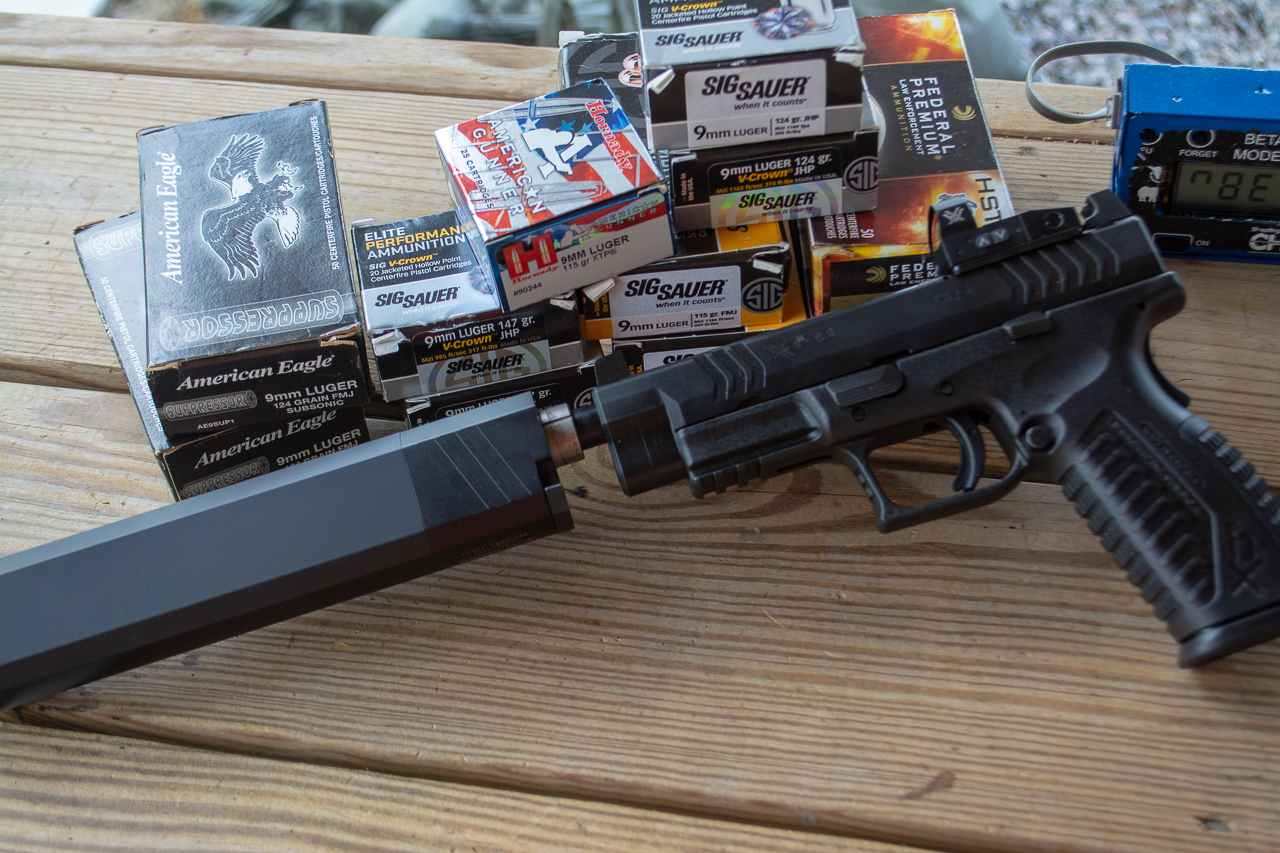 The newest offering from Springfield Armory, the XD(M) OSP Threaded, is all about optimizing a 9mm pistol for suppressed use. It sports a threaded barrel ready for silencer attachment, an optic sight mounting system on the slide, a Vortex Venom red dot sight, and suppressor-friendly iron sights. In other words, all you need to do is screw on a suppressor, and it's ready to go.
One thing that's always impressive about Springfield Armory gear is the packaging and extras. While many companies try to cut corners by including minimal accessories and using cheap cardboard boxes, the Springfield Armory folks tend to do it right. This pistol arrived in a 12×15-inch hard plastic case complete with locking tabs and two holes for padlocks. It's ready for secure transport, even for commercial air travel. Inside, you'll find the expected spare magazines and additional mounting plates for different optics types. But that's not all. The pistol also ships with a standard non-threaded barrel, so if you want to use your XD(M) for carry or other lower-profile use, just swap that barrels and you're good to go. I broke out the ruler to see the difference between the two. With the standard barrel installed, the muzzle protrudes just about ⅛ of an inch beyond the slide, while the threaded barrel extends ¾ of an inch.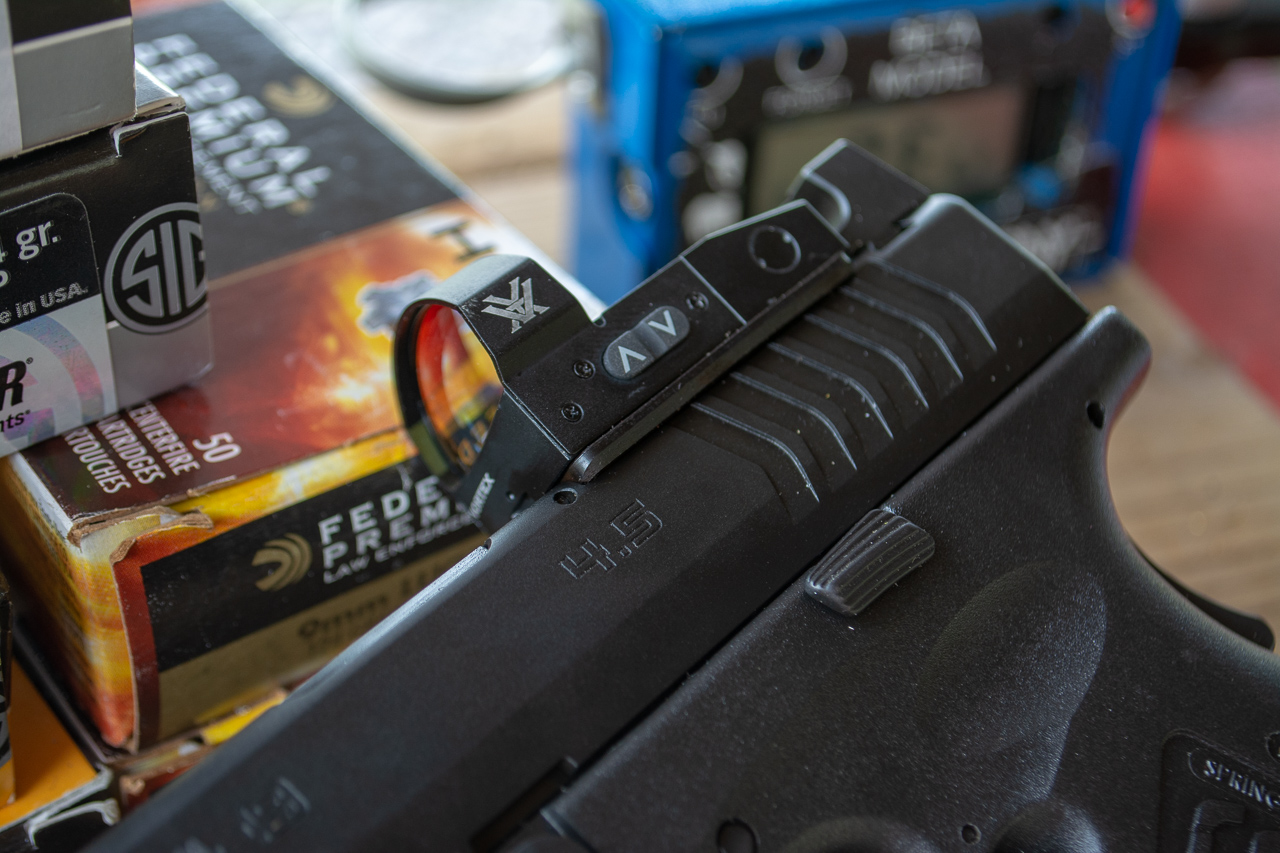 The basic features of the XD(M) full-size pistol are the same as those of previous versions, so we won't re-hash all that here. Instead, let's focus on the optics and threaded features that make this different from previous models.
Suppressor-ready Features
The obvious primary requirement for a suppressor-ready pistol is a compatible threaded barrel. The pattern on the threaded barrel is 1/2×28, which is standard for most 9mm pistols.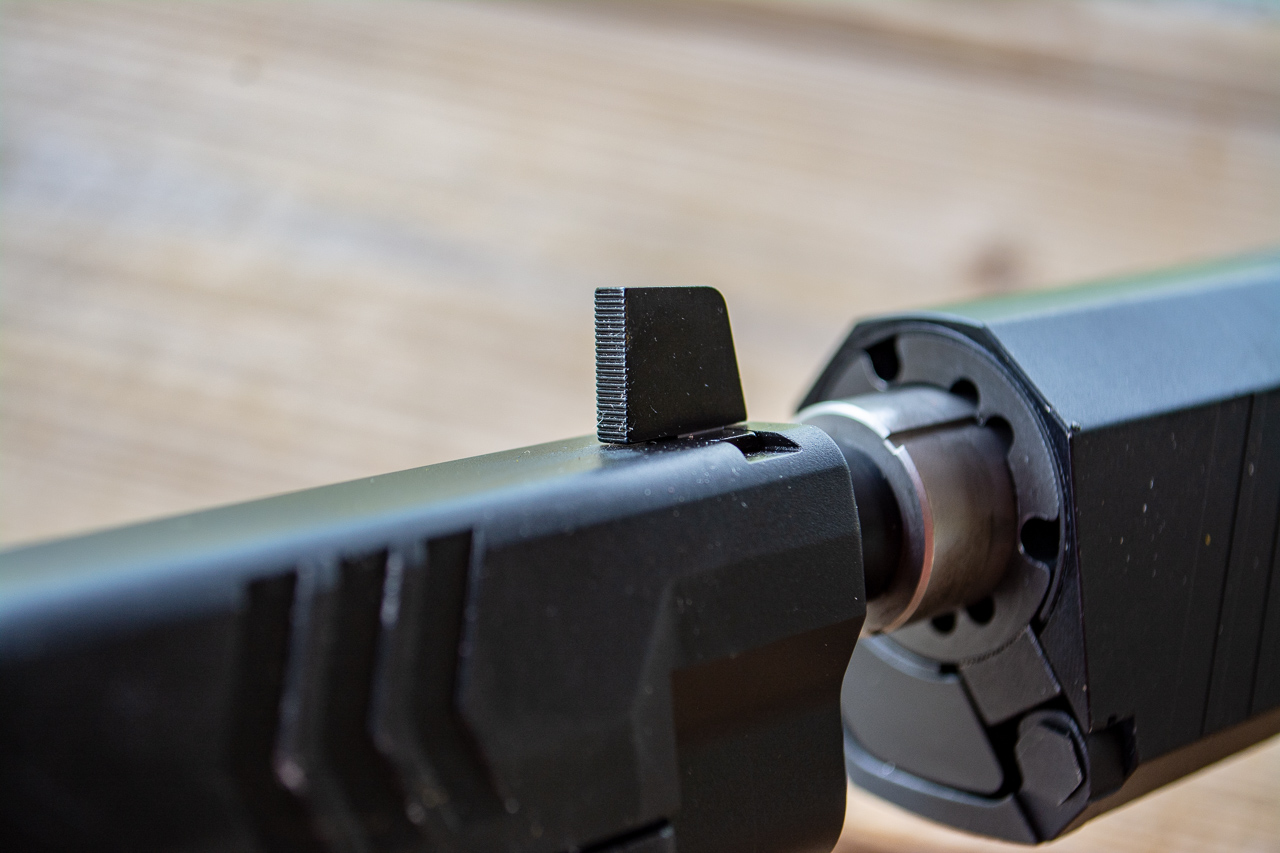 In my view, the optics mounting system is also a "suppressor-ready" feature as one of the little gotchas when adding a pistol suppressor is that you normally can't use the standard sights anymore – the suppressor body blocks all or most of the iron sight picture. The optic, with its higher sight plane, solves this problem handily. I had a perfect and unobstructed view even when using a larger .45 caliber suppressor. More on that later.
To support red dot sights, the company includes three mounting plates plus a slide cover. If you order the OSP with Venom sight package, plate 1 will already be installed as it fits the Vortex sight. Plates 2 and three allow attachment of other sight brands. The cover is useful if you want to use the pistol without an optic as it provides a smooth slide surface along the top just like on a standard XD(M) pistol. There is a fourth mystery plate packaged with the others. While not intended to use used on the OSP pistol the Vortex folks include it in case you want to move the Venom to another rifle or pistol with a standard rail and Springfield passes it along as a convenience.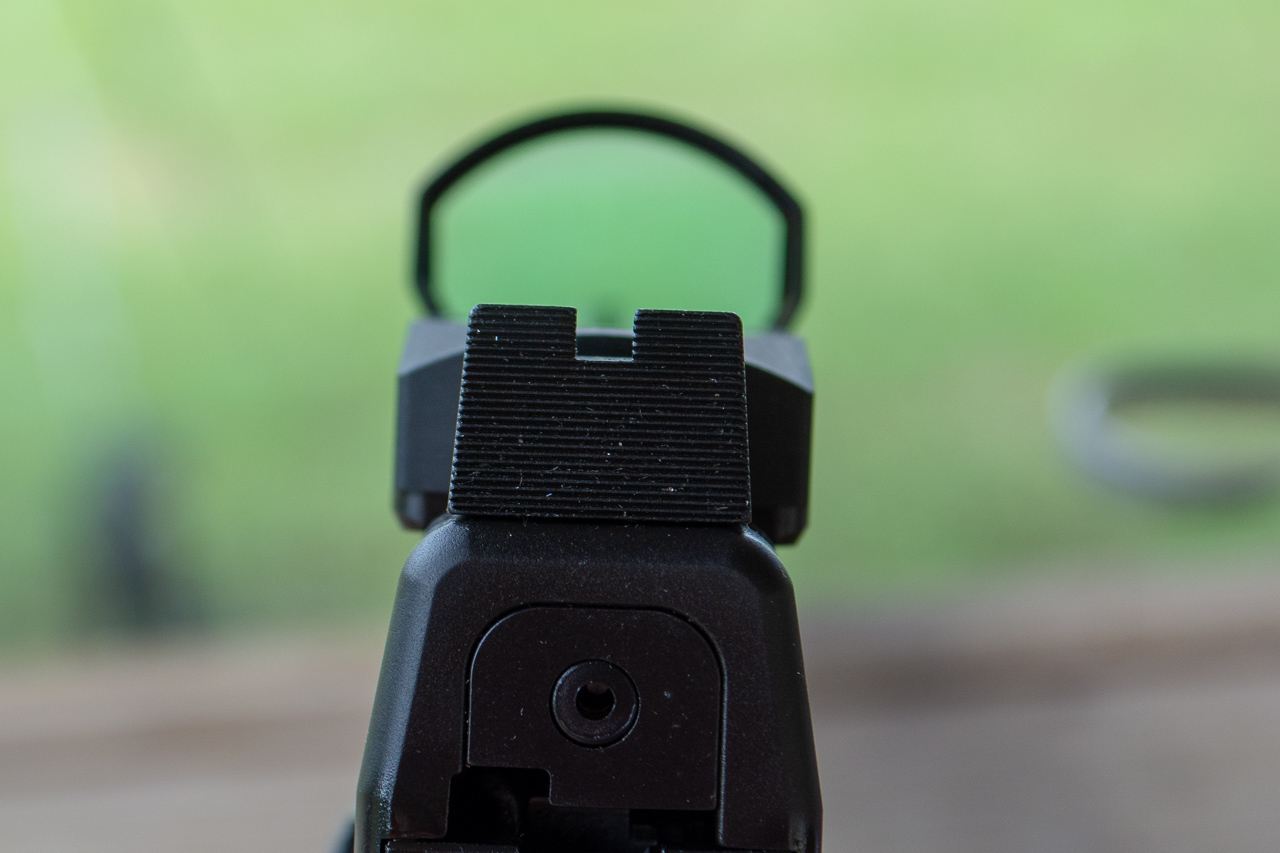 The last "suppressor feature" is the inclusion of taller suppressor sights. Both front and rear steel sights are extra tall for two reasons. First, the added height allows you to see through the sights over a suppressor body. Second, the taller sights provide a backup solution for the optics. These iron sights are positioned so that you can see them in the bottom 15 or 20% of the Vortex Venom optical sight. They're way down low in the sight picture, so they're out of the way when you're relying on the red dot. However, if the dot fails, the iron sights are usable without removing the optic itself. Keep in mind that the position of these sights in the optic window may vary a bit if you choose a red dot sight other than the Vortex.
The Vortex Venom
You can order the OSP in one of two configurations, with or without the Vortex Venom. If you already have a red dot or prefer a different model, no worries. Both packages come with the same mounting plate options to fit sights including, but not limited to, the Burris FastFire, Leupold DeltaPoint, J-Point, and Trijicon RMR.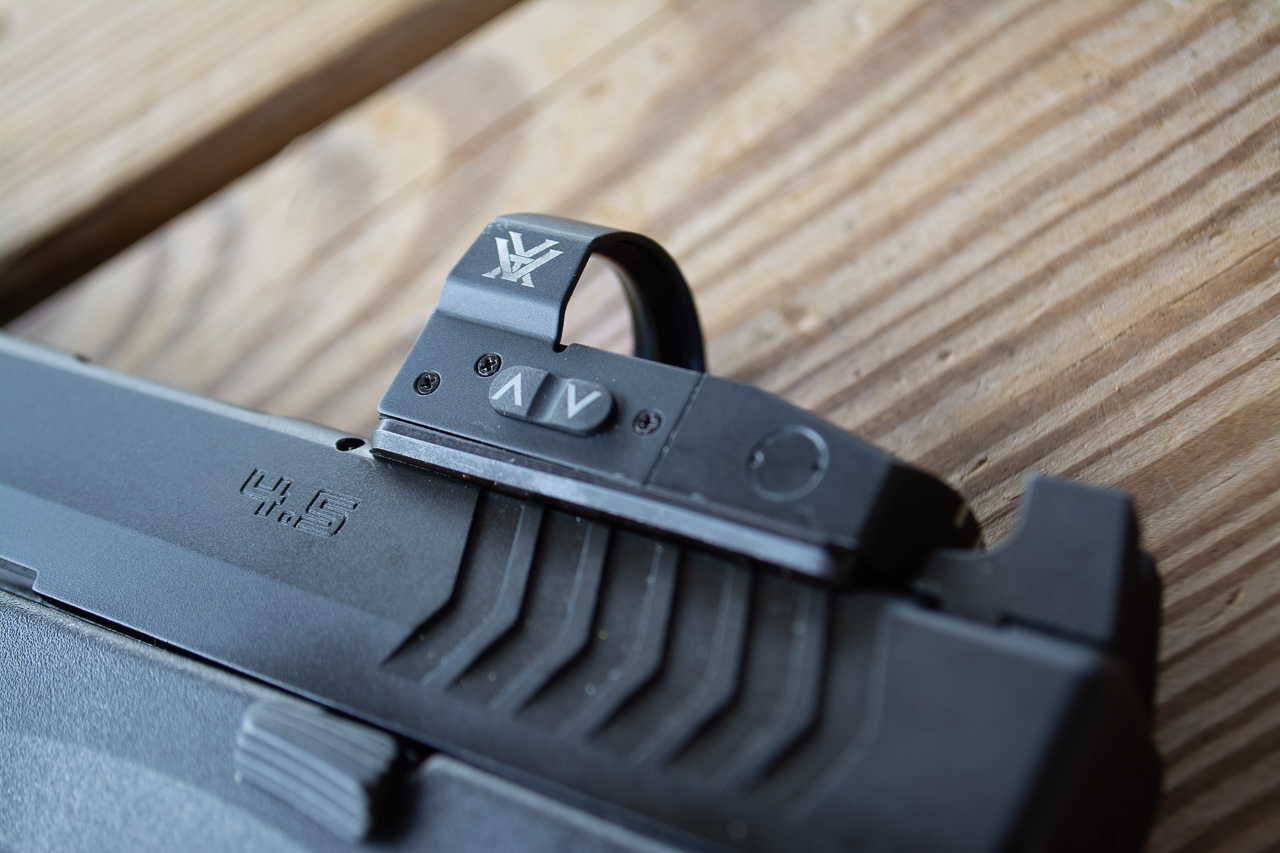 The Vortex Venom red dot sight sports a three-MOA dot size with ten intensity levels. Up and down arrow buttons on the left side allow you to choose brightness. At the lower levels, you can leave the dot illuminated full time. The manufacturer says that you'll get up to 30,000 hours in manual mode on the lowest setting. That's about three years on continuous operation before changing batteries. If you leave it in the brightest setting, you'll get 150 hours. I'm finding that I like level 3 for indoor use, so I expect I can leave this on for many months before changing batteries. There's also an automatic mode that powers off the unit after 14 hours of inactivity. When using that way, you'll have to remember to turn on the red dot manually to revive it. For home defense use, I'll stick with the "always on" option and figure out how frequently I need to change batteries to avoid an outage. The battery compartment is accessible from the top, so you don't have to remove the sight – and lose your zero – to change the battery.
Shooting the OSP Threaded
I started off checking the handling with some offhand and informal shooting. As with its predecessors, the standard full-size XD(M) and OSP models, this pistol features a 1911 grip angle, so it's more vertical than, say, a Glock. It points naturally for me. The trigger weighed in at 5.25 pounds according to my Timney Triggers scale. The slide is easy to rack, in part because the Vortex optic provides plenty of surface area for your racking hand.
While I did force myself to shoot this pistol unsuppressed, at least a little, I did most of the shooting using a SilencerCo Osprey 45 suppressor. That's what it's built for, right?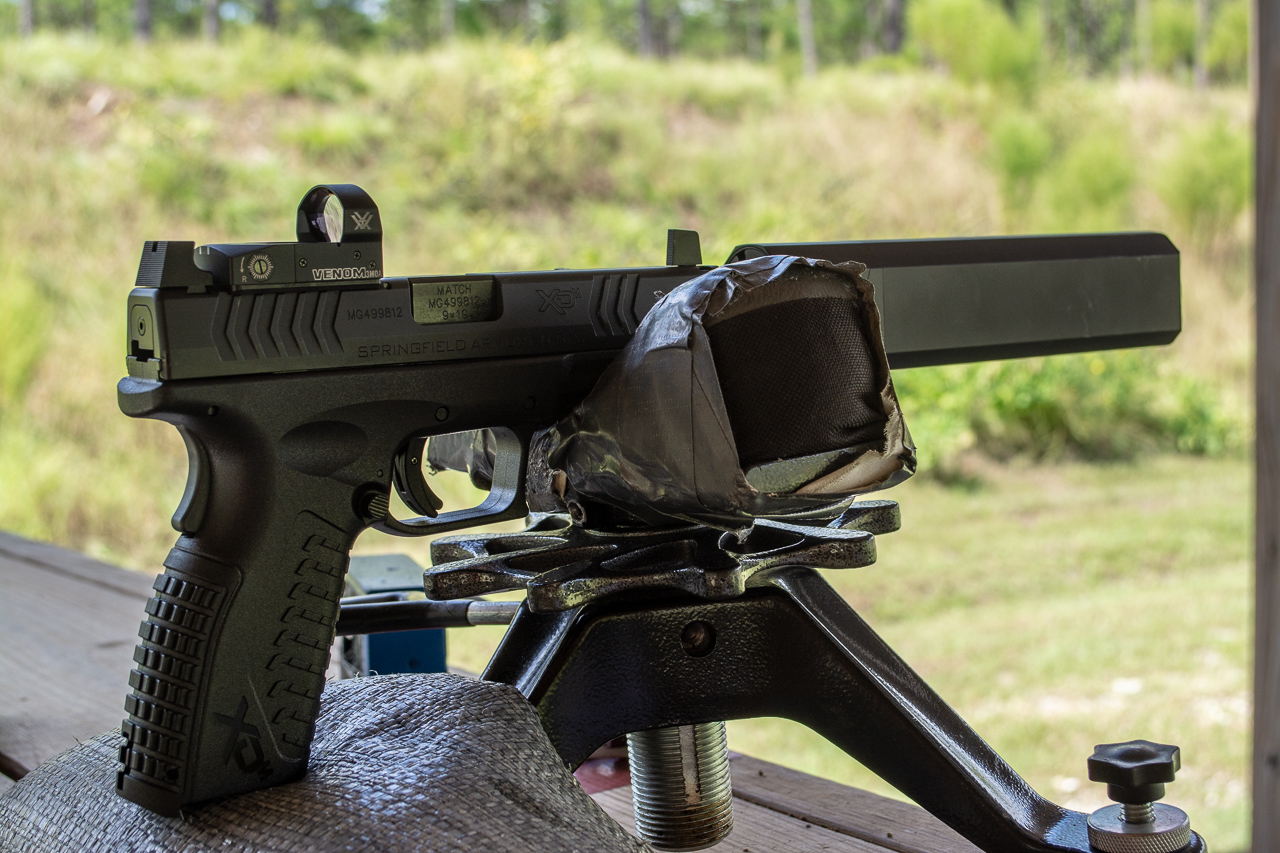 To avoid shooting my chronograph, I started with some 25-yard shots to verify the zero of the Venom red dot. For me, the factory setting was about 1 ½ inches low and left of my aim point, so I made some quick elevation and windage adjustments to get most ammo types near the bullseye area.
I shot a pile of rounds through my chronograph from a distance of 15 feet, in part because I keep geeky records like that but also to function test the pistol. No failures or hangups. The pistol arrived well-lubricated, and I took it straight to the range with no preliminary maintenance, cleaning, or oiling. I also wanted to see the velocity difference between the longer threaded barrel with a suppressor attached and that of the standard barrel, which is about ¾ inches shorter. As I expected, there was about a 40 foot per second difference for one of the loads tested. Here's the rundown on measured velocities.
| | | |
| --- | --- | --- |
| Ammo | Velocity | Notes |
| Federal HST 9mm 124 grain | 1,183.7 | Threaded barrel with SilencerCo Osprey 45 |
| Federal HST 9mm 124 grain | 1,145.0 | Standard Barrel |
| Sig Sauer V-Crown 9mm 124 grain | 1,241.5 | Threaded barrel with SilencerCo Osprey 45 |
| Sig Sauer FMJ 9mm 115 grain | 1,288.5 | Threaded barrel with SilencerCo Osprey 45 |
| Sig Sauer V-Crown 9mm 147 grain | 1,037.7 | Threaded barrel with SilencerCo Osprey 45 |
| American Eagle Suppressor 9mm 124 grain | 1,078.0 | Threaded barrel with SilencerCo Osprey 45 |
| Hornady American Gunner XTP 9mm 115 grain | 1,186.7 | Threaded barrel with SilencerCo Osprey 45 |
Accuracy testing was easy thanks to the red dot sight. With pistols, most of the challenge is getting a perfect sight picture at 25 yards to see what the gun will do when optical imprecision is factored out. Cranking the red dot down to a lower power level gave me a nice crisp dot and a rest weighed down with a bag of lead shot provided a stable shooting platform. I fired five-shot groups with all the ammo I used for velocity and function testing and came up with the following results.
| | |
| --- | --- |
| Ammo | 5-Shot Group (25 yards) |
| Federal HST 9mm 124 grain | 0.88" |
| Sig Sauer V-Crown 9mm 124 grain | 1.20" |
| Sig Sauer FMJ 9mm 115 grain | 2.53" |
| Sig Sauer V-Crown 9mm 147 grain | 1.38" |
| American Eagle Suppressor 9mm 124 grain | 1.10" |
| Hornady American Gunner XTP 9mm 115 grain | 1.84" |
I've tested Springfield Armory XD(M) pistols in the past and have always been impressed with their accuracy. This model certainly lived up to that reputation. You always read marketing specs that talk about "match grade barrels" and so on. Well, here's where the rubber meets the road on whether that's marketing fluff of meaningful data. The results speak for themselves in this case; the pistol will perform.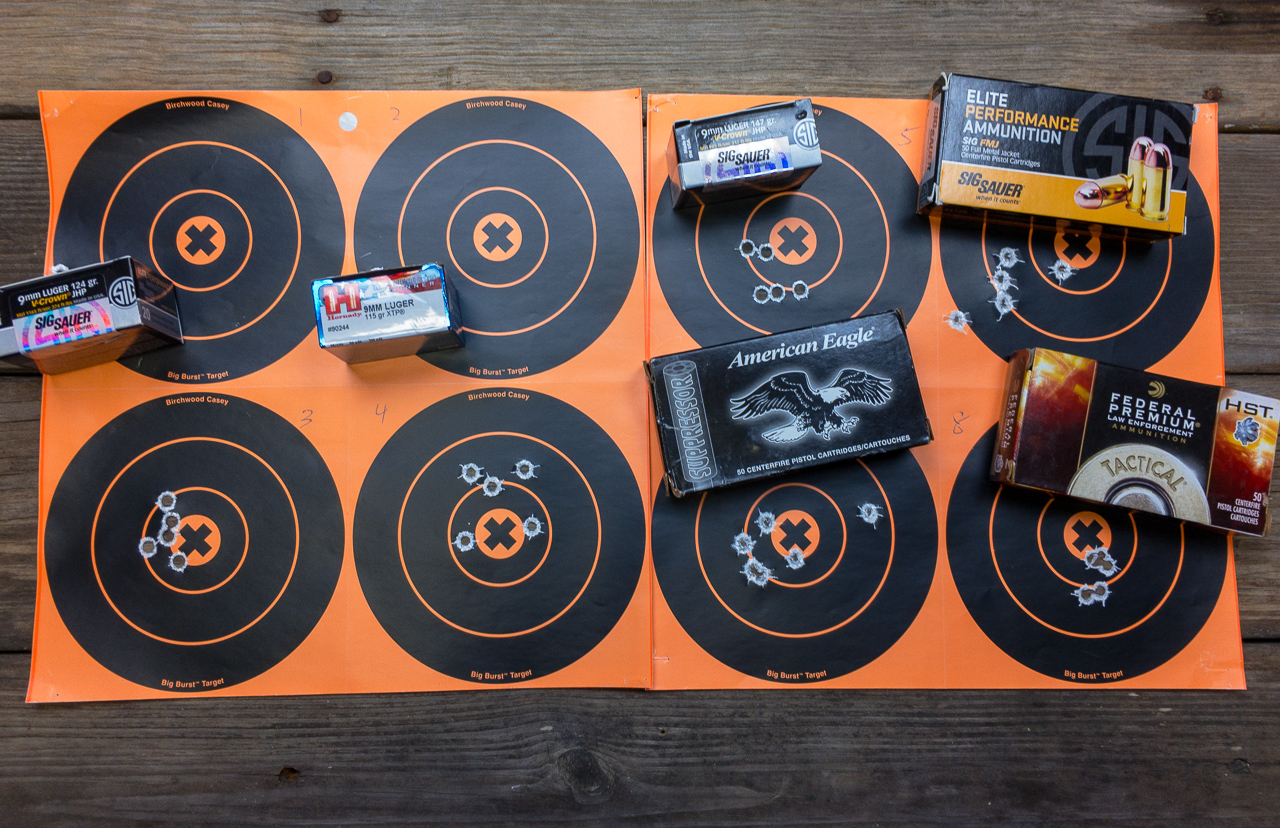 On the subjective side, this pistol is easy to shoot. As a full-size 9mm, recoil is a non-issue. Adding the suppressor mitigates blast and recoil even more, making this handle more like a .22 pistol than a centerfire. The grip surface is aggressive, and in the hot and sweaty South Cackalackee range conditions, I had no trouble maintaining control without having to readjust my grip. I also liked the Vortex Venom red dot. I've used a Trijicon RMR quite a bit, and while it's effective and plenty durable, it does have a smaller window, so some training is required to reliably find the dot quickly. The Venom has a much larger window and less bulky surrounding frame. The result is that the sight doesn't interfere with your vision nearly as much. It's fast and easy to acquire.
All said and done, this is a fantastic suppressor platform. I'm sending a check so I can keep this one.
Specifications
Caliber: 9mm
Capacity: (2) 19-round magazines
Barrels: 5.3" 1/2×24 threaded and 4.5" non-threaded steel hammer-forged with Melonite finish, 1:10 twist rate
Frame: Black polymer with changeable backstraps
Slide: Forged steel Melonite milled for optics plates (3 included)
Recoil system: steel, one-piece guide rod
Length: 8.6"
Height: 5.5" not including sights
Grip width: 1.2"
Weight with empty magazine: 29 ounces
Sights: Steel suppressor-height, co-witnessed with optic
MSRP: $710 without Vortex Venom, $958 with Vortex Venom included