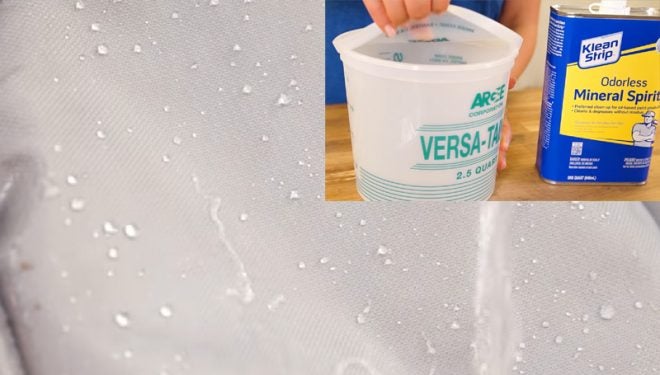 Waterproof gear is better than non-waterproof gear — it's as simple as that. But how best to waterproof your gear? Well, that varies depending on what it's made of… but for fabric stuff such as hats, light jackets, backpacks, ditty bags and such, this formula should work just fine. In fact, I'm tempted to call it do-it-yourself Scotchgard.
Sadly, we have another annoying background music video… making this a prime candidate for using closed captions along with the mute button.
Find a two-quart container in which you can mix a quart of mineral spirits with HALF of a 2.8-ounce tube of clear, 100% silicone sealant. Pour in the mineral spirits, add the sealant, and mix the heck out of it.
Next, paint it onto the fabric you'd like to waterproof. Let it dry for about 24 hours, and you're done.
This should provide a lot more coverage — especially per dollar — than spraying with Scotchgard.
I think I'm going to try this on my hunting pack…