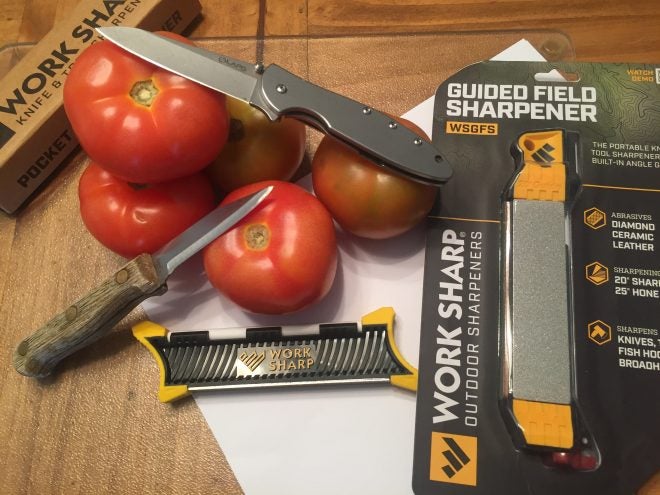 A blade that dulls during an outing can be a real liability. The same blade that was used for camp chores in the morning might need to pull duty as a field dressing knife in the afternoon. Even the most meticulously protected blades lose a bit of sharpness with every use. Being afield doesn't mean having to put up with increasingly dull blades. Work Sharp, of Oregon, makes two pack-friendly hand tools that can keep your small to medium knives cutting at their best, whether in the kitchen or on an extended outing.
We recently pulled out some blades that have seen hard, in some cases semi-abusive use, to see if Work Sharp's two hand tools would bring back the sharp.
Guided Field Sharpener
Need a way to sharpen not just plain blades, but serrated ones, in addition to fish hooks and broadheads, right where you are? The Guided Field Sharpener is replete with features designed to take most blades from dull, or even burr-riddled, to sharp. It's 6.75 inches long, 1.25 inches wide, and weighs just a few ounces.
Two diamond plates, one 220 grit for very dull blades and one fine, 600 grit for sharpening, are the start of the options on this tool. The plates are the largest features at 4 x 1 inches.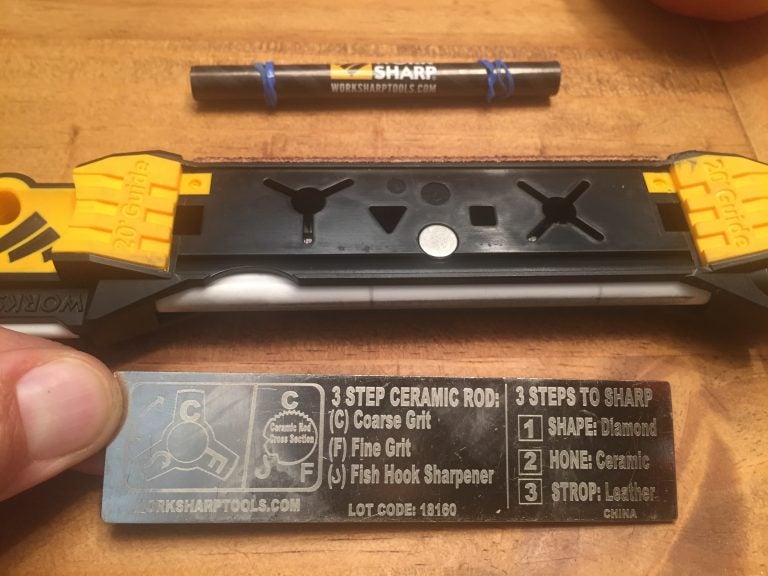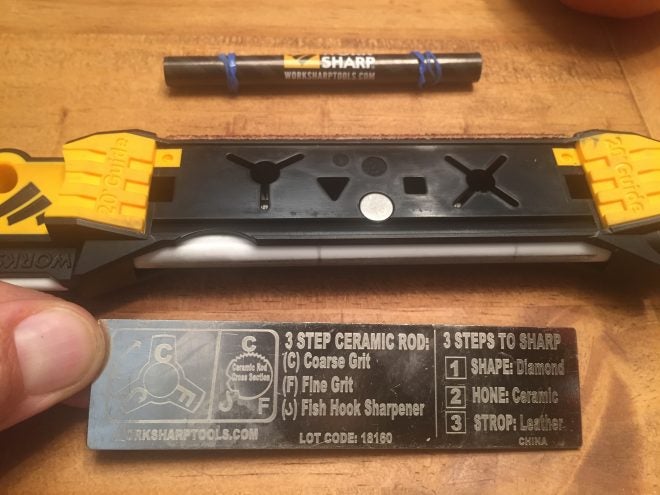 The narrow sides of the sharpener have two more features to get a truly smooth finish. On one side is a three-sided ceramic rod, with fine and coarse settings. The third side of the rod has a fish hook sharpener.  A short, separate rod on the same edge serves to put a finer edge on serrations. On the other narrow side is a leather strop, a narrow one but it does the trick to put a final smoothing on the cutting edge.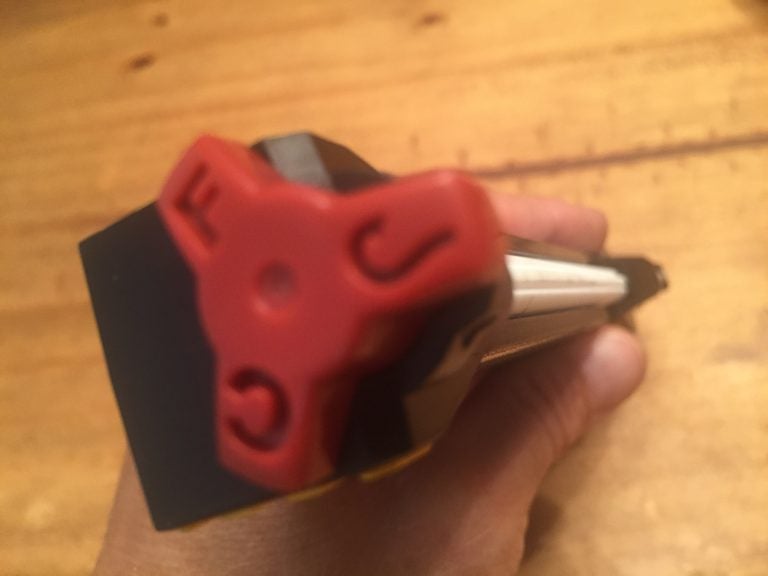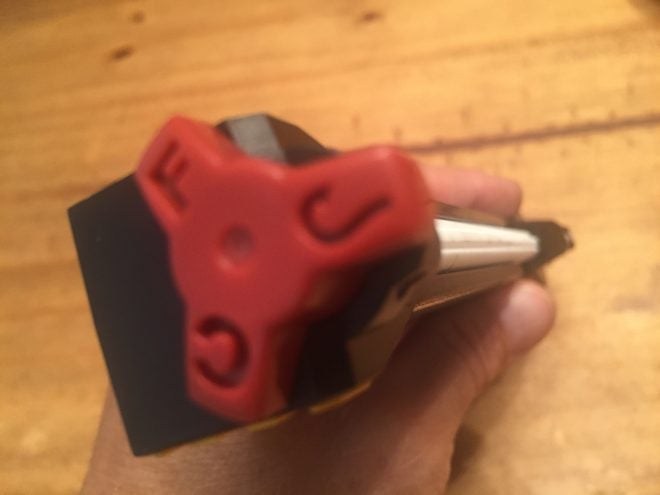 The ends of the Guided Field Sharpener are brilliantly designed with a unique angle guide for each of the sharpening features. These guides work when pushing or pulling the blade, so that both sides can receive equal sharpening. On one end, the thumb grip of the sharpener serves as a hand protector when pulling the blade toward the user.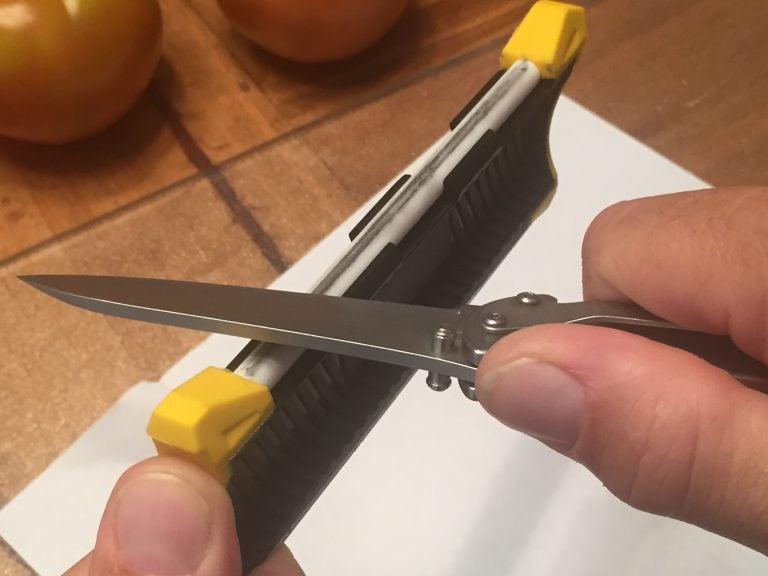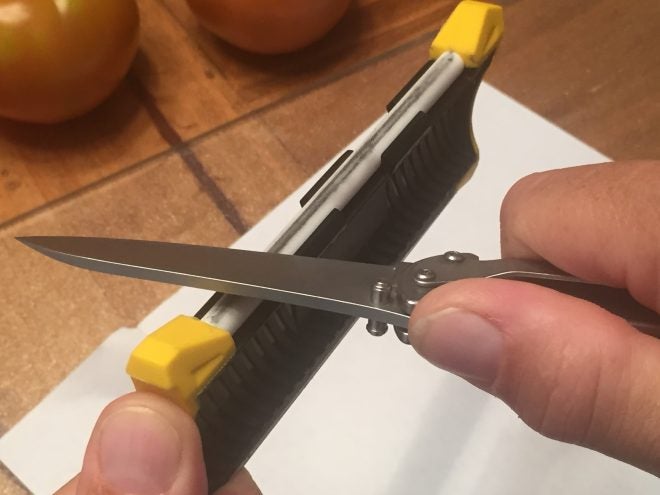 Strong magnets hold the diamond plates onto the tool. Underneath them are two wrenches, for three-and four-blade broadheads. It also has a hole in the handle for a lanyard. These people thought of everything.
In our test, this sharpener was used on two quite different knives: a low-quality paring knife that was very dull, and a commercial fixed-blade tactical knife of good quality with a history of light use, and some dulling due to everyday carry in a dusty environment.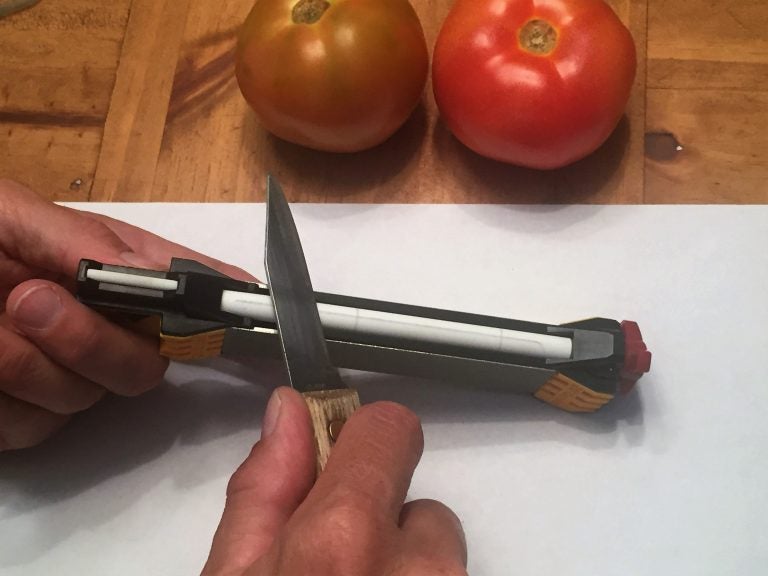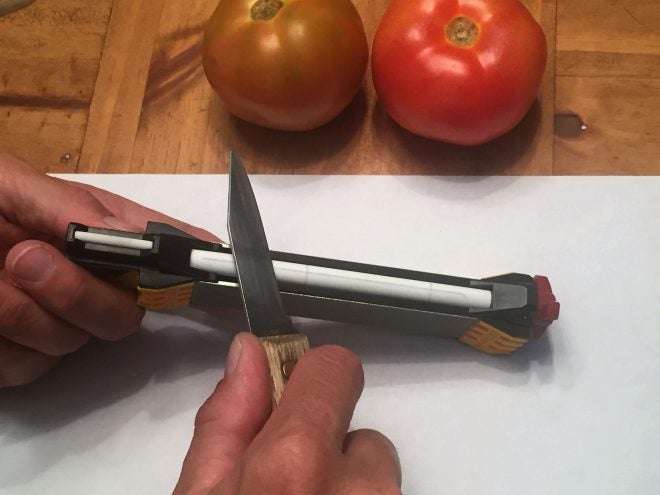 The paring knife was put through all the major paces—both diamond plates, the coarse and fine ceramic rods, and the strop, according to instructions. We subjected it to a tomato-cutting exercise, before and after sharpening. After sharpening, it was easier to slice rather than tear the tomato, making for a more attractive cut and safer, more functional culinary use. There was no change between the before and after tests when putting simple downward pressure of the middle of the blade on the middle of the vegetable—some pulling action is required. Though the Field Sharpener is effective, it cannot work miracles on sub-par products.
On the already-quite sharp tactical knife, we ran only the two stages of ceramic rod plus the strop on the blade. It easily took shavings out of the top of a fingernail after sharpening, with nearly no pressure necessary as compared to before honing.  The Field Sharpener made this sharp knife even better.
There were no real issues with this test, just two unexpected things. Unlike the product example on the Work Sharp website, the strop on the test sample is coated with a thin, slightly waxy substance. This seems to off easily and bear some risk of clothing or pack discoloration. Unlike a full-size strop that can be grabbed in a fist, it took a few strokes to get the hang of using this one. It's easy to push or pull at too great an angle on the strop, causing nicks or gouges in the leather. With conscientious use, neither of these things is a problem.
The Guided Field Sharpener is sold in a cut-to-open blister pack and is available by direct order for $34.95. It looks to me like the perfect gift for anyone who spends a lot of time outdoors, or the DIY-minded cook.
Pocket Knife Sharpener
On the same field-ready theme as the previous hand tool, but scaled down in features and price, is the Work Sharp Pocket Knife Sharpener. Like its Guided Field Sharpener stablemate, it's light, compact, and bright yellow—making it easy to tote as well as to locate if accidentally dropped.
This simple but ingenious rectangular tool has plastic handles at each end, flanking a 320-grit diamond plate on one edge and a ceramic rod for honing on the other. Like the larger hand tool, slanted handles on each end facilitate a safe grip while sharpening. These handles double as angle guides for the two functions it offers.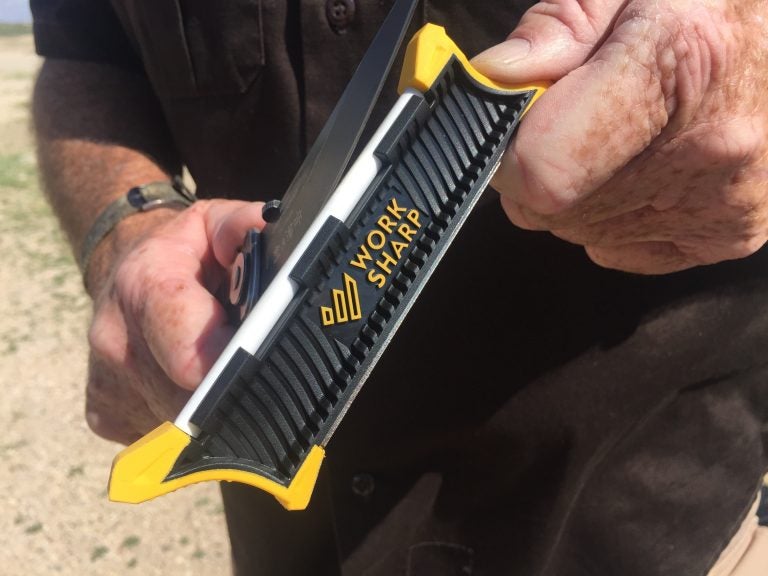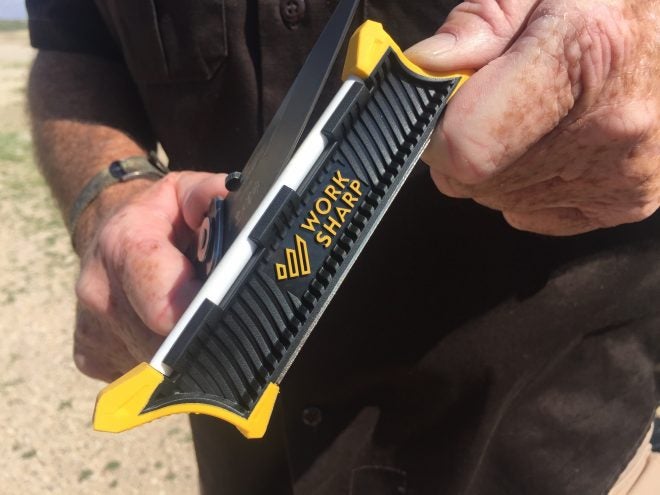 A rather abused blade, my LAPG Phantom folder, was the test subject for this tool. This nice pocket knife, with a stainless blade, endures more than it was made to do, including pulling staples out of target backers. Before the test it was still sharp enough for my use, but had a burr and, no surprise, was substantially dulled toward the tip of the drop point blade.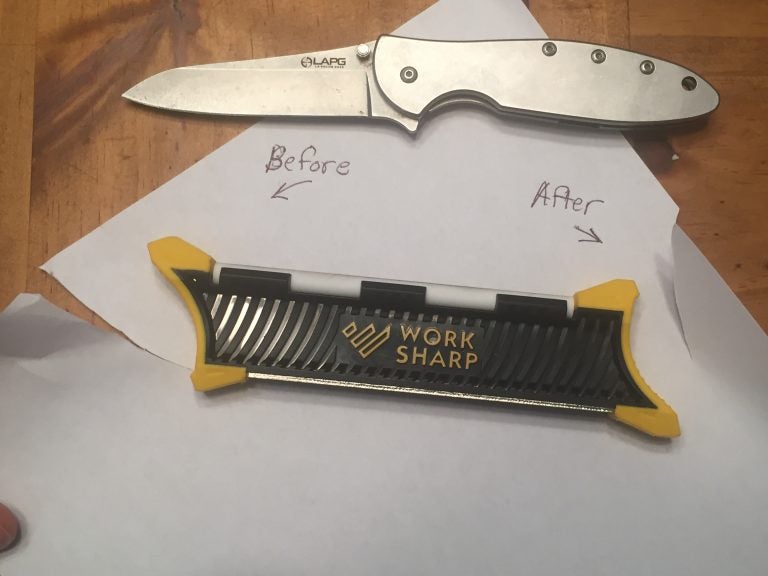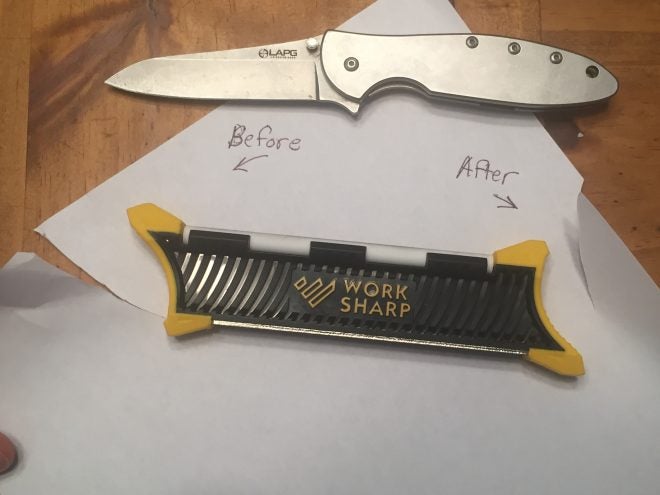 Following instructions to do 10 trips each direction on each side, following the built-in angle guides, a shinier finish flanking the cutting surface was seen after using the diamond plate. After honing, I tried cutting some office paper. It was still tearing as much as being cut. Returning to the ceramic honing step, I put approximately 10 more trips across the rod. Now a substantial difference was visible—a smoother shine on the sharpened edges, and a smooth cut with no tearing on paper. It's a pleasing result from the simplest of tools.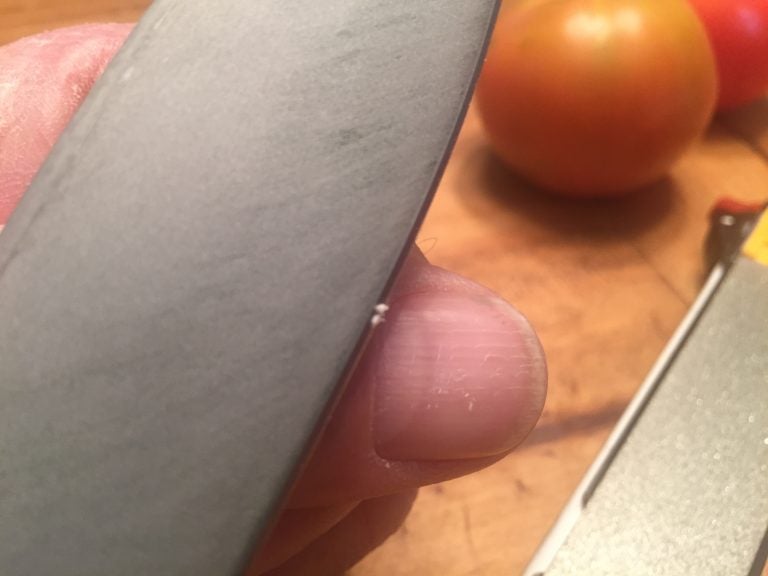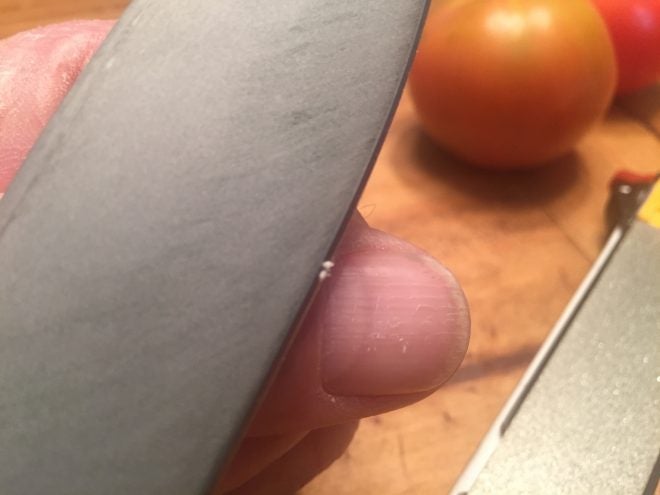 The Pocket Knife Sharpener comes in an elegantly simple cardboard box with a hinged lid; something I feel makes it more presentable as a gift than the Guided Field Sharpener, though this one has only two sharpening resources in one tool. Pick one up via direct order for $14.95.
Stay sharp
I find knife-sharpening to be a meditative, relaxing, rewarding process. These Work Sharp hand tools make it possible to enjoy sharpening your blades anywhere. Whether sharpening out of simple desire or necessity, these are tools that can travel along on most any hike or hunting trip. They're made by an American company and come with a lifetime replacement guarantee.
For safety and good results, it's always advisable that sharpening be done when the user isn't highly distracted or under the influence of any substance. Read and follow directions when using sharpeners.