Review: Casio's Pro Trek FD-20A Watch is Great for the Outdoors
Jon Stokes 10.26.18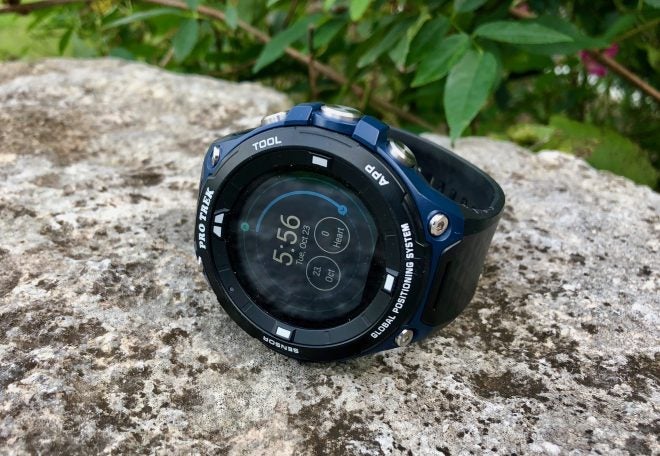 Some days it feels like I'm the last person in my life to not have a gadget on my wrist. I wear watches, but I don't wear screens. I won't buy a fitness tracker, and despite the fact that I'm an iPhone and Mac user and am embedded in the Apple ecosystem, I especially refuse to get an Apple Watch. I feel like there's a least one part of my life, even if it's just my wrist, on which Apple should have no claim.
Still, I need to move more, especially as winter approaches and we all tend to get even more sedentary. So I've been looking around for a reasonably-priced, outdoors-oriented watch that I could use to track my activity level and also use in outdoors endeavors.
This led me the Casio Pro Trek FD-20A, one of the few full-blown smart watches tailored for outdoors use. There are a number of outdoors watches that have smart watch features, but the Pro Trek is one of the few options available to provide the total Android Wear smart watch experience in a ruggedized, outdoors-friendly package.
Specs and Features
1.32-inch two-layer touchscreen
Low-power secondary monochrome screen
Color offline maps
Android Wear 2.0
Indigo design accents
Built-in, low-power GPS (not smartphone-dependent)
4GB storage for offline maps
GPS, GLONASS and QZSS
Barometer
Altimeter
Compass
Bluetooth
Activity Tracker
Built-in mic
$400 price point
Casio hows to build rugged watches, and this watch was tested to the MIL-STD-810G standard. There's a chunky black bezel around the screen so you can drop it face-down and not damage it.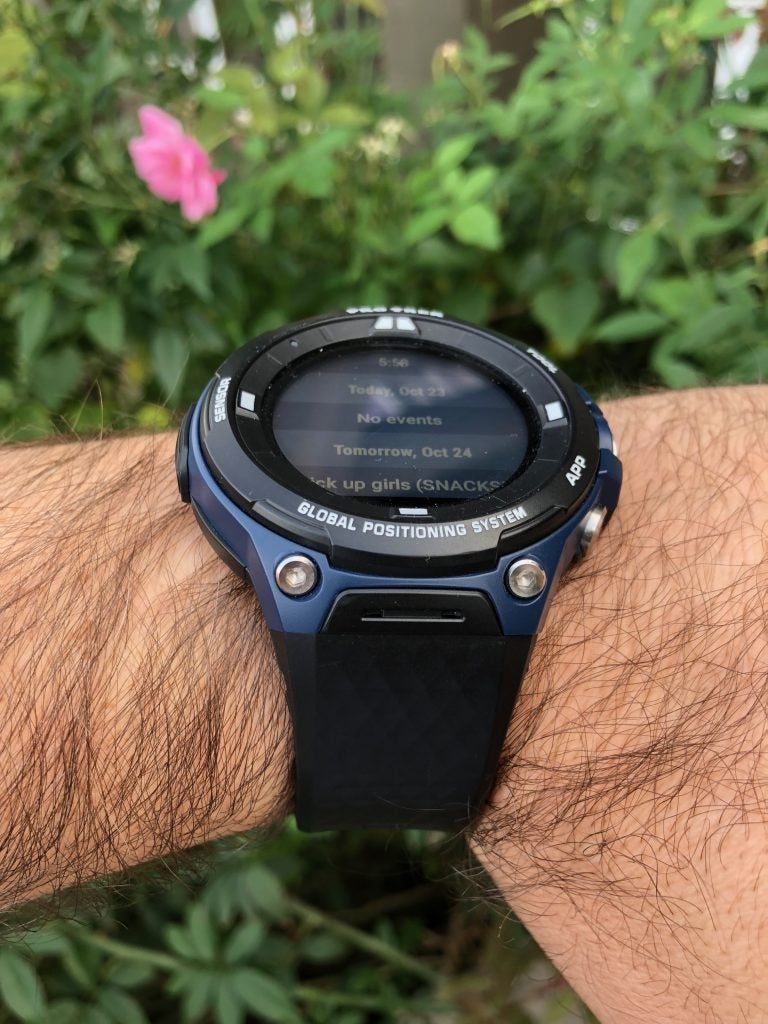 The watch is waterproof to 50 meters, but I have learned something by wearing this watch in the shower: it turns out that a jet of warm water from a shower head can simulate a finger and activate the touchscreen. Who knew?
There are three buttons on the side of the watch: Tool, App, and a guarded center Power button that returns you to the home screen.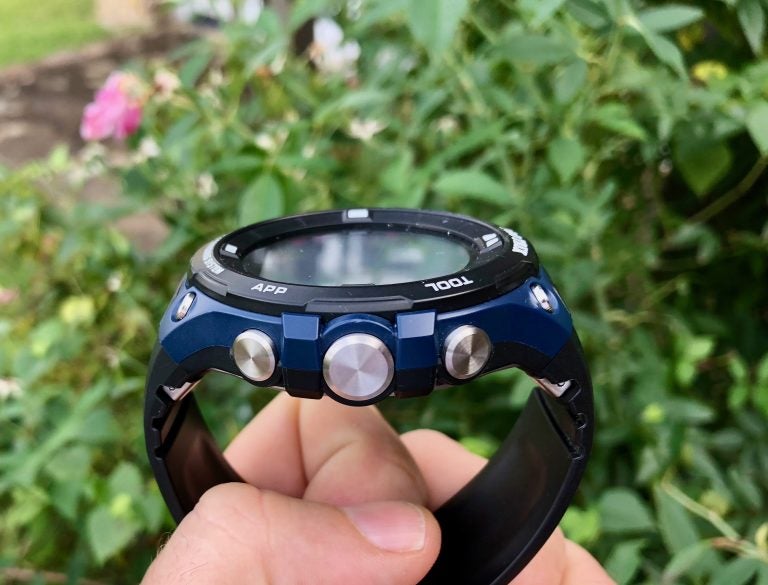 The Tool button lets you access the sensors included with the watch (i.e. compass, altimeter, barometer, etc.), and the App button can be assigned to launch a specific, often-used app (it defaults to maps, which is where I left it).
Aesthetics and Ergonomics
Insofar as it's a really large, beefy watch, the Casio G-Shock influence is on full display in the design department. I imagine the idea was to signal, "this is a beast of an outdoors watch, like the G-Shock." This doesn't bother me because I do like the G-Shock, but I can tell you I won't be wearing this with a long-sleeve shirt with buttoned cuffs; even if it's possible, it's not comfortable.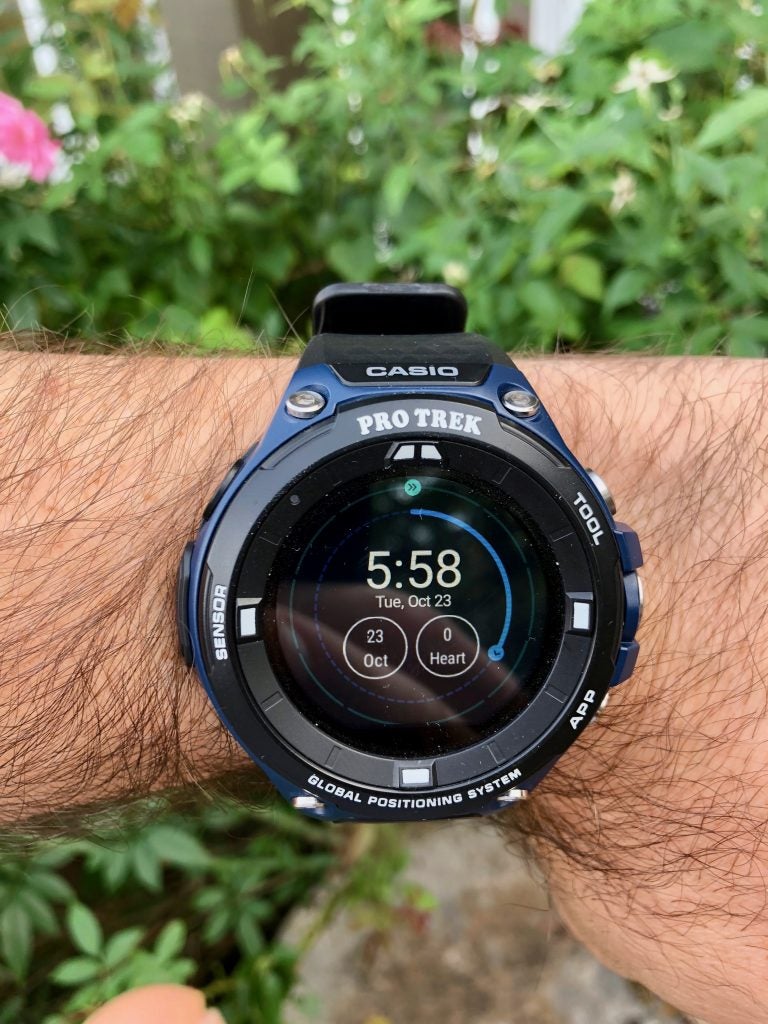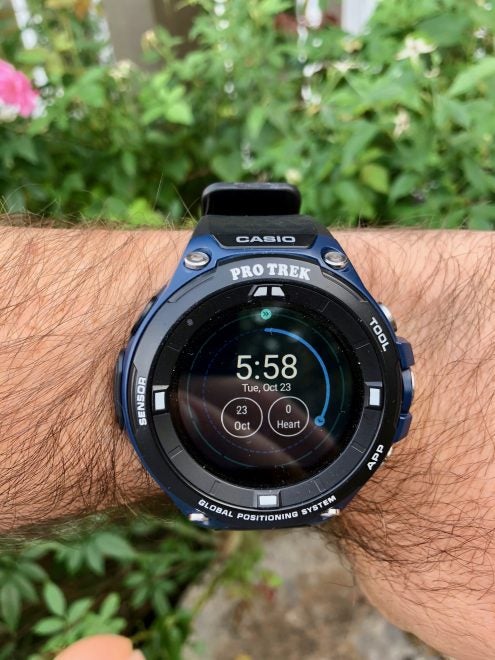 In general, this is just not going to pass for a dress watch. So keep that in mind if you select it for general wear and fitness tracking, and you need to dress up regularly.
The indigo accents on this model are a nice touch; I prefer to them to orange or some of the other colors.
The watch's LCD screen has decent visibility outdoors, but it's not so great in bright direct sunlight. I never had a problem reading the watch face in sunlight, but if it's bright out you'll end up having to keep it out of direct light if you're trying to do more than just glance at the time. I'm guessing this is related to the dual-layer nature of the screen, and that it's a tradeoff for the power-saving mode.
I did have some problems with the band. It was comfortable, but the loop that retains the excess strap always rides up and that strap pops out and dangles. Always. Without fail. This is not a show-stopper, but boy is it annoying. They need to figure out how to fix this.
The other ergonomic complaint is the charger. The charging interface is a small, magnetic, metal disk on the side of the watch, and it works like Apple's erstwhile magsafe chargers — you make contact between the charger and the disk, and leave it there.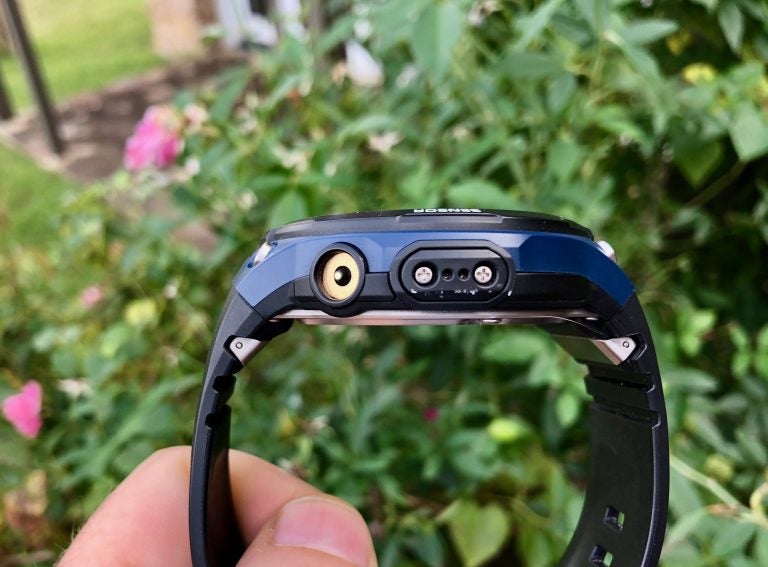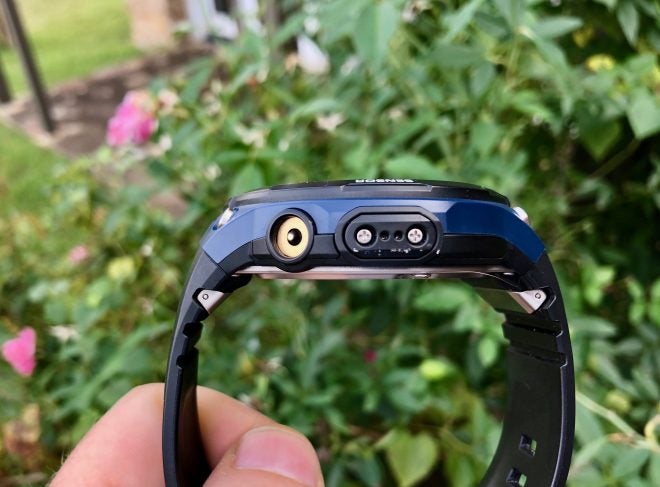 The problem is that the magnetic link is very weak, and if you bump the watch or move it, the connection breaks and charging stops. For a watch with a small battery which makes charging so critical, this is a bigger deal than it sounds. Casio would be a lot better off with a regular plug that you insert, instead of this fancy magnetic thing.
Battery and Charging
The watch's smallish battery is both a strength and a weakness. On the one hand, this watch charges quickly, in only an hour or so. But the downside is that, depending on what you're doing with it, you get only a day of use out of it before you run it all the way down.
Casio has a really clever way of mitigating the limited charge problem: the watch features a second, low-power display that overlays the full smart watch display and switches on when the battery gets low. While you can't access regular smart watch functions in this low-power mode, this black-and-white view gives you another few days of being able to tell the time and date, which can often tide you over until you can it recharged.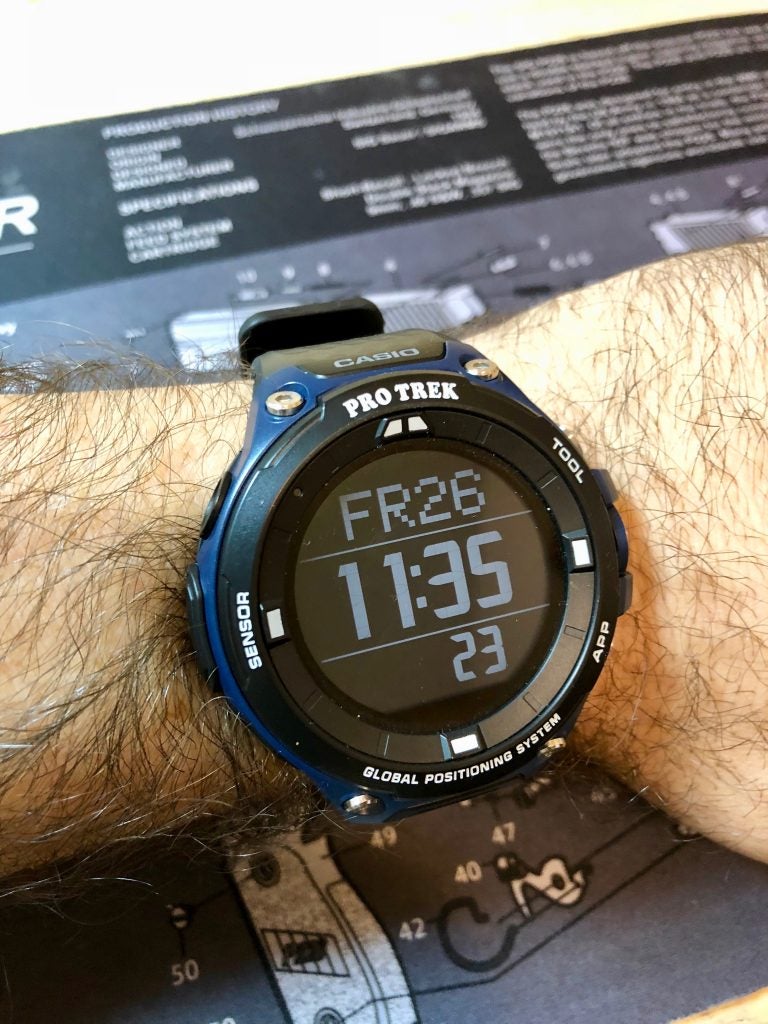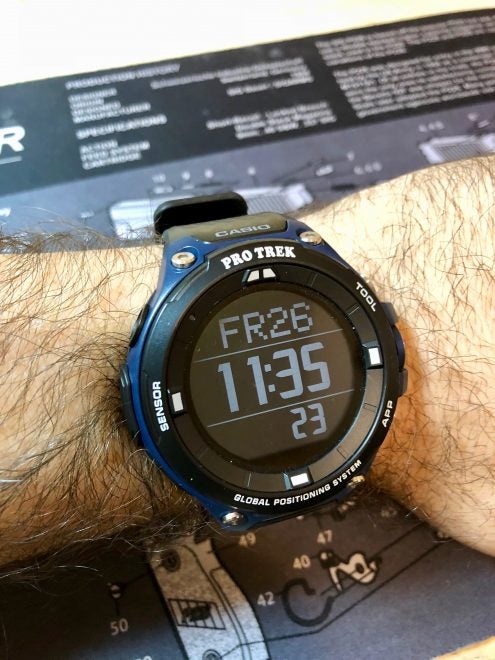 I think this was the right move on Casio's part, because if you know how you're going to use this watch and have a stable daily routine that lets you keep it charged, you get the benefit of a quick charge time.
As an Outdoors and Prepping Watch
I don't do running, biking, or hiking. My main outdoors activities are hunting and shooting, so to the extent that the outdoor activity features of this watch appeal to me, it's mostly going to be in the area of adapting hiking-related features for hunting purposes.
In this respect, the maps are the main app that appeals to me, and for more than just hunting. I also think it's worth considering a smart watch as a prepping tool, especially one that has some independence from being tethered to a smartphone. The combination of substantial (4 GB) offline map storage and built-in, low-power GPS means you can go for quite a ways in an area without a cell tower signal or working phone. This hiking-oriented feature could be useful in a grid-down, get-home scenario, in which you won't be able to access online maps and may end up relying on whatever you have with you to get home.
The watch's built-in sensor array is helpful there as well, given that some of the readings, like barometric pressure and altitude, are useful data that can help with calculating a firing solution in long-range shooting. Of course, you're going to end up using a smartphone app for inputting that data, so at best the watch numbers just act as a check on whatever data you get from your phone's sensors.
I never had any problems locking on with the GPS, and it seemed to track pretty well.
One of the cool GPS features is "voice memo," which lets you use the watch's built-in mic to record voice notes about a location. You can also mark locations on the map by dropping a pin, just like you would on desktop Google Maps.
The bundled activity app lets you track hiking, fishing, cycling, canoeing, and skiing. Of those, the only two I do are hiking and fishing, so I tried out the fishing app. With this small app, you can use the built-in GPS to track the location of your catches; the app also captures time and barometric pressure data with each logged catch, so you can build up a pretty good picture of a fishing session.
I didn't test this watch with iOS, because as an Android Wear watch it's really designed to work best with Android. The Android integration is solid, as expected, and I didn't have any problems syncing messages and Google Fit data back and forth between an Android smartphone and the watch.
I used the companion Android app and the Moment feature to set an alert every time I passed a certain number of steps and heart points. This is a great feature, because I like getting the alerts when I've reached health goals for the day. You can add a number of other triggers for different activities via the app, so if you're tracking one of the aforementioned activities you can set it up to alert you when you've passed some milestone.
Conclusions
As a generic smart watch or fitness tracker, you can get into Android Wear for less than the cost of a Pro Trek FD-20A, so it's probably overkill for you to pay extra for all the bulk and ruggedness of this watch. This watch has been ruggedized and tailored for a specific niche, and that niche is not really joggers or even cyclists.
On the other hand, if you're hiking, fishing, mountain biking, hunting, or camping and are looking for a smart watch that can stand up to abuse and provide some nice logging and tracking features, this watch is probably your best best. The offline maps features, activity-specific tracking apps, and sensor package make this a winner in those areas. So if you're looking for an outdoors smart watch for the kinds of activities we focus on at AllOutdoor.com, and where the watch is likely to take a beating in the field, then this Casio is right up your alley.