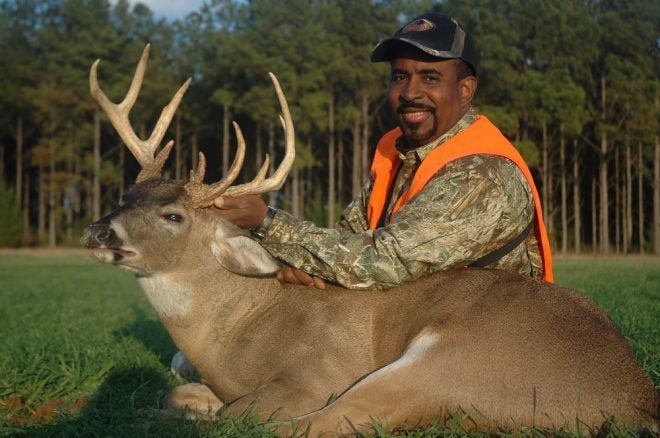 John J. Woods
Magnolia Outdoor Communications
GO (HUNT) REGULAR
Sometimes it is the most simple of advice about hunting that turns out to have the most sage. This simple commentary came from a hunter's grandfather when the campfire question arose about how these trophy buck hunters always seem to score nearly every season. His answer was a remarkably easy answer. Just "go regular."
Without a doubt hunting takes time. It also takes not only an investment of hours and days, but a financial commitment as well to secure a place to hunt. But also all the guns, gear and everything else it takes to support a successful hunt. Boy has that ever changed over time.
In the "old" days when we started hunting in the 1950s and 60's you could still pull on a pair of blue jeans, a pair of cotton socks and gloves, work boots, an old Army surplus coat or a farm coat, a hat of some sort or stocking cap and go hunting. Usually that was with a banged up old single shot shotgun or a war surplus bolt action rifle of some sort for deer hunting. I saw a lot of WWII Springfield '03s, British Enfield 303s, and German Mausers in deer camps back in college.
There were no optical scopes then, no insulated underwear, coats, or boots. Rain gear was most often a black trash bag with a head hole torn in the bottom to fit over the head and shoulders. We had no binoculars, no rangefinders, no GPS, or IPhones with deer hunting apps on them. There were no steel tree stands, no ATVs, and skinning racks were a rope over a tree limb. Archery hunting was non-existent back then.
The one thing we had in common with today was the time element. It was still stretched back in those days as it is now. But seasons were much shorter, too. In Missouri we hunted from one Saturday through the following Sunday for one buck. That was it. Now I hunt in Mississippi for four months with a three buck and three doe limit per season.
Even now, the trick to real trophy hunting though is time in the stands. You simply have to manage your days off or vacations for hunting if you are serious. The law of averages are with you. The more you hunt, the more likely you are to see bucks. Simple enough, but still hard to do. The real secret to successful buck hunting is to "go regular."