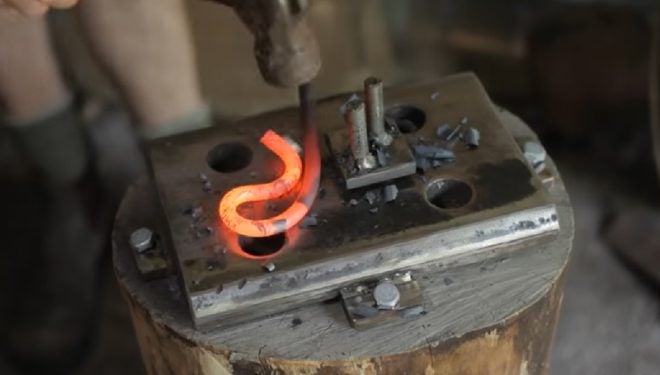 This video shows a solution for someone who can't afford an anvil, or who simply wants a DIY solution. In his case, he had a small anvil, but it lacked a hardie hole (square hole in the top to hold tools). So he got some steel and set about making one.
He simplified the problem of how to form the square hole by using two pieces of steel to make his striking surface, cutting half of the square hole into each steel piece before welding them together. Nice.
After extending the hole downward so it can better support the square shank of hardie tools, he saws off a hunk of log and laboriously flattens the top with a chainsaw. Not sure why he decided not to just cut it flat in one go, but he didn't.
Inlet a square hole into the wood and connect the steel with 4 lag bolts, and the job is done.
He then makes a couple of tools to use in the hardie hole, and I especially like the bender… considering a few metal-working projects I've done lately that required the bending of round steel. Chances are, I'm going to end up using some knowledge gained from this video to make tools for future projects.
Nice!
But the snake though…. yeah, I would have snuffed the snake.