When you need more protection for your phone than your typical phone case can provide, Phoozy might be just the ticket. Officially dubbed the "Thermal Capsule XP-3," it's a protective pouch that can hold your phone and more, protecting it from extreme conditions including impact and temperature extremes. Oh, and it floats.
'Basically it's a phone protection case. What sets it apart though is that it uses NASA-type materials to extend battery life and protect during winter temperatures. On the other end, special materials reflect more than 90% of solar radiation to help prevent overheating. And it floats, which means that if you drop your phone in the water, it won't sink. Although it doesn't officially protect your phone from getting wet, it will stay afloat while you grab it out of the water.'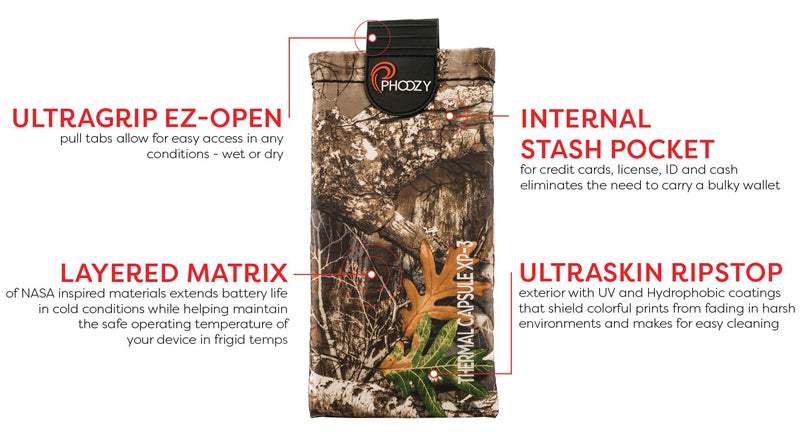 I've had the Realtree Edge version of the Phoozy "case" for a while now, and it's about time we talked about it. Here are some of the key features according to the manufacturer, and some commentary on each:
– UltraSkin Ripstop exterior with UV and Hydrophobic coatings that shield colorful prints from fading in harsh environments and makes for easy cleaning.
The Realtree Edge camouflage finish on my Phoozy is distinct, and the exterior fabric is easy to clean.
– Impactor Core 2.0 exceeds Military Standard (810G 516.6) for shock and impact protecting your device for drops in excess of six feet.
The interior cushioning is pretty thick and should provide ample protection on front and back… but the protection doesn't wrap around the sides, which means your phone's edges & corners may be vulnerable if your phone's width crowds the edges of the Phoozy… though they are certainly more protected than they would be without a Phoozy.
– UltraGrip EZ-Open pull tabs allow for easy access in any conditions — wet or dry.
The pull tabs are good-sized and easy to grip, and are more than adequate for pulling apart the thin strip of velcro at the top of the sleeve.
– Multi-Point Attachment System allows for use with belt, carabiner, lanyard or Phoozy Tether System.
There's a single fabric strip on the back of the Phoozy, sewn to create three attachment loops. The top and bottom loops measure about 1.25 inches, while the middle one is more of a belt-loop size at 2 inches.
– Internal Stash Pocket for credit cards, license, ID and cash eliminates the need to carry a bulky wallet.
There's a full-width mesh pocket inside, a little over 3 inches deep. The top of the pocket begins about 7/8″ from the mouth of the Phoozy.
– SinkProof Technology keeps your device afloat even in the roughest water conditions.
It definitely floats like a champ even with my phone inside — but realize the Phoozy is NOT waterproof.
– Chromium Thermal Barrier reflects more than 90% of the solar radiation generated by the sun to help prevent your device from overheating.
Couldn't really test this.
– Layered Matrix of NASA inspired materials extends battery life in cold conditions while helping maintain the safe operating temperature of your device in frigid temps.
Sounds good, but I was unable to test it in extreme cold.
Specs ("Plus" size)
Exterior: 3.75″ wide, 0.75″ thick, 7.5″ long (not including pull tabs)
Interior: 3.25″ wide and 7.25″ deep
Weight: 1.85 ounces
Manufacturer claims it will fit phone case up to: 6.6″ x 0.5″ x 3.5″
(Also available in XL size)
MSRP: $49.99
The Nitty Gritty
Phoozy is a good idea, and my sample is definitely well-made. It will protect my phone in extreme conditions, allowing me to stash it in cargo pocket or pack and go about my outdoor adventures. The front and back are well-padded, and all the stitching is top notch, with no stray threads poking out.
Unfortunately, the Phoozy is a bit narrow for most of today's phones. My iPhone SE is one of the smallest smart phones out there, and in a slim Lifeproof case it's a snug fit inside the Phoozy pouch. Wider phones will crowd the edges even more, which means they're less-padded than the front and back of the phone. The tight fit also means your phone isn't easy to remove from the Phoozy.
The hook-and-loop (think Velcro) at the top of the pouch could stand to be more substantial. At about 1/2″ wide, it's not as secure as you might like, and without the tight fit of my phone in the pouch, I'd be concerned about it falling out of the Phoozy.
If you use your phone often, you probably don't want a Phoozy… but if you want a way to transport your phone while giving it better protection than your case can provide, a Phoozy pouch is a good option. And for hunters, keeping your phone in a Reatree Phoozy might prevent you from missing the buck of a lifetime because you were checking Facebook or playing sudoku.