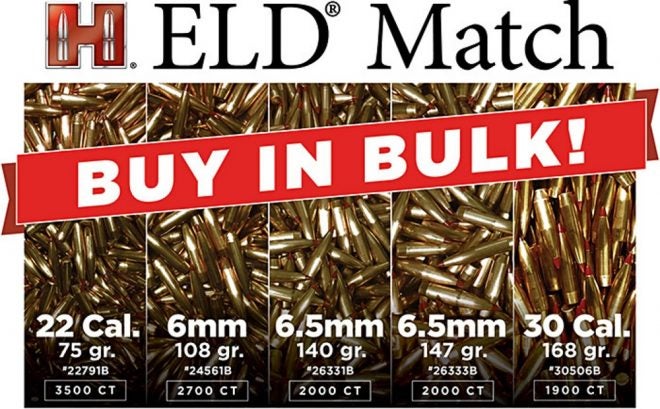 John J. Woods
Magnolia Outdoor Communications
HORNADY ELD BULLETS AVAILABLE IN BULK
Reloaders will be happy to know that they can now buy the excellent Hornady ELD Match bullets in bulk quantities. ELD stands for "extremely low drag" which for rifle shooting translates into flat trajectories, longer ranges with more precision accuracy to boot.
If you want the technical jargon on these bullets, their engineering design promotes an enhanced accuracy profile that features Hornady Heat Shield tips with a perfect meplat or tip point. These bullets offer the maximum ballistic coefficients (BC) and superior accuracy. And this performance is consistent from bullet to bullet, product run to product run.
The ELD Match bullets also have an optimal secant ogive along with a proven boattail design. All this means with the highest BC factor in this class of bullets that these babies fly the slickest through the air with less drag making for super accuracy for target and long range shooting.
The "Heat Shield" tips also repulse aerodynamic heating (friction) that could deform more traditional bullet designs even in micro-minimal ways. And that perfect "meplat" simple means the shape of the bullet tip is ideal for bullet flight.
The task put to the engineering designers of these bullets was to produce the optimal bullet for hunting that would perform out to maximum ranges. That was defined as beyond the 400 yard range usually reserved to most bullets. The ELD Match bullets perform well at more conventional hunting ranges as well as extended ranges. Long range hunting shots are all the rage now, and hunters with rifles and optics capable of such shots now have a bullet to maximize that range performance as well. I guess it is the best of all worlds for hunters.
Some more casual shooters and hunters might mistakenly believe that ammunition reloading is a dying art or skill, but nothing could be further from the truth. Hunters-shooters that really dig into the ballistics of building their own ammunition to fulfill their own goals will be delighted to know that these Hornady ELD bullets can now be acquired in bulk quantities.
These ELD Match bullets are now available in .22 caliber, 6mm-.243, 6.5-.264 caliber, 7mm-.284, .30 caliber-.308 and .338 caliber-.338. Each caliber is available in several bullet weights to match the reloading approaches that shooters will want to assemble for their own uses. These offerings pretty much cover the water front for all types of game hunting from light deer up to heavy game. For full details, check it out at www.hornady.com.