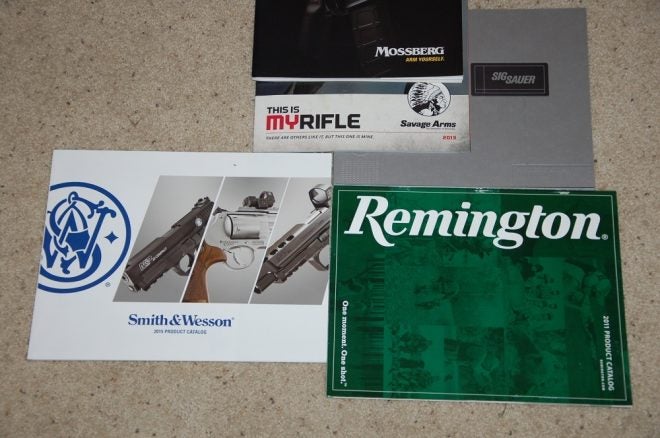 John J. Woods
Magnolia Outdoor Communications
GUN COMPANIES THAT DOMINATE AMERICAN SALES
Despite efforts to continue to curtail the sales of firearms in America, the major gun companies continue to produce guns at record rates. Gun control advocates will always be around to advance their strategies to end gun sales and private ownership. Pro-gun citizens with 2nd Amendment rights to back them up will not give up their rights willingly.
Far beyond the politics of gun control, the gun business is big business in America, mainly because law abiding citizens want to enjoy their rights to own and shoot firearms. Since the history of the founding of this country, firearms have played a major role in the daily lives of survival, protection, and defense against common enemies.
Today, firearms continue to be a big part of people's lives well beyond those that have to wield them for military and law enforcement uses. Shooting sports of all kinds continue to drive a huge economy surrounding the use of guns, ammunition and tons of accessories. The hunting sports are an honored tradition among individuals and families across the nation. For gun companies, demand fosters supply.
These are the Top Ten gun companies doing business in the United States even though their original home offices may reside elsewhere. All of these companies do have an on-shore presence to handle their business in this country.
The Number One gun company in America is Smith and Wesson located in Springfield, Massachusetts. They began business in 1857. In 2017 they did $773 Million in gun sales of all models in the current catalog and associated products. They supply firearms to military, law enforcement, and general consumer sales. Their defense pistols and AR-15 rifles are top sellers. www.smith-wesson.com.
Remington is the No. 2 gun maker in this country. Despite currently being in Chapter 11 recovery, Remington sold $603 Million in 2017. Now located in North Carolina, Remington has a long history initiated in 1816. Remington makes rifles, shotguns, and handguns of all types. Well known for their Model 700 bolt action rifles, Remington also is famous for its 870 shotgun, and 1911 pistols. www.remington.com.
Ruger comes in at No. 3. Opening in 1949 as Sturm, Ruger and Company, the headquarters are in Southport, Connecticut with other manufacturing facilities in Arizona. In 2017 they had $517.7 Million in sales. Ruger is noted for their single action handguns, hunting rifles, and semi-auto sporting rifles. Ruger is long noted for its cutting edge engineering, and innovative firearms designs. www.ruger.com.
SIG Sauer made a half million guns in 2017. SIG is an old world gun maker from Switzerland that partnered with German gun maker Sauer that began in 1751, but it has a presence in New Hampshire now. They recently secured the contract for the new Army handgun the Model 320. SIG makes multiple models of semi-auto pistols and rifles for military, law enforcement and civil markets. www.sigsauer.com.
O. F. Mossberg stated business in 1919 in New Haven, Connecticut. Last year they manufactured over 650,000 firearms. They mostly make rifles and shotguns in a modest price range and continue to be popular among police and hunters. Their 500 Model pump shotguns are highly popular and now they make a number of high quality bolt action hunting rifles. www.mossberg.com.
Savage comes in at No. 6 producing 400,000 guns last year. Now located in Westfield, Massachusetts the company began in 1959, but produced guns much earlier in Utica, New York from 1894. Savage is well known for its early line of inexpensive .22 rifles. They have produced handguns, shotguns, and rifles. Today, they manufacture a complete line of competitive bolt action hunting rifles as well as other firearms. www.savagearms.com.
Springfield Armory is the 7th largest gun maker in America. In 1970 a private interest acquired the name from the old government federal armory. Today they are making over 500,000 guns a year. Famous for their M1A semi-auto version of the M14, SA is now making classic 1911 handguns in multiple models as well as other semi-auto pistols for self-defense and sport shooting. The company is located in Geneseo, Illinois. www.springfield-armory.com.
The Italian firm of Beretta originated in Brescia, Italy in 1526. Beretta is the oldest gun maker in the world. In America they have facilities in Maryland and Tennessee. Known for making high quality sporting arms especially hunting shotguns, but the company is likely best known in America for its Model 92, 9mm handgun that was used by our military for years. They also make the Nano and Pico among many other guns. www.beretta.com.
Often described as the company that bought Beretta's old gun making equipment, Taurus then began making Beretta 92 clones in Brazil. Last year Taurus of Miami, Florida in America sold 365,000 guns. Taurus also manufactures a whole catalog of handguns, pistols and revolvers of all sizes and calibers. They now have a separate division, Taurus Tactical, making guns just for law enforcement and military applications. www.taurususa.com.
Coming in as the tenth biggest gun company in America is Glock of Austria, now with offices and manufacturing in Georgia. Glock produced 252,000 firearms last year. While many of these go to law enforcement contracts, a smaller but important share goes to the civilian market. Glock's are thought to be the ugliest gun that never fails. While perhaps less appealing ascetically, the Glock is widely used by law enforcement for its reliability and accuracy. www.glock.com.
So, what companies are missing from the Top Ten? Many. There is Browning, FNH-USA, Colt, Marlin, Kimber, Winchester, Sako, Steyr, Thompson-Center, Weatherby, CZ-USA, Benelli, Franchi, Ithaca, Rossi, Charter Arms, H&K, Kahr, Kel-Tec, Walther, and many, many more. Their sales surely add up to significant numbers as well.
It is little wonder then that the United States is a gun rich country. Because of the 2nd Amendment of our Constitution, every law abiding citizen can legally own a firearm. The number of guns in private hands of ownership in this country is uncountable. This alone makes gun control or confiscation a rather ludicrous proposition. At least we hope so.