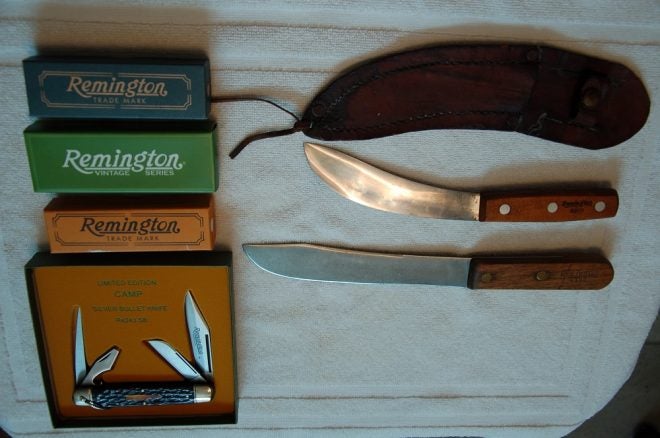 John J. Woods
Magnolia Outdoor Communications
COLLECTING REMINGTON KNIVES
Collecting a wide variety of items can make a great hobby. Besides such staples as collecting fine firearms, duck decoys, turkey and duck calls, wildlife art prints, and a sundry of other items, knife collecting has to be among the most popular.
In most cases, too, collecting knives will not break the bank unless you are into the really high dollar custom blades like a Randall, Morseth, Dozier, Randy Lee, or like fine knives. If you take up the habit of collecting Case, Kershaw, Schrade, Browning, or many, many other brand names such that can be found at outlets like the Smokey Mountain Knife Works or A.G. Russell Knives then your pursuit can become endless.
Remington knives both old, original models of yesteryear plus the modern collector series started years ago are among the best. Remington manufactured bayonets for the military in the world wars, but began making regular cutlery pieces in 1920 including the original Bullet knives. Production of Remington marked knives ended in 1940. Sometime in that span Remington made kitchen, camp and hunting knives, too.
Later in 1982 Remington brought out the first of the 2nd Issue Bullet knives. The first knife was the R1123 Trapper knife which came in a brown leatherette clamshell case. This initiated the annual series of Remington knives that continues today. These knives are made by Camillus. Researching and acquiring these many Bullet knives is perfect for collectors.
Additionally, many other annual Bullet knives were issued with silver bolsters, and engraved silver bolsters. Next, Remington began to issue numerous anniversary knives. Art posters came out, too. These are equally collectable.
Interestingly, in my opinion Remington went overboard by issuing too many knives. Remember the flurry of "anniversary" Winchester 94s? So many were produced the rifle values dropped to nothing. The same has happened to the Remington Bullet Knives. That was a shame.
For many years I tried to keep up with the annual issues which often included the 3-knife series. It got too expensive. Collectors can still find many of the issued Bullet knives dated since 1982. Remington knives are still of great interest to blade collectors.
This is especially the case with old models, camp, kitchen, and hunting knives. I have found two of those in my years of searching. One was on a table in a junk store in Dodge City, Kansas while on a wild bison hunt and the other on a table of garage sale junk at a gun show.
If you like knives and are looking for a most interest brand to chase check out Remington knives. Check out the book Remington Bullet Knives by Mel Brewster.