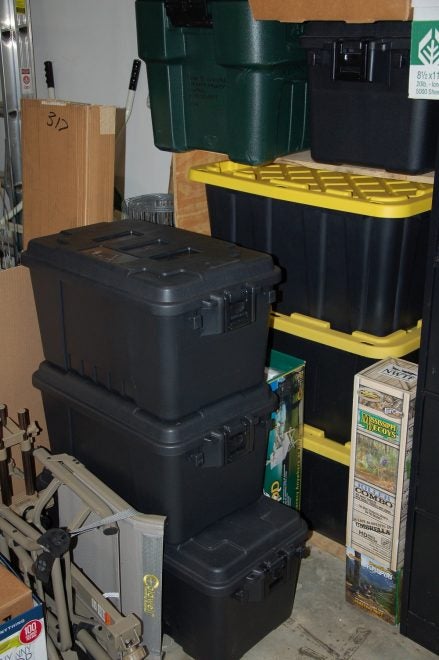 John J. Woods
Magnolia Outdoor Communications
HUNTER'S "BUG OUT" SUPPLY BOX
Man, don't you just hate it when you finally hike into your hidden tree stand only to discover some critical piece of gear was left back in the truck or camp house? Maybe you even took a day pack with you, but when you open it up, the scent killer bottle is nearly empty, or there is no water bottle or the bug spray is missing. That can be rather frustrating.
Do you have extra supplies somewhere ready to raid for a pack resupply? If not, then build yourself a supply box to be ready just in case something critical is missing or left behind. I learned this lesson the hard way, so now I keep a supply box in the back of my pickup truck, maybe another one stocked in the camp house, but also now I have a hard shell storage box on the rear rack of my ATV for extra items I may need when out in the field far away from the camp or truck.
The bug out resupply box should be a durable, heavy duty plastic storage box with a lid that has a snap-lock closure to keep out water and dust. Carry handles on the ends are great for moving the box around easily. It can have a padded bottom or not, or you can add a piece of carpet or even an old towel to soften the load and noise. For this box however, internal volume is more important than a noise factor, unless maybe if you carry it on an ATV or UTV into the field. These come in M-L-XL from Plano at Bass Pro, lumber supply stores, or hardware outlets.
What goes into the hunting resupply box? Jot some notes down on every item that you might use or want in the field or consumable items you could run out of. Go from there to create your own customized resupply box. What is in mine?
My resupply box has extra water, nabs, scent eliminator, deer scents, extra ammo, wet wipes, gloves, orange hat, wool cap, shirt, pants, rain jacket, socks, handkerchief, knife(s), hatchet, flashlight(s), orange hunter safety vest, small gun and scope/optics cleaning kit, small first aid kit, insect repellent, fire starting items, game calls, rope, tow strap, ratchet straps, orange/lime flagging tape, light tarp, toilet paper, Kleenex pack, OTC pain meds, aerosol tire repair, zip lock bags, notepad and pen. What else can you think of to pack?