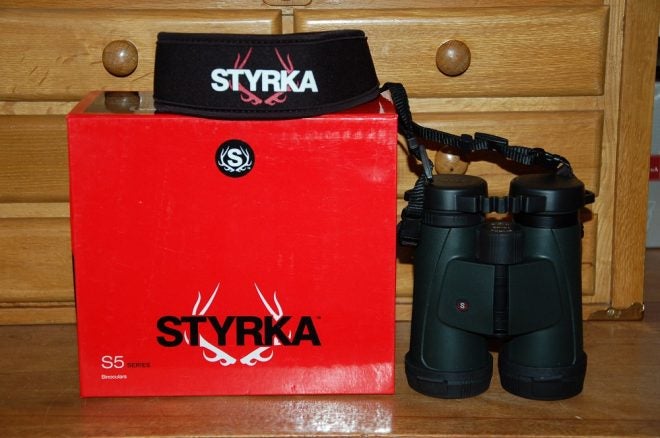 John J. Woods
Magnolia Outdoor Communications
STYRKA S5 BINOCULARS
Without any doubt in my mind, this glass is not just another everyday commonplace pair of binoculars. Sure, you've heard that before. Truth is there are just a lot of choices today when it comes to really good observational glass and at reasonable prices, too. There are, however, a few that go up to the next level, offering features others just don't achieve. Styrka is one of those.
Usually when you order something, even hunting equipment, you open the box and you hopefully get what you expected. When I snapped open the magnetic box closure on these Styrka S5 binos, the box was loaded with extras I would have never expected to be included. Very often it is the little accessory items that really make a product work.
In the Styrka box was of course the binoculars, 10×42 power, rubber coated for protection in an attractive non-reflective matte dark green color. The exterior feel has a soft touch, but one that permits a firm grip even when wet. I tested that when Mother Nature was misbehaving again.
On the extra plus side, Styrka included objective lens rubber covers with hold on loops, a rear eyepiece lens cover, a first class neoprene neck strap with quick snap releases, a nylon carrying case complete with an adjustable back strap harness to carry the binoculars on the chest for quick access. The nylon carry case also comes with a clip on shoulder carry strap. There is also a snap on self-contained lens cleaning cloth. These accessory items are what I call a neat bonus.
Specifications wise the S5 Series comes in 8×32, 8×42, and 10x42mm. The one I am using is a 10×42 for extra magnification for aging eyes. The linear field of view on these is 315 feet at 1000 yards. The exit pupil is 4.2 mm with a 16mm eye relief. These binoculars will focus to 8.2 feet. The relative brightness factor is 17.6 with a twilight factor of 20.5. This glass will be effective right down until the end of dusk.
Other standard features include a focus wheel at the rear for easy finger reach. The diopter focus can be adjusted for individual user eyesight. The eyecups are also adjustable and use with eyeglasses is no issue. A front housing logo plate can be removed to reveal a threaded screw entry to attach these binoculars to a tripod for field use.
After several field trips with these Styrka S5s, this glass is as clear and crisp out to all edges and distances as any I have ever tested. The finish is durable and ready for tough field use. Check them out at www.styrkastrong.com. The retail is around $400, but shop around on line.