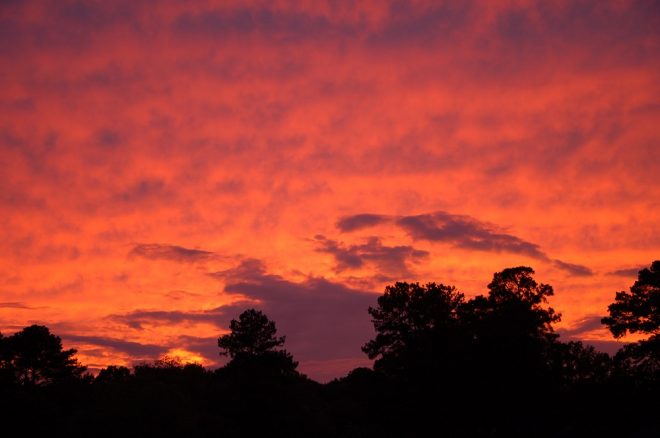 John J. Woods
Magnolia Outdoor Communications
WIND AND SKY LANGUAGE
My dad was famous for all kinds of "sayings" he learned from his dad. He would always impart these teachable moments while afield hunting, shooting, fishing or camping. Alas, it is part of the heritage of being raised in a different era even before color television, digital anything, microwave ovens, alternative fuel automobiles, and everything else "modern" today.
But, then what we have lost is the primal ability to assess the environment around us to see what nature is telling us. Today's preppers and survivalists are in dire need of tuning back into these messages emitted by the earth spinning around us.
What kinds of things did my dad teach, and maybe yours too. Before going afield or onto the lake dad would always study the sky and the wind. These essential axioms of nature have over my lifetime proven more often true than not. For example, "Wind from the north, don't venture forth; wind from the east, fishing (and hunting) is least; wind from the west, fishing (and hunting) is best; wind from the south, blows the bait into the fish's mouth." Hokey huh?
Try these out from time to time as you leave your hunting or fishing camp and then monitor the winds during the day. See if some of them don't actually prove true. If you hunt, you know what a northern wind usually means. It means cold, blustery winds that are not particularly accommodating to successful hunting. A southern wind often means a warm breeze making for a great day of fishing. Eastern winds are never much good for anything it seems. The good news is that eastern winds do not occur that often, unless it combines with a northern blow, hence the "Nor-eastern" often producing blizzard conditions in some areas. Western winds are usually mild and good for outdoors activities.
Remember "Red sky in the morning, sailors take warning?" Atmospheric conditions that produce a red hue in the morning sky can often produce the end result of a bad day on the water or afield. I remember once casting out of the boat dock in Sekiu, Washington out into the Juan de Fuca Strait to salmon fish. I remarked to my brother about it. A short time later there were six foot swales, and fog that obscured the shoreline. We barely made it back to the dock.
Part of prepping and survival is to heed the warnings of weather and natural forces. We have to learn to listen better to Mother Nature for what she is trying to tell us.