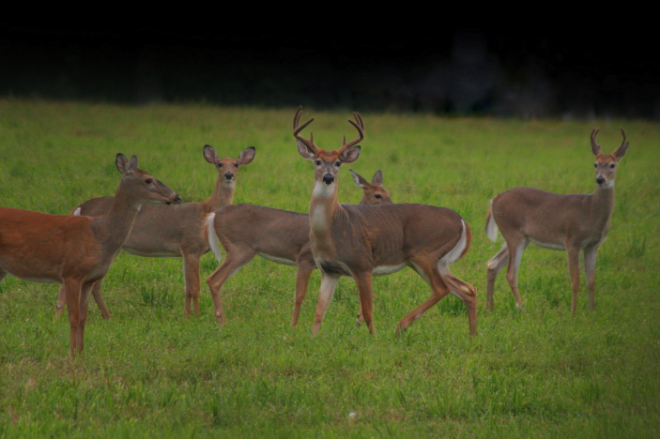 According to a recent article, the whitetail deer population in New Jersey has reached an astounding 120-140 deer per square mile, and the president of the NJ Farm Bureau is calling it an epidemic.
'The whitetail deer has become an epidemic,' [New Jersey Farm Bureau president Ryck] Suydam said. 'That's a tough word, but if you drive a car in New Jersey, I think you're going to agree with me.'

AAA data shows there are over 30,000 collisions a year between deer and cars reported in New Jersey, said Audubon Society vice president Kelly Mooij, who added that many other crashes probably go unreported. Deer are also wrecking the understory in forests, she said.
Having that many deer is no good for anyone — except for the auto-body shops kept busy repairing cars after they hit deer. Still, bunny-huggers (deer-huggers in this case?) refuse to accept the reality that hunting is the only viable solution.
Hunters pay the government a fee for permission to hunt, pay for their own equipment, transportation, and lodging, and effectively reduce the population in the only truly effective way: By killing some deer. Yet a former colleague of mine believes that performing surgery on wild animals is a good idea:
Doris Lin, vice president of legal affairs for the League of Humane Voters of New Jersey, said… 'We recommend ovariectomies. It's a surgical sterilization of the female deer that removes the ovaries,' Lin said. 'It has an advantage over tubal ligation because with the tubal ligation, the females don't get pregnant but they still go into heat. And when they go into heat, they increase males to the area. And that will increase your local deer population.'
At least one NJ Assemblyman realizes that hunting is the way to go:
Assemblyman Parker Space, R-Sussex, seemed skeptical of [ovariectomies], in part because each 20-minute operation costs $1,000 to $1,200, though Lin said it can be lowered using volunteers.

Space said there's an economic benefit to hunting -– for diners, gas stations, sport shops, butchers, and taxidermists.

'So it's a win-win situation. You're harvesting your deer, you're controlling your population, you're feeding the people and also you're supporting all your local businesses,' Space said.
Suydam doesn't think that hunting alone can do what's needed, but he has some suggestions which may well help with that. The simplification of NJ's hunting regulations is an obvious one.
Suydam also suggested that the state have fewer hunting zones. He said the state has more than 60 zones currently, each needing a separate permit. He said Maryland has two zones.
Another is the notion that hunters be allowed to legally sell the meat from legally-harvested deer.
'If a person knew they could go hunting, take a couple of does and know they could make a couple of hundred bucks because they could sell the venison, this problem would clean up much quicker,' Suydam said.
I'm sure he's correct, although there are plenty of folks who would abuse such a program. But the legal sales of deer meat could always be ended once deer numbers are reduced to manageable levels.
And then there are deer donation programs which allow hunters to give the meat to programs which process the meat and donate it to food banks to help the needy.
Short of venison sales, the state could support venison donation programs, said Mitchell Jones, a member of the State Board of Agriculture. Hunters Helping the Hungry received two state grants more than 15 years but relied on private donations since then.

'A lot of the hunters that I talk to, they don't like to waste the deer, but they can only eat so many,' Jones said. 'If they go out and get their two or three deer, fill their freezer, they'd be happy to hunt if there was something to do with the other deer.'

Since 1997, hunters in New Jersey have donated more than 228 tons of venison to food banks, providing more than 1.8 million meals, according to the Division of Fish and Wildlife. Last hunting season, 809 deer were donated.
I'd suggest that deer in epidemic numbers is a side effect of the decline of hunting as a way of life. Many young people don't hunt, and their children are highly unlikely to become hunters. We hunters need to reach out more often to get folks more interested and active in the hunting community.
Aside from the delights of connecting with our primitive heritage and providing natural meat for our own freezers, hunters can help reduce deer-vehicle collisions while helping hungry folks. And my friends, there's nothing wrong with that.
What's your take on it?