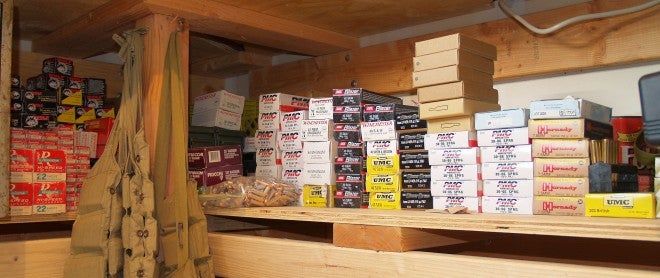 An anti-gun measure in California has reportedly spurred a rush by CA residents to stock up on ammunition before they have to submit to a background check — and registration (the amount of ammo sold will be recorded in a government database) — in order to legally purchase ammunition.
Gun owners in California are stocking up on ammunition before a new state law goes into effect next year.

Starting in July, gun owners will have to pass another background check to buy ammunition. That's in addition to getting a gun permit.

KGTV reports that retailers who sell the ammunition will have to log the amount purchased in a database that will be sent to the Department of Justice.
Local shops are selling ammo very quickly.
One sporting goods store near San Diego, Poway Weapons and Gear Range, sold half of its 1.2 million rounds of ammunition on sale just hours after opening on Black Friday.

"The rush today is a direct reflection of the law. People are trying to save up now so that way they don't have to worry about it next year," Danielle Rudolph, the director of sales said. "We had people starting to line up at the door at 6:45 a.m."

She says gun owners are frustrated by the law.

"It's something that they didn't vote for," she said.
And therein lies the rub. This ammunition restriction was passed as a ballot measure, which is a terrible way to do just about anything. It's direct democracy — which is a bad thing.
What I mean is that in a democracy, it's straight-up mob rule. The will of the majority is forced upon all minorities.
The USA was founded as a Constitutional Republic, and the Constitution exists expressly to preserve the rights of the few against the tyranny of the many. In a free country, ballot measures should never be relied upon to make law. And yet in this case we see that an uninformed majority has managed to squash the basic rights of gun owners who vote in California.
A spokesman for the Brady Campaign to Prevent Gun Violence sent KGTV a statement that said, "The bottom line is regardless of how people try to prepare themselves before the law goes into effect, the majority of Californians voted on Prop. 63 that put these laws into effect."

But one gun owner said gun laws — and taxes — are a big reason his family is leaving California.

"When they take away our guns, it's over," he said. "Liberty, freedom, the constitution are gone."
It's tough to argue with that guy.