Restaurant Shooting Cut Short by Armed Citizens
Russ Chastain 12.19.18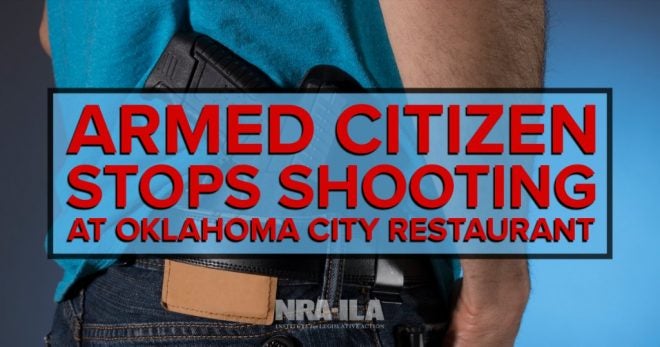 When a bad guy with a gun starts shooting, the best deterrent is to shoot back. This fact was proven once again recently when a crook walked into an Oklahoma City restaurant and began shooting people. He was then shot and killed by an armed citizen on the scene.
Accounts vary as to whether one or two armed citizens fired on the miscreant, but the end result was the same: A deadly threat was ended by bold, decisive application of deadly force by someone other than the police.
The following is from an early account of the incident:
A mother and daughter were shot Thursday night at a popular restaurant on Lake Hefner in northwest Oklahoma City, police said.

The shooting occurred at Louie's Grill & Bar at 9401 Lake Hefner Parkway around 6:30 p.m.

According to Captain Bo Mathews with the Oklahoma City Police Department, the suspect described as an 18 to 20-year-old white male entered the restaurant and opened fire.

A mother and daughter celebrating a birthday were the shooting victims. They were both transported to OU Medical Center. News 9 has learned that the victims are Natalie Will and her daughter, Niah.

Police confirmed a third female victim has minor injuries.

A man that was trying to flee from the scene, fell and broke an arm.

Capt. Mathews says when the suspect exited the restaurant, he was confronted by a citizen who took out his own firearm, shooting and killing the suspect.
A later article at CNN (yeah, I know) said that three people were hit by the blackguard inside the restaurant, but that two citizens retrieved guns from their vehicles and engaged the threat.
As the gunman ran from the scene, two bystanders got their own handguns from the trunks of their vehicles, then confronted and fatally shot the attacker outside the restaurant, Mathews said Friday.

"They were able to shoot this suspect and put an end to this very dangerous situation," Mathews said, adding that the men — Carlos Nazario, 35, and Bryan Wittle, 39 — did not know each other. It's not clear who fired the fatal shot. Police initially said only one man fired on the attacker.

The bystanders' actions were "well within their legal rights" and likely would be protected by good Samaritan laws, Mathews said. He deferred a final call to the Oklahoma County district attorney, whose staff did not immediately respond to CNN's request for comment.

"These guys were protecting somebody else's life," the police captain said. "You can say they are heroes."
An eyewitness described the confrontation:
Benton told KFOR he saw a car circle back after exiting Louie's parking lot.

"A guy jumped out of it and went for the back of his vehicle. I just assumed maybe it was an off-duty officer or something like that," he said. "It was just the way he moved, whoever it was. He just appeared to be somebody who had some training, some weapon training."

Benton pointed the man toward the suspect, he recalled.

"They were like, 'Stop! Stop! Stop! Please! Put the gun down! Please put the gun down!' And I was pointing at him, I was like, 'Down! Put it down! Put it down!' and they wound up exchanging fire," Benton told KFOR.

The gunman, he said, wouldn't drop his weapon.

"I popped my head up, and they had taken him down," Benton said.
It's sad that this was necessary, but I sure am glad the good guys were armed and available to deal with the threat. After all — when seconds count, police are minutes away.