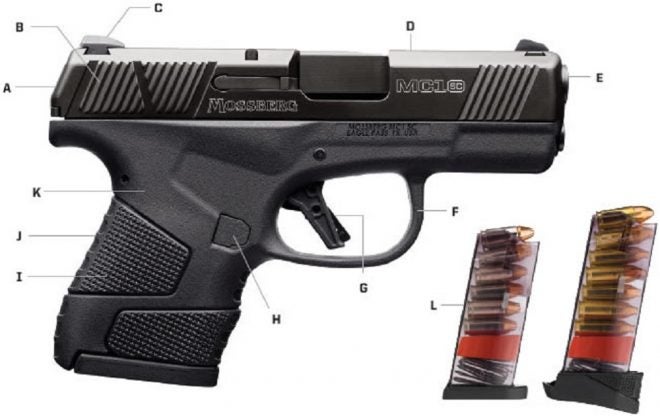 That's correct, you read it right. Mossberg just hit the airwaves with the announcement of their new pistol. The historic part here is that this is Mossberg's first handgun in 100 years of manufacturing firearms. And this one is going to be a real dandy.
Described by Mossberg as a subcompact pistol, the new MC1's primary selling point is its ergonomics particularly the grip angle which has been optimized for easier shooting. The trigger offers a flat profile with an improved pull. This pistol also incorporates Mossberg's proprietary Safe Takedown System. The STS system permits the handgun to be disassembled without pulling the trigger.
The MC1sc (sc = sub-compact) is chambered for the 9mm. The MC1 has a flush-fit magazine that holds 6 rounds and an extended magazine for 7 rounds. These mags feature Mossberg's Clear Count polymer construction, so the user only has to remove to magazine to check the number of rounds remaining in the magazine. Talk about cutting-edge factory innovation.
The feature list for the MC1sc is long. The slide comes with multi-angle slide serrations for a positive slide grip both fore and aft. The stainless slide is finished in a diamond-like carbon coating. Sights are snag-free, white 3-dot adjustable for windage via the dovetail fit with a ramp front sight. Slide edges are "melted" smooth for easy draw and handling. The grip has a palm swell with a grip angle to accommodate all shooters.
The barrel is 3.4 inches in length. The frame is tough polymer glass-reinforced for long term durability and service. With a weight of only 22 ounces, those toting the MC1 will enjoy its light weight and portability. It should prove ideal too for EDC and concealed carry. Additionally the grip panels are integrated with aggressive texturing that will offer exceptional grip-ability.
The extended trigger guard looks overtly enlarged, but for good reason. This makes it even easier to access the flat-profile trigger with its integral blade safety. The large magazine release button just behind the trigger guard is reversible, too. The striker assembly is easily removed out the rear of the slide permitting simple pistol takedown.
There has not been a listed MSPR for the MC1sc yet, but I predict it will be very competitive. Expect to see this new Mossberg pistol at the SHOT Show this month and I suspect there will be shooting opportunities as well. Check it out at www.mossberg.com.