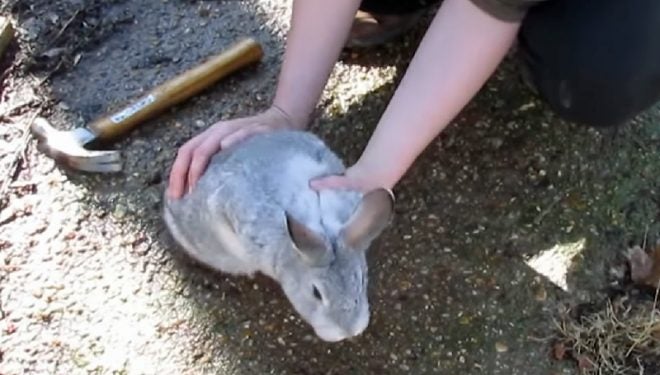 This down-to-earth video is for folks who would like to raise their own food. It shows how to harvest — that is, kill — and process or "dress" a rabbit which has been raised for meat.
This video is geared towards the beginner homesteader or farmer who wants to start processing their own food.

It's no secret that the hardest part is not raising the animal… it's harvesting the animal.
Her tools are:
A hammer (for knocking the critter out)
A 3/16″ diameter steel rod three feet long (for cervical dislocation, or breaking its neck)
A large knife (to remove the head)
A small knife (for skinning and gutting)
This gal uses most of the rabbits, eating the meat while preserving the skulls or using smaller heads as frozen dog treats, and crafting with the hides, feet, and tails after they are preserved.
The intro runs until about 4:35, and is well worth the watch. Then you get a warning that if you don't want to see a rabbit being killed, you should skip ahead to the 6:25 mark. She does such a good, humane job of it that I didn't find it disturbing at all.
The instruction and demonstration of shucking out the critter is really good, and short of actually being there while someone shows you how, this is probably the best instruction you will ever get for this task.
This is a nice thorough respectful lesson presented in less than 15 minutes, which is impressive.