TecTecTec ProWild 2 Laser Rangefinder Review
Russ Chastain 01.10.19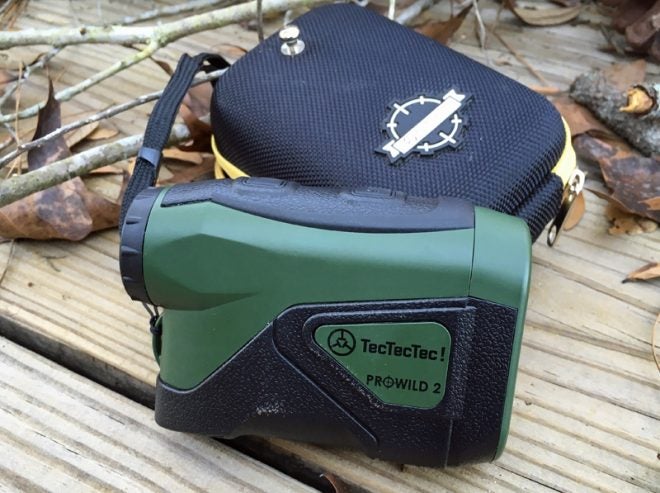 My 2018 fall deer hunting season turned out to be rather intense, and I spent a lot of time in the woods in two different Southern states. On most of those excursions, I had a TecTecTec ProWild 2 Laser Rangefinder in my pack for testing and general use.
During the previous season, I carried their ProWild model alongside a Bushnell model I've owned for several years. The ProWild 2 proved to work even better for me, and I preferred to use it over the Bushnell.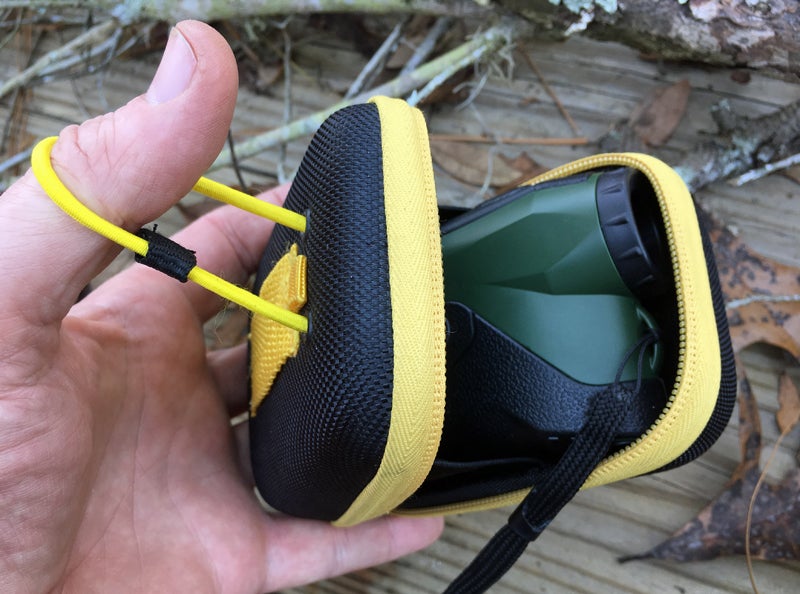 Here's some info on the TecTecTec ProWild 2:
Max range: 540 Yards
Accuracy: +/- 0.3 yard
Magnification: 6x
Lens coating: Multilayer
Continuous scanning
Weight: 0.48 pounds with battery (case not included)
Size: 4.25″ long, 2.8″ tall, 1.6″ thick
Includes: CR2 battery, carry case, wrist lanyard, microfiber cleaning cloth, quick start guide
2 Year Warranty & TecTecTec Happy Customer Guarantee
MRSP: $149.99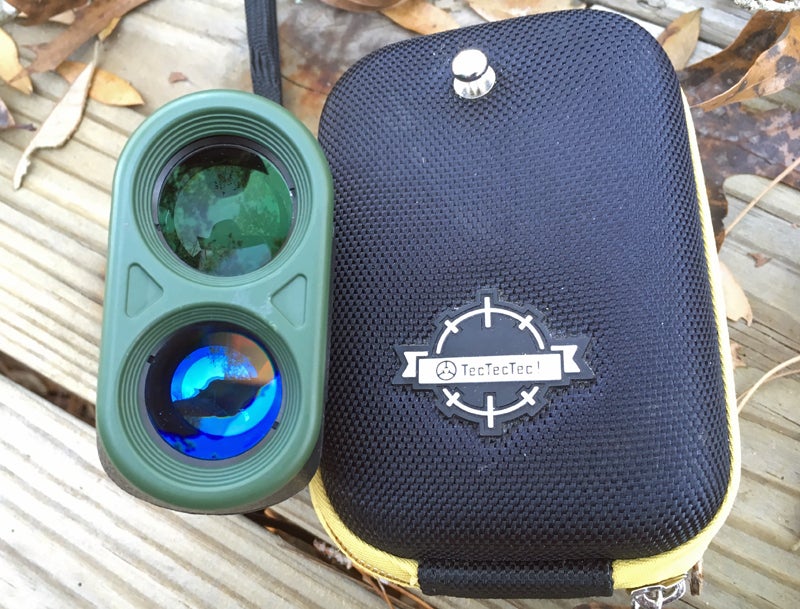 The ProWild 2 came with one CR2 battery, not installed. After installing it, all I had to do was depress the power/measure button for a few seconds to turn it on and begin measuring. When measuring, an additional "X" is visible around the center crosshair, to tell you it's working. After 30 seconds of inactivity, it turns itself off.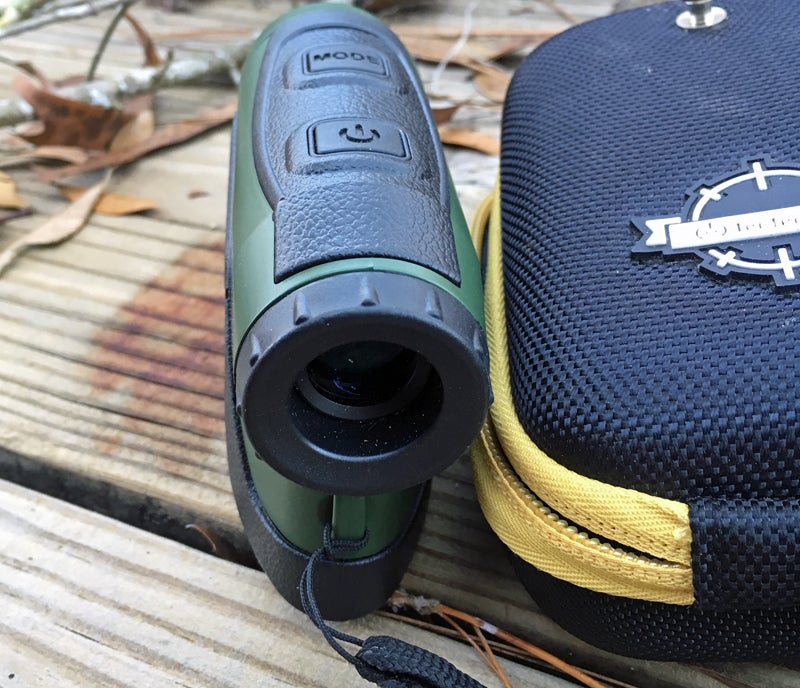 The rear eyepiece turns to focus, and has roughly 1/4 turn of travel. There are two buttons on top: power/measure, and Mode. All the Mode button does is change the measurement units (either Yards to Meters). Mine was set to meters when I first turned it on. A 'press and hold' on the Mode button changed it to yards.

The case is hardshell, which is nice, and has two types of closures; a zipper that goes most of the way around, and an elastic cord that hooks over a metal stud. You can use just the elastic if you need to get at your rangefinder quickly.
There's a belt loop on the back, which is pretty tightly stretched… a 2″ belt will probably fit, but that's about the max.
The bright yellow accent color isn't the best for a hunter, and I'd rather it came with a neck strap instead of (or in addition to) the wrist lanyard.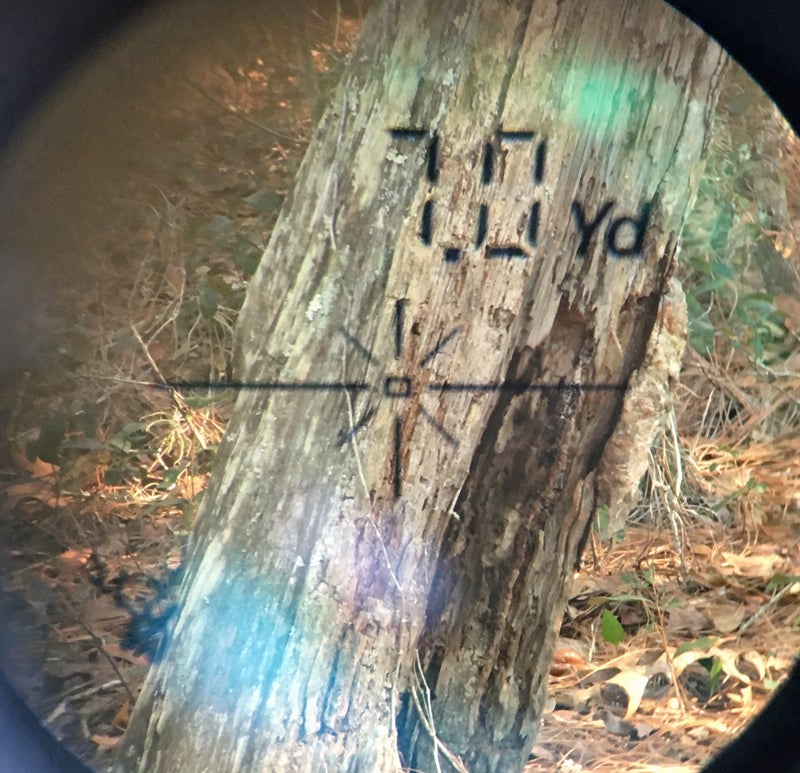 I apologize for the blur in the above photo; my camera wasn't cooperating. But you can see the display while measuring, with the additional "X" in the center crosshair and the distance displayed up top.
The deer head at lower left is always there.
The paperwork says your target shouldn't be closer than 16 yards, and I did have some odd experiences at closer distances. Sometimes, trying to measure an object at 6 or 7 yards results in getting a measurement to an object beyond the intended target. But most of the time, I'm only interested in measuring ranges of 20 yards and beyond, and the ProWild 2 did just fine at this.
The longest distance I measured was about 325 yards, and the biggest challenge with that is holding the unit steady enough to get locked onto your target. A tree limb or the rail of your tree stand will do. Be aware that this rangefinder does NOT have a tripod attachment point.
I got a kick out of this line in the instructions:
Collisions and crushing should be avoided when carrying about or operating the device.
Yeah… I try to avoid those even when I'm not toting a rangefinder!
All in all, the ProWild 2 is a good rangefinder and it's pretty much replaced my Bushnell as my go-to hunting rangefinder. The brightly-colored case and lack of neck strap are shortcomings that I'll just have to deal with, but I do appreciate the extra protection from the hardshell case. Aside from that, I'd say it's probably the easiest-to-use rangefinder I've carried afield.
The TecTecTec ProWild 2 can currently be found for $149.99 shipped.